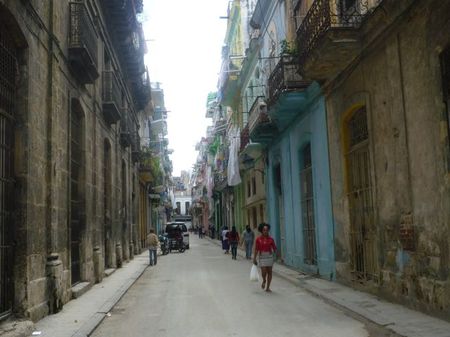 A street scene in Havana Vieja.
I spent ten days in Havana, Cuba, from February 9, 2016 to February 19, 2016--roughly a month before President Obama's historic trip. It was my first stay to Cuba, and I kept a journal. I also wrote poetry there, and I will include some of it in journal entries.
Last night we had dinner outside at a bar-restaurant about a half hour's walk on one of the main "drags," Calle 24. Several waitresses met us on the sidewalk, handed us a menu, and we sat down. Maggie, our waitress, plump, chatty, extremely friendly, suggested "roast beef" with vegetables and a "salad." I had wanted fish or chicken, all on the menu. "Fish no. Chicken, maybe." After conferring with the kitchen, Maggie told us that chicken was available, but "fried." Hugh said "roast beef" was safer. I had a Crystal, a wonderful cheap Cuban beer that I learned is like the Budweiser of Cuba, just better. Hugh, a mojito, excellent with dark rum and lots of fresh mint. Maggie brought the food. "Roast beef" was an awful stew; the "salad" was shaved cabbage with a few onions. There was a yucca cactus veggie that was tasty. We had been promised sweet plantains, but "We sorry. Not now."
5:45 PM.
Back at the "casa," after an afternoon in Havana Vieja, the old section of the city that abuts the Capitol building and is close to the National Theatre. Havana Vieja is wonderful, but dispiriting--the impact of Cuba's poverty hits you. It's a kind of buoyant, cheerful, hustling poverty, but it's here. Conner [our American friend in Havana] advised us to take a "communal cab." The price is set at 10 pesos Old Cubano, Cuba's alternative currency that is used by Cubans as opposed to the CUCs, or Convertible Pesos Cubano, used mostly by tourists. 10 Old Pesos are about $1.
We got into a cab. Hugh said, before stepping in, "Diez pesos?" The driver agreed. But at our destination near the Capitol, modeled completely on the U.S. one in Washington, the driver insisted "diesz" meant New Pesos @ a buck each, not old ones. The communal cabs are old American cars, carrying lots of passengers. You get on and off with the others. Buses in Havana are uncertain, and extremely crowded. We were the only passengers; maybe that should have been a tip off.
Havana Vieja: narrow warrens of streets converging on a series of often beautiful plazas, like squares or green parks. Often almost no sidewalks, just thin strips of broken paving, lined with old buildings, some only shells in disrepair, others still elegant, old classic colonial architecture. A pedicab took us about 20 blocks to the music school where Hugh had taught viola da gamba classes last year. Inside, the receptionist kept saying something to me in Spanish. I thought she wanted to look inside my backpack. Instead, she insisted that I wear the light sweater tied around my waist over my tank top. I did.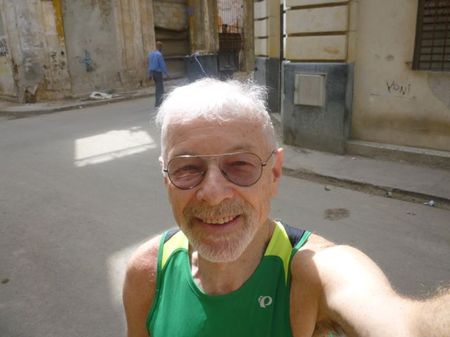 The author takes selfie--what else do you do in Havana Vieja?
The musician Hugh wanted to see was in a rehearsal at a basilica a few blocks away. Tourists were lined up to get in; we did, led by a student from the school. The man, a baroque guitarist, was overjoyed to see Hugh who had brought from NY a bass recorder and two books of Early Music to give to the school. Musicians at the rehearsal were extremely grateful: there are very few Early Music instruments in Cuba, despite the popularity of this music. They cannot be imported from the U.S. due to our stupid embargo, and the country is too poor to buy them from Europe.
We had a wonderful lunch at the really spiffy Café Mercurio, near the basilica: seafood--shrimp for me, lobster for Hugh--served outside. Four women near us were finishing their meal with cigars and coffee. Women smoke small cigars here; everyone smokes. Smoking is encouraged. The waiter brought us an ashtray before the tableware.
When we paid the bill with cash [credit cards are unusable in Cuba], I noticed that we were shortchanged by the waiter. I brought it up to him, and he reported it to his manager who came out with the correct change. I learned later that being shortchanged in Cuba is almost routine, and Cubans assiduously check the bill and their change.
On the way back, we saw another pedicab. The driver asked for 5 CUCS: too much. He settled for 3 to go not very far. When we got off, he insisted that it was 3 CUCs each; he had not told us that. We got into an argument, then just walked off.
Near the Capitol, we tried to get a communal cab back to Vidado but found none. A young, very dark pedicab driver pursued us, settling for 5 CUCs to drive us back, around 5 or 6 miles. I thought this was too far to take a pedicab, but he insisted, and we got on, riding through the intense poverty of Havana's Chinatown, now almost empty of Chinese people who left after the Revolution. Everything--and everyone--remaining looked beaten down and distressed. But there are no homeless people and no beggars. Begging is officially not allowed in Cuba, but people do shyly approach you.
Although Hugh, who speaks some Spanish, had tried to explain to the driver where we were going, he still dropped us off at the head of the Rambla, a main thoroughfare, near the water, about 20 blocks from the "casa." He also wanted 5 CUSs each, despite settling that earlier when we got in.
We paid him 5 for us both, then found another real cab driver who asked for another 5 CUCs to get us home. His cab was held together with duct tape and layers of plastic wrap. The door was solid rusted scrap metal.
Thursday, Feb. 11, 2016. 10 AM
I notice in the small breakfast area of the "casa" a set of the Books of Knowledge Encyclopedia. 1957. Raul tells me that his father gave them to him when he was a boy, the year before the Revolution. He had been sent to an English school where all classes were in English. I told him that I had grown up, also, as a small boy with the Books of Knowledge. My father had passed his set, from 1923, on to me.
Raul told us that after the Revolution he went to work in Argentina, in a prosperous lake region that had been developed by and for well-off English people. "The water there was very good and they wanted to use the water to sell it."
I'm not sure why he ended up back in Cuba, probably for his family. He's a sweet, courteous, quiet man who appears older than his years.
The morning noise outside our room is that of kids playing in the school grounds next door, in what used to be an old mansion during the Batista, pre-Revolution years. Earlier in the morning, a rooster crows. You hear roosters and chickens often in Havana. There are small green markets in this area. They have a limited, wilted-looking selection of green vegetables and some fruit. Sometimes meat is sold, outside, without refrigeration, especially pig parts. I have seen the hind quarters of pigs, tails attached, several times already. At the green markets, you pay at a central location, and then the money is divied up appropriately and equitably to the sellers, so no one ends up broke after a bad day.
Calling all HuffPost superfans!
Sign up for membership to become a founding member and help shape HuffPost's next chapter