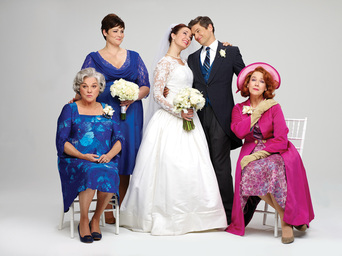 Tyne Daly, Lisa Howard, Sierra Boggess, David Burtka and Harriet Harris in "It Shoulda Been You." Photo Credit: Andrew Eccles
It Shoulda Been You, the musical now playing for a limited time at the Brooks Atkinson Theater on W. 47th Street, is about one of the most anxiety-producing collisions in human life.
I don't mean catastrophic asteroids pounding down on Earth. I mean the primal and diabolical attraction of WASPs and Jews. It's been going on forever. I know. I've been living in such an arrangement as a Southern Jew married to a WASP for decades and it ain't easy but for some of us it's inevitable. It Shoulda Been You is about such a marriage arrangement, with a whole series of subsequent plots twists of which I won't go into big detail, because spoiling the ending of this funny, talent-packed evening at the theater should be a capital offense. So I won't do it. But I can say that it gives Tyne Daly whom I have seen several times on Broadway and who is a proverbial force of nature, the chance to be the super-controlling Jewish Mother from Heck (you think I'm going to use a bad word for Mrs. Steinberg?) and it gives Harriet Harris (probably best remembered for being Frasier's reptilian agent on the self-named TV sitcom) the chance to eat the show as the snotty horny 3-martini WASP Mother from the same place. The meeting of these two dames on the stage with a great supporting cast is absolutely combustible, although frankly Harriet Harris singes my memory more than even Tyne. When Harris sings her big number "Where Did I Go Wrong" in which she bemoans that her son did not go gay and spare her the indecencies of grandmotherhood, tacky inlaws, and revolting grandchildren, she brings down the house.
This is not your regular Bush-family-values, Republican lady. Harriet needs to be seen to be believed.
The show is also remarkable in that through David Hyde Pierce's whip-cracking direction it packs in so much classic theatre at a speed that doesn't let up until the end. We're talking here close to 2-hours with no intermission; nothing lets up for a second. So you have: Neil Simon hyper-Jewish Catskill schtick with lots of riffs on what not to do with corned beef or a should-be virginal daughter; Feydeau-farce slamming hotel doors with randy room service running through (think "The Ritz"); good old hometown American vaudeville soft-shoe; Oscar Wildean English high camp via Edward Hibert (another Frasier alumnus: remember the high queen food critic?) as a pinkies-up wedding planner; downtown-1970s Charles Ludlam queer theatre zaniness; all laced through a gushy, romantic throw-back to pre-hook up boy-meets-girl-meets--everything!--that keeps flipping back and forth from one to the other so fast your head starts swimming, and there's no water around.
A good example of this is Josh Grisetti, a first-time Broadway star male-ingénue who looks handsome but still like he was cloned from Bugs Bunny, who plays Marty Kauffman, the bride's Jewish ex-boyfriend whose farkachte job is to ruin the wedding: from Grisetti's first surprise jump out of the audience he is literally shot out of a cannon; he does not stop moving. I would have lost 5 pounds every day playing this role. Marty doesn't get Rebecca, the beautiful but not all that bright sister of the fat girl Jenny Steinberg who longs to be married but can't find a man who will get past her weight and her brains--but that is also part of the surprise ending of this surprising show.
The real surprise to me is that you can start out with a conventional premise, a wedding, put it through every conventional wedding plot device possible (bride's cold feet, skeletons in every closet, all of kinds of wedding day disasters), and end up with such a hysterically funny original show.
The sad thing is that It Shoulda Been You shoulda found the audience that would go crazy for it: a downtown, queerish, smart and fun-loving one, with lots of their uptown cousins in tow as well as their suburban friends with a little kink in their souls, because this is a pretty kinky show actually. When I saw it, I overheard two portly sets of straight couples sitting behind me looking at the special Gay Pride issue of Playbill. One husband said, "Pride. LGBT? What does that stand for?"
His wife said, "Honey, LG stands for lesbian and gay. Even I know that."
The other wife said, "And the BT stands for bisexual and transgender. So see, we got both sides of the initials covered here."
So does It Shoulda Been You, but they really need to find another whole kind of audience to crowd the Brooks Atkinson Theater the way it deserves.
Perry Brass has published 19 books, and is the author of the bestseller The Manly Art of Seduction, How to Meet, Talk to, and Become Intimate with Anyone, and King of Angels, a gay, Southern Jewish coming-of-age novel set in Savannah, GA. His newest book is The Manly Pursuit of Desire and Love, Your Guide to Life, Happiness, and Emotional and Sexual Fulfillment In a Closed-Down World. The Manly Art of Seduction is now available as an audio book through Audible.com.