I spent ten days in Havana, Cuba, from February 9, 2016 to February 19, 2016--roughly a month before President Obama made his historic trip. It was my first trip to Cuba, and I kept a close journal of my time there. I also wrote poetry there and I will include some of it in journal entries.
Friday, Feb. 12, 2016. 8:35 AM
Exhausting day of tourism yesterday [Thursday, Feb. 11]--walking along the Malecon, the once extremely beautiful roadway along the sea, like the Croisette in Mediterranean towns like St. Tropez. Most of it is horribly pitted, rutted, and run down. Past the famous Riviera Hotel, put up by the famous American Jewish gangster Meyer Lansky [who also is credited with "inventing" Las Vegas]. From the outside, the Riviera looks close to abandoned, but it is still functioning; I was also told that, inside, it is a perfectly preserved piece of mid-1950s exuberantly excessive Americana.
We went into a more "modern" hotel, the Hotel Meliá Cohiba, a behemoth that I thought must have been built by the Soviets, but was actually built in 1994 by a Spanish corporation. It was next to the Riviera and is all tourist "business"-class, compared with the more sensational 1950s face of the Riviera. Hugh wanted to go to the famous Hotel Nacional, built in 1936, where Ernest Hemingway "hung out" on its veranda, facing the water. We found a taxi and bargained him down to an appropriate price: in front of a tourist place like the Cohiba, they start at triple the real rate and you see how far they will go down.
The Nacional was smart, intimate, with soft lighting inside its main lobby and beautifully period side bars. On the veranda, in big, comfortably-cushioned rattan easy chairs--the kind you could spend a day in--Hugh had a mojito, famous at the Nacional, and I a Bloody Mary, served by handsome (really handsome!) waiters in crisp dark blazers and bow ties. We spent about 90 minutes in relaxation. The Nacional serves huge "Cuban sandwiches," popular in New York but not in Cuba; I thought about splitting one for lunch but Hugh wanted to have a late lunch back in Havana Vieja.
On the veranda, this poem seemed to write itself.
The rare, crazy, ephemeral,
lascivious moment, when the juices
run hot and the blood jets
through the corpuscles, and the words
of the guides and the guarded
disappear because you are one
with the vista, the profound contamination
that you sought, the Hemingway revulsion
made real: and you girded your instinct
to bolt, but stayed in the vulnerable moment
in the poignant afternoon or
early morning, after the alcohol
hit and the mystery of leisure
revealed itself: this is when
you have to rise, face the musica,
the Revolucion, the dim-dreaded function
of pure existence that cannot be put off
when they shot the insurgents
and the martyr's blood was soaking
the grass and the sand, and Spanish
was spoken in a whisper, a sigh,
a reduction of all passion, and you
faced it, there on a visit to a history
you did not forget. It was always
inside you. Punching viciously,
you silly, pathetic traveler--
to come out.
Feb 12, 2016
Havana, Cuba
Hotel Nacional
But--first we walked quickly over to the nearby monument to the Maine, the battleship whose loss started the Spanish-American War. Blindingly white, it's separated from everything by six lanes of the Malecon with traffic speeding around in two directions. With no safe underground passageway, we managed to rush over to it. A man shouted: "Loco Americanos!"
After a few minutes, a driver in a minicab, a motorcycle carrying two passengers in back, shot up. He took us to the restaurant we wanted, Doña Eutimia, by the Plaza Catedral; it had very good food for a small price with singing musicians who also double as staff for the cluster of cafes nearby. Everyone was incredibly friendly, really gracious, the way Havana almost always is. I thought about my sweet, handsome friend Ricardo Limon, from Mexico City, and his childhood memories of there: the Latin gifts for theatrics, romance, kindness, and courtesy. Suddenly all of this came to life here, eating outside, listening to live music, and the sheer beauty of this plaza, near the water, of the Old Section.
Afterwards, we walked to the Hotel Raquel, a "Jewish" hotel that in the old days, as a kosher oasis, hosted generations of Jewish weddings and bar mitzvahs. It dates to the early 20th century, very Art Nouveau, with beautiful Tiffany windows and architectural details.
11:35 PM Friday, Feb. 12, 2016.
I have taken enough cab rides in Havana, in rickety, ancient vehicles with no seat belts, springs, mufflers, or carburetors, to know that Havana smells of gasoline and cigars. The gasoline fumes burn my eyes and sting my nose.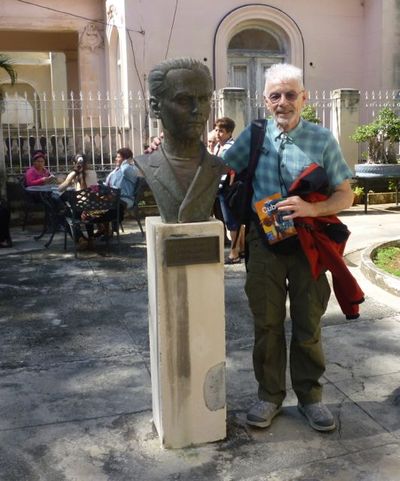 The author with a bust of Federico Garcia Lorca in a mansion courtyard, site of some festivities around the Havana International Book Festival. Lorca is a hero in Cuba, but his homosexuality is not openly recognized.
Went to a panel discussion on sexual orientation that was part of the Feria de los Libros--the International Book Fair. It was all in Spanish, with four women speakers, but afterwards Ariel, Connor's handsome doctoral student friend, came up to me and introduced the panelists to me, and I presented them a copy of How to Survive Your Own Gay Life and of The Manly Pursuit of Desire and Love. One of them spoke English and asked me what the books were about. I gave them my "elevator speech." Impressed, they invited me to come back to Havana in May for the "Festival Against Homophobia," a government happening spearheaded by Mariela Castro, Raul's daughter. I eagerly assented, thinking May 2017--then realized they meant May 2016--impossible. Too soon after the New York Rainbow Book Fair which will exhaust me.
We had lunch at an Iranian restaurant in Vedago, a few blocks from where the panel had taken place, out on a beautiful veranda facing a park, in glorious sunlight. Good food, but Hugh had a terrible acid reflux problem and needed another round of table napkins. I asked the waitress "mas serviettas?" and was handed 2 small paper napkins. In Cuba, paper napkins are limited, and some restaurants simply give you a nicely folded paper towel at your place.

Later in the evening, we took a cab back from the "casa" to the Old Town for a kick-off concert of the Festival de Música Antigua Esteban Salas, happening concurrently with the book festival. The concert in St. Francis of Assisi Basilica, was well attended, but the audience was often restless, talking and having difficulties following the program--actually hard to do since they skipped around. Early Music in Havana is not plentiful, and much of the audience may have had little exposure to it but came to support the mostly young student players of Ars Longs, Havana's leading Early Music group that is associated with a music school.

A great crescent moon floated above when we left the church. We walked through the now empty streets until we came to the Plaza Vieja, a big "campus" surrounded by galleries, with narrow side cuts for roads. We noticed a second-floor balcony bar and a "barker" for it came out and convinced us to come up: very common in Havana.
The balcony was extremely modern, with low-slung, white plastic furnishings--not very comfortable, but the view was great.
Next to us, by serendipity, was a very nice older English lesbian couple, Avri and Shan, and we soon became friends, in that way of travelers in a beautiful place. You meet people and an intimacy happens, almost automatically.
REAL LIFE. REAL NEWS. REAL VOICES.
Help us tell more of the stories that matter from voices that too often remain unheard.