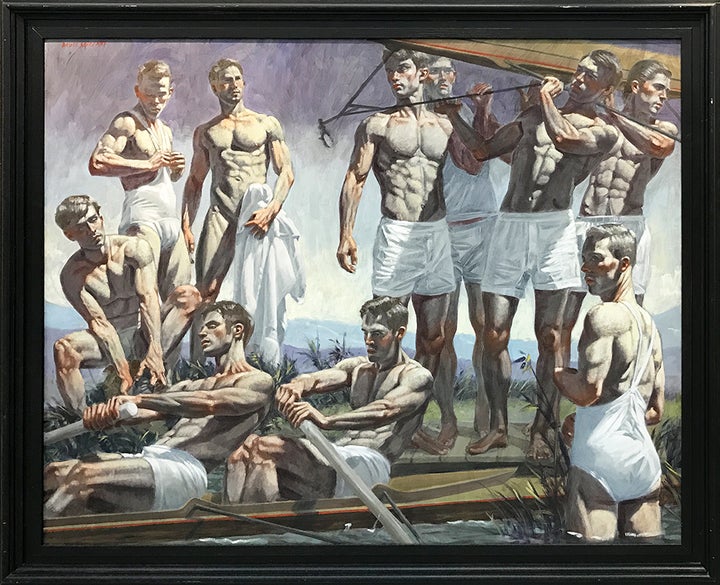 I was extremely excited to see the Bruce Sargeant show at ClampArt, a ground floor gallery at 247 West 29th Street, that will only be there until January 28, or 8 days after this painful mistake has been sworn in as president of the United States.
I had seen a brief blurb about this show in TimeOut New York and was nailed with the idea. Sargeant, an almost undiscovered artist who lived from 1898 to 1938—a mere 40 years—was the great uncle of Mark Beard, a well-known figurative artist who specializes in male nudes; TimeOut showed one of the paintings, of two men in a moment of such intimacy that I felt as if a door had been opened for me. I got to the show last week, and for a second here I was in the repressed time and land of E.M. Forster, D.H. Lawrence, T.E. Lawrence and all those other poor repressed English bastards who'd do just about anything to get a lad in their sack but were too bludgeoned by the Empire's corsets and boiled shirts to do more than gag, spit, and choke about it. Forster wrote one of the "great gay novels" of all time, Maurice, but could never allow it to get published in his lifetime—he died in 1970; D.H. Lawrence's work is aprickle with pricks, men falling desperately in love with the male form, and then tramping off to freeze to death; and T.E., aka, "Lawrence of Arabia," Winston Churchill's "Man of Destiny," had to off himself in a motorcycle accident.
So here I was, kind of popped back into their moment, with these pictures showing gallant young men often in a state of undress, and thinking: there's something about this that just doesn't quite work. No one was painting like this in the 1930s. There wasn't this constant bleeding edge of irony. It was straight out and for real, and that was what made the art of that period, with a world-wide Depression and a coming war sucking the air out of existence, so intense. There were a number of queer artists then, like Paul Cadmus, George Tooker, Charles Demuth, and George Platt Lynes who did do "homocentric" figures, but there was something about Sargeant's pictures that did not quite jibe with me. Then Raechel McCarthy, who works at ClampArt, let the guy out the bag: Despite having a genuine pedigree that many painters might envy, and a biographical timeline that includes—"1936 Trip to Germany. Resides in Cologne for a time. Visits Berlin Olympics. Affair with Nazi youth (Hans Kramer).1938 Privately publishes Fifteen Corporeal Poems with etchings in an edition of twenty-five copies for friends. Dies in wrestling accident in Sheffield. Is buried in the churchyard of Chapel-on-the-Bridge in Rotherham"—Bruce Sargeant, who sometimes seems like the lovechild of John Singer Sargeant and Bruce Weber, is in fact another "alter-ego," or pose, of Mark Beard himself, who is billed as the show's curator.
So although I admired the arresting clarity of vision that Beard has, he has a constant winking coyness that jumps out too fast. In the 1930s you would simply have direct depictions of men—there had to be. Any seductive qualities in the male image would have been shot down in the U.S. with a bazooka, or later squirreled away by the Kinsey Institute as George Platt Lynes's photos were. Beard though is frankly good at what he does, and there are passages of genuine life and air in the paintings; he's also exquisitely apt at presenting those chalk-white complexions from another era smeared with blushes of orangey red where the blood was racing to the surface from embarrassment or sly naughty boners crying to be concealed; as well as the agony of muscles, chest, hands and feet pummeled by hard physical work and sport.
So I would urge you to go to ClampArt to see "Bruce Sargeant (1898-1938): Parlour, Gymnasium, and Field," and just relax for a while and let the seductive intentions of Beard's tragic uncle's output work on you.
You can learn more at www.clampart.com, or 646 230 0020.ClampArt is open Tuesday through Saturday from 10 AM to 6 PM.
Perry Brass has published 19 books, and is the author of the bestseller The Manly Art of Seduction, How to Meet, Talk to, and Become Intimate with Anyone, and King of Angels, a gay, Southern Jewish coming-of-age novel set in Savannah, GA. His newest book is The Manly Pursuit of Desire and Love, Your Guide to Life, Happiness,and Emotional and Sexual Fulfillment In a Closed-Down World, a perfect vehicle for surviving the Trump era. The Manly Art of Seduction is now available as an audio book through Audible.com, as well as in Brazilian Portuguese. His futurist novel about worldwide consumerism gone crazy, Carnal Sacraments, has just been translated into Spanish
Support HuffPost
The Stakes Have Never Been Higher
Related
Popular in the Community