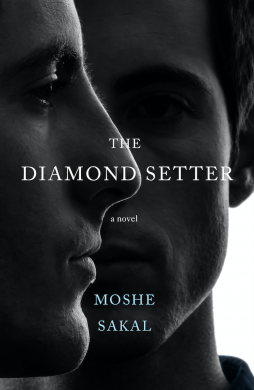 About 40 pages into The Diamond Setter, a novel by Moshe Sakal recently translated from Hebrew by Jessica Cohen and now published in English in the U.S. by Other Press (New York), I started feeling that this book reminded me of another novel: E.M Forster's magnificent novel of England, Howard's End. Howard's End, like The Diamond Setter, is obsessed with property. Who will control it and who will "inherit" England? Will it be the dreamy, often too self-righteous Schlegals, or the rapacious, but definitely grounded Wilcoxes?
In the Diamond Setters you can ask the same question about Israel: Will it be Menashe Salomon, the deeply moral jeweler working in a tiny shop in Jaffa, a port-side suburb of Tel Aviv with an intricate history of its own? Or will it be Amiram Kadosh, Menashe's scheming, money-driven landlord who plans to renovate the building almost to demolition, and insert a trendy "boutique" hotel in it. Between the two come a slew of other characters: respective children, friends, intimates, confidents, and forbears, some of whom they actually have in common, in this complicated dance of either who is related to whom, or has been sleeping with whom.
This story is about Israel today, in its most complex, acculturated, even liberated format. It is not about Orthodox Jewish Israel, or Arab Israel, or the Israel of constant grinding warfare. Instead, Israel almost seems like an extension of, say, Queens, New York; there is a constant flow between the two and kids who live in Jaffa one week could be back in Astoria the next. There is also this flow of cultures; languages—people switch in a wink from Hebrew to English to Arabic; and sexual attitudes. Several of the men and women here are gay or bisexual, and little is made of it; even the stodgier older characters can deal with this, especially after being as uprooted as they were: as the Salomons originated in Syria with stops in Demascus, seen as paradisial before too many sectarian wars eviscerated it.
The past is a constant here—providing solace and grounding, also grudges and furies. It is symbolized by a blue diamond, called the "Sabakh," given to Gracia, a beautiful, talented, great aunt of Menashe's, by a Turkish sultan as a reward for her singing. The peregrinations of the Sabakh and the subsequent "curse" attached to it become a major theme in the novel; eventually it is possessed by Fareed, a handsome young Syrian who almost casually rides into Tel Aviv on a bus and from there contacts Rami, a young man he had met on Grindr (how else?). Rami introduces Fareed to Honi, another young gay man whose father is Amiram Kadosh, and from there the story picks up steam: inevitably Fareed will return the diamond to its rightful owner (no spoilers here for you, dear reader!) and we will learn about the intertwining destinies of about 30 characters, bound in this daisy chain of sex, property, intimacies, and loathing that reflects life in the area once known as Palestine, or the larger area once controlled by the Turks that the English referred to as the "Levantine."
The portrait of modern Israel here is engaging and at times amazingly attractive. There is now an Israeli version of the "Occupy Wall Street" movement—a movement to equalize wealth and opportunity, and that understands that Israel cannot exist without its Palestinians and their own history and culture. "This has nothing to do with Jews and Arabs, it's about the rich against the poor," says an older man during a large loud demonstration for economic justice.
"The man told the soldier he was twenty-eight years old, married, the father of a five-year-old boy and a four-year-old girl. He worked as a painter, rented a small one-bedroom apartment . . . and made 3,400 shekels a month. 'My parents were born in Yafa . . . we didn't run away in the war, we stayed despite everything. But today I can't buy an apartment. I can barely make ends meet. I have nightmares every night. I only think of one thing: money.' "
There are some sparkling, beautiful passages in this novel, but at times it is a slog to get through: just getting all the names of the characters into their right roles—who's related to whom and how—is hard. I wish it had come with an introductory chart of them, because there were moments when even more minor names were slung in and I was really lost. But now that Donald Trump wants to move the capital of Israel over to Jerusalem (a move I am personally against), the Diamond Setter is very relevant: Jaffa and Tel Aviv represent a modern city's role in justice, the quest for equality, and continuing rationality in a very irrational area of the world. We will need all three of these humane desires in Eretz Yisrael for a very long time.
This book will not go on sale until March 20, 2018. It can be pre-ordered through Amazon, IndieBound, and other online retailers.
Award-winning writer and gender-rights pioneer, Perry Brass has published 19 books, including poetry, novels, short fiction, science fiction, and bestselling advice books (How to Survive Your Own Gay Life, The Manly Art of Seduction, The Manly Pursuit of Desire and Love). A member of New York's radical Gay Liberation Front, in 1972, with two friends, he co-founded the Gay Men's Health Project Clinic, the first clinic specifically for gay men on the East Coast, still operating as the Callen-Lorde Community Health Center. Many of his books available on Smashwords as ebooks can be bought until New Year's Day, Jan. 1, 2018, for 50% off regular price. A great way to get introduced to Perry.
Related
Popular in the Community