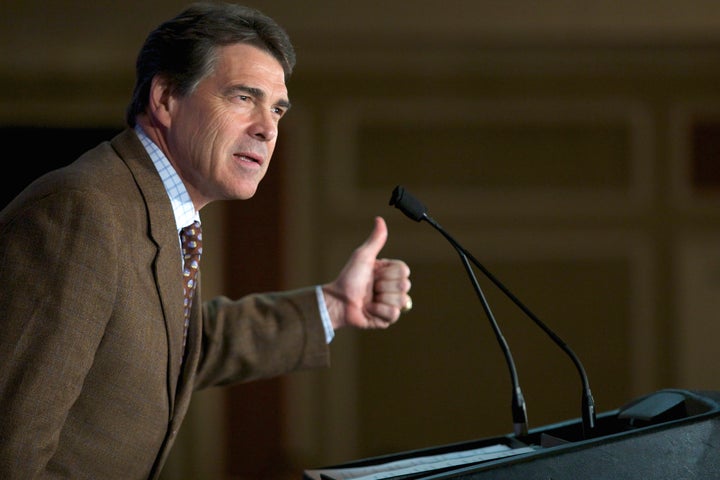 WASHINGTON -- Three new national polls released on Wednesday show Texas Gov. Rick Perry rocketing ahead of Mitt Romney and the rest of the announced candidates as the first choice of Republicans to be their 2012 presidential nominee.
A new survey conducted late last week by Gallup finds Perry to be the choice of 29 percent of Republicans and Republican-leaning independents nationwide, followed by Mitt Romney with 17 percent, Ron Paul at 13 percent and Michelle Bachman scoring 10 percent. All other announced candidates received 4 percent or less, and 17 percent of Republicans nationwide expressed no preference.
The second survey, conducted using an automated methodology by the Democratic firm Public Policy Polling (PPP), found a similar result. Testing just the announced candidates, PPP finds Perry leading with 33 percent, followed by Romney at 20 percent and Bachmann with 16 percent. All other candidates received 8 percent or less and just 5 percent were undecided.
Finally, a new online survey of likely Republican primary voters conducted over the last week by the Economist and YouGov shows Perry leading with 23 percent, followed by Romney (15 percent), Paul (11 percent), Bachmann (9 percent), Cain (8 percent) and all others with less than 6 percent with 11 percent undecided.
The new results represent a rapid transformation in the current Republican vote preference. Neither Gallup nor PPP tested Perry as a likely Republican candidate in June, and both added his name to surveys conducted July. A month ago, Gallup showed Romney leading Perry -- 23 percent to 18 percent -- and the rest of the GOP field. At the same time, PPP showed Bachman and Romney in a virtual tie, receiving 21 and 20 percent respectively, with Perry trailing at 12 percent. But Perry's official entry into the race on August 11 helped boost his name recognition and reshape the current standings.
The new poll clearly moves Perry ahead on our trend estimate chart, which combines results from all public polls.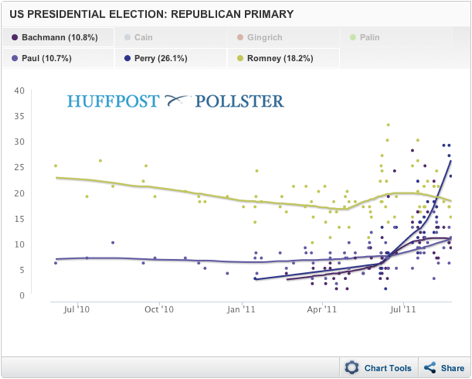 The volatility in Republican preferences is not surprising, given the lack of a dominant early frontrunner. Many of the candidates -- Perry included -- begin with low national profiles and can rocket up as they gain attention and name recognition. Though potentially fleeting, these snapshots do give a sense of the ongoing deliberation among the most active and influential Republicans about their 2012 nominee.
Both the Gallup and PPP surveys, for example, show Perry leading Romney by better than two-to-one margins among conservative Republicans, while Romney still holds a narrow advantage among moderate and liberal Republicans.

Perry's apparent move among conservatives should come as a significant concern to Mitt Romney, who led Michelle Bachmann (by a 29 to 22 percent margin) and the rest of the field among self-described conservatives on Gallup's July survey.
Of even greater concern may be a hypothetical head-to-head matchup between Perry and Romney on the PPP poll. They show Perry leading Romney by a 16-point margin (52 to 36 percent), with much of Perry's support coming from conservatives. If that pattern holds, up, Perry stands to gain if other conservative candidates fade and the race narrows to a contest against Romney.
The consistency of these results comes despite very different methodologies. Gallup uses traditional methods including live interviewers and samples from the all landline and mobile cell phones. PPP samples from a list of registered voters and uses an automated, recorded voice methodology that prevents them from sampling Americans in cell phone-only households. YouGov samples respondents from an "opt-in" panel of respondents recruited to complete surveys, a methodology that is the subject of an ongoing debate in the survey world.
Perry's fast rise is the sign of a race still very much in flux, but the consistency of the trend across multiple surveys using widely varying methodologies suggests it is very real, at least for now. If Perry can consolidate a strong first impression among conservatives, he will be formidable contender in 2012.

Popular in the Community