The Perseid meteor shower is set to swing into full view in the overnight hours between Aug. 12 and Aug. 13. The sky show was partially obscured by the supermoon earlier this week. But during the peak, well-situated skywatchers should be able to see 30 to 40 meteors per hour, weather permitting.
For the best view of the Perseids, skywatchers should step outside between 3 a.m. and 4 a.m., according to NASA, which whipped up a handy map to show where in the world the shooting stars will be visible.
(Story continues below)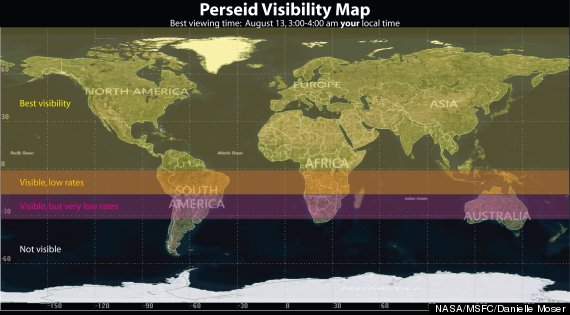 For astronomy buffs who can't see the show in person, Slooh Space Camera will live stream the Perseid meteor shower starting at 7 p.m. EDT -- check it out above. The webcast will feature views of the shower from a telescope in the Canary Islands, off the coast of Africa.
Related
Popular in the Community