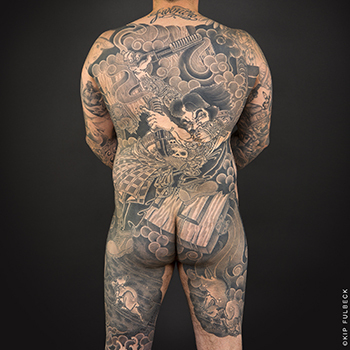 LITTLE TOKYO -- Home of the Japanese American National Museum is currently hosting a photography exhibition on the history and evolution of Japanese tattoos, Perseverance. The title takes from the concept of resilience despite rejection, opposition or difficulty, mirrored as a similar plight of the Japanese-American community and their internment during WWII. The opening reception was on Friday night to museum members and Saturday to the general public, which included live tattooing, a lecture series, model unveilings, and a book signing by all participating artists, including: Horitaka, Chris Horishiki Brand, Horitomo, Miyazo, Shige, Junii, Yokohama Horiken, Jill Horiyuki Halpin, Chaz Bojorquez, and Kip Fulbeck. The goal of the exhibition is to demonstrate the true artistry of Japanese tattoo tradition as a fine art despite its accessibility within popular culture, its association to mafia in Japan and amongst elder Japanese Americans, and its imitation within the Western world as simple caricatures often without historical narrative, tradition or understanding. As tattoos become more mainstream and acceptable in modern society, so does the importance to understand the rich tradition, training, craftsmanship, discipline, scholarship, and trajectory of the art form, specifically, when common tattooers render absurd imagery without any concern for meaning or symbolism. An exhibit like this is necessary to set the true masters apart from the masses.
Throughout the main museum hall there was live tattooing of Japanese irezumi tradition, including tebori, which is the hand-poke application, and inside the gallery observers could see photographed traditional Japanese body suits and pieces, including Japanese-influenced forms such as those by: Chuey Quintanar, Evan Skrederstu, Stan Corona, Tim Hendricks, and others. Of main interest was the cross-cultural fusion concept, which can have a dual effect of keeping a custom and culture alive to ensure its place in history, but also losing its purpose and tradition. In the case of Chris Horishiki Brand and Jill Horiyuki Halpin, we can see that this natural process of hybrid form is a triumph, while it respects the ancient tradition in a modern setting. Chris Brand, my main tattoo artist and great friend, showed me a brilliant back piece many years ago on Ben Grillo, Big Huero's Swan Song, which is a Chicano gang member juxtaposed as Rorihakucho Chojun of the Japanese version of the 108 outlaws or heroes of The Water Margin. He is presented in a traditional Japanese back piece with a sword between his teeth opening the bars of a water gate somewhere in the LA River. I was left astonished by this phenomenal concept and even more so a few years later when Chris mentioned his plan to execute the entire 108 heroes and retell the full story in the context of Los Angeles Chicanos set in the 1980s, inspired by both Japanese and Chicano art and tattoo symbolism dealing with motifs about the human condition such as: protection, religion, community, and others, while lending use to its heavy reliance of black and grey shading. The 108 Heroes of Los Angeles is a modern-day adaptation of the ancient Chinese novel, retold in Japanese culture, of rebellious individuals who fought against oppression and corruption and their whimsical journeys of bravery and pride. In Japan, it made sense that many Yakuza members tattooed these stories across their bodies that represented their similar outlaw journeys. When I was invited to be a part of the 108 Los Angeles Heroes, I accepted and recalled my upbringing within the conflict of West Los Angeles gang culture between Lennox and Inglewood near LAX.
Jill Halpin's version tells the story of an identity clash stemming from an origin of Spanish conquest and Meso-American indigenous peoples that helped create a new breed of people, the Mexican, but now transplanted in the United States as a Mexican American. From a distance the body suit resembles Japanese tradition with wind bars and flowing water, yet upon close inspection it maintains symbolism of European and indigenous cultures such as: a conquistador, a coat of arms, traditional Aztec and Mayan gods, as well as an eagle perched on a cactus. Both Chris Brand and Jill Halpin's work demonstrate how the ever-changing fragmented metropolis of Los Angeles is really a combination of cultural influences that create a fusion of identity that accurately captures the essence of the New World. In addition, Los Angeles native Chaz Bojorquez, created the lettering for the exhibition and lectured about his history as a pioneer of tagging, graffiti, and cholo style since the 1940s, and his experience with decades of rejection. Shunned by the Chicano Movement for being dark and progressive, and ignored by fine arts establishments, Chaz persevered and today is hailed as the "Godfather" of cholo lettering style and has exhibited locally and internationally with artists of many genres. Don't miss out on this exhibit currently on view until September 14th, 2014.
Images courtesy of Kip Fulbeck
REAL LIFE. REAL NEWS. REAL VOICES.
Help us tell more of the stories that matter from voices that too often remain unheard.