It is with great honor to go on a tour with Ms. Yolanda Aviles, HS College Counselor at The American School of Tegucigalpa (AST). Ms. Aviles is dedicated to helping AST students to prepare diligently for college. She counsels AST to apply for school in a timely manner and provides educational resources to AST students & parents in making wise & educated decisions in choosing the best colleges & universities mainly in the U.S.
JAM, JR:
How are you today Ms. Aviles?
MS. AVILES:
I am very well, thank you Mr. Menaiza.
JAM, JR:
Tell me more about this poster with word PERSEVERANCE?
MS. AVILES:
Every month in the American School of Tegucigalpa, we have a theme as part of our values program. The entire school enforces life skills as part of a comprehensive guidance initiative. The theme for this month of January 2016 is PERSEVERANCE.
JAM, JR:
How would you define PERSEVERANCE in your own words?
MS. AVILES:
Jose Angel, The American School Mission states we are committed to a student-centered education that promotes values in a collaborative environment. Perseverance is an integral value that allows individuals to pursue their dream and work hard until the goals are reached. Perseverance is the determination to try our best on a daily basis.
JAM, JR.:
Thank you for sharing this definition. It is very clear and precise. Ms. Aviles, what do you do? You are very successful and you have managed to raise your two daughters, Andrea and Alejandra, to attend AST and be top students. Alejandra is attending 8th grade and Andrea is finishing 12th grade and getting ready for college.

MS. AVILES:
Jose Angel, being a counselor at the American School is a true blessing. I get to do what I love in a wonderful environment. Under the leadership of Mrs. Jenkins and Ms. Motz, I enjoy working with excellent professionals for the growth of our students. Every day I enjoy being a small part of their lives. As educators we have the opportunity to learn from them and also plant seeds of wisdom. With the help of God, we do our best to guide them into making the present more fulfilling and learn to make choices so their future is brighter and more promising.
JAM, JR.:
This is amazing. This is a great school. I also see university banners in your office. I see the one from University of Maimi, Pepperdine University, Georgetown University among others.
MS. AVILES:
Yes, we are fortunate to get visits from universities in the United States and other countries. We are happy to welcome representatives that talk to students about the learning opportunities abroad. Many of them offer merit and need based scholarships to our promising students. We host two major college fairs every year and we are happy to invite all the bilingual schools to our campus and share these opportunities with other deserving students in Honduras. We have also been glad to welcome you, Mr. Jose Angel Menaiza Jr. who has offered a free one hour course in reading and are offering a workshop in Speed Reading. You will also help them prepare for college.
JAM, JR:
Yes, I am offering a seminar here at AST to empower students to get top scores on standardized tests. Having top scores give students more opportunities to earn admissions in universities such as UCLA, USC, and Stanford University and get scholarships (including full-ride scholarships).
MS. AVILES:
Jose Angel. Yes, I am really excited about this seminar It is being very successful and the students are very interested on learning about speed reading (http://www.tinyurl.com/astseminar). Thank you very much for offering this opportunity to our students.
JAM, JR:
Thank you Ms. Aviles for all that you do at AST. You are very successful. As I am walking with you in this tour, I can see how AST students greet you with great respect and admiration. Everyone revere you and honor you deeply.
Ms. Aviles, I heard this definition of SUCCESS :
SUCCESS IS ABOUT HOW MANY PEOPLE SMILE TO YOU, AND HOW MANY PEOPLE LOVE AND ADMIRE YOUR SINCERITY AND YOUR HUMBLE SPIRIT.

That's who you are Ms. Aviles to everyone.
MS. AVILES:
Thank you Jose Angel!

JAM, Jr:
Thanks for the tour Ms. Aviles. I enjoyed the lunch as well. Very delicious Tacos & Enchiladas. I am glad I came this Friday. I love Melon Smootie. I even created song in my childhood while in La Ceiba "Licuado de Melon (Melon Smootie)"

MS. AVILES:
The crunchy tacos are only available on Fridays. You are lucky Jose Angel!
See you Saturday 1/30!

BRIEF BIO OF MS. YOLANDA AVILES:
Mrs. Yolanda Lainez de Aviles was born in Tegucigalpa, Honduras on June, 27. She completed an undergraduate degree in Psychology in the Universidad Autonoma de Nuevo Leon in Monterrey, Mexico. She has a master's degree in Education from Plymouth State University and a College Counseling certificate from UCLA Extension program. She is happily married to Ricardo Aviles and is mother of Andrea (17) and Alejandra (14). She has worked in the American School of Tegucigalpa as a counselor since November 1, 1995.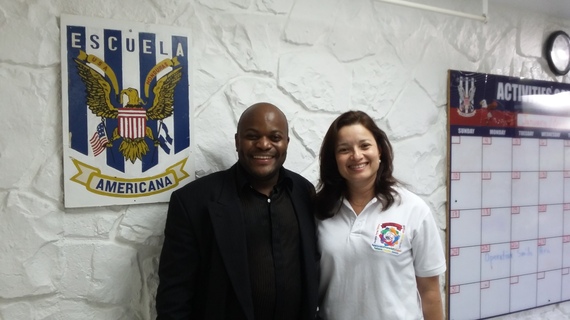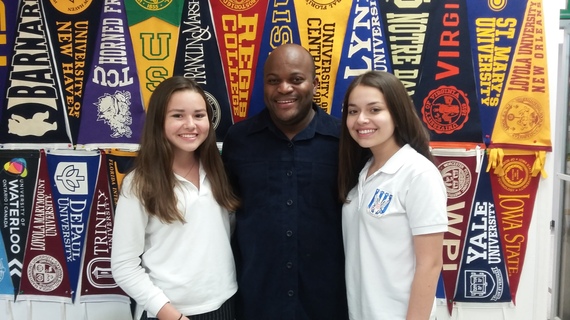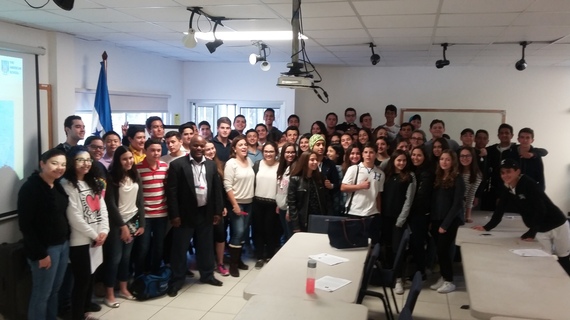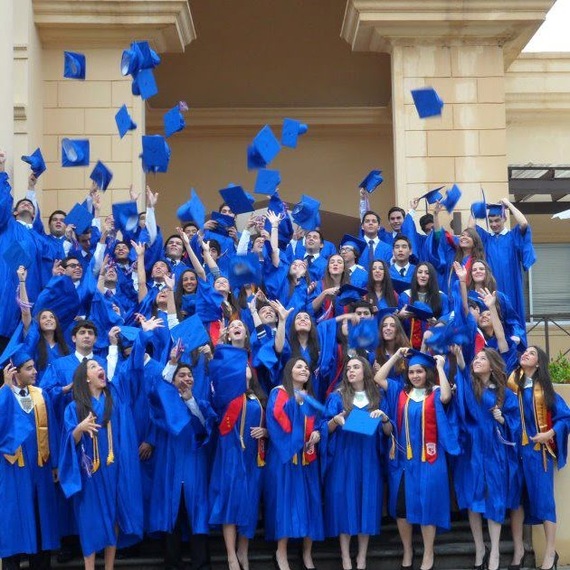 Calling all HuffPost superfans!
Sign up for membership to become a founding member and help shape HuffPost's next chapter