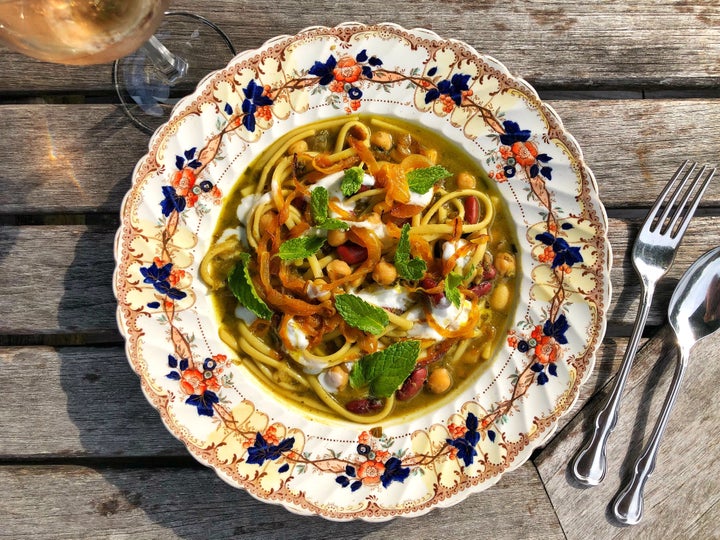 "You know, it's just as easy to make two briskets as it is to make one," my grandmother scolds me, after realizing there were no leftovers for her to take home.
Meanwhile, my mother picks off the streusel topping from the apple cake I made, which we tried hiding in the other room to prevent just that. My sister begins to cry after picking a fight with my uncle. My aunt ends the meal with her annual announcement: "You know, I really don't think I can handle hosting this again next year."
It's a tale as old as time: the Rosh Hashanah I've grown to know and love.
When I met my husband, Alex, I was thrust into yet another eccentric Jewish family, though this one with culinary traditions foreign from my Ashkenazic point of reference. As a Persian-Iraqi Jew, Alex didn't grow up with brisket or babka, but instead fragrant stews and saffron-scented rices galore. I quickly fell in love with the cuisine, getting a taste of the best of both worlds.
The next year, we parted with the typical meshugas of my family to spend the second night of the Jewish new year celebration with Alex's side. The aromas of toasted spices filled the air as we sat down to bowls of this ash-e-reshteh, an army-green soup swimming with noodles and beans. Perfumed with caramelized onions, turmeric and handfuls of minced greens, the bowl was finished with a swoop of yogurt to create a simultaneously light and hearty delight. I immediately needed to add this one-pot wonder to my culinary repertoire.
Traditionally served during the spring equinox as part of Nowruz, the Persian new year, the soup packs in noodles to symbolize success and longevity until we make it around the sun again. Alex's Aunt Diana also makes it for Rosh Hashanah, the Jewish new year, giving us double the luck. Like dipping apples in honey for a sweet year, it's a tasty tradition anyone can and should get behind.
Today, we blend our families and foods for our Rosh Hashanah feasts: the sweetest part of this new year.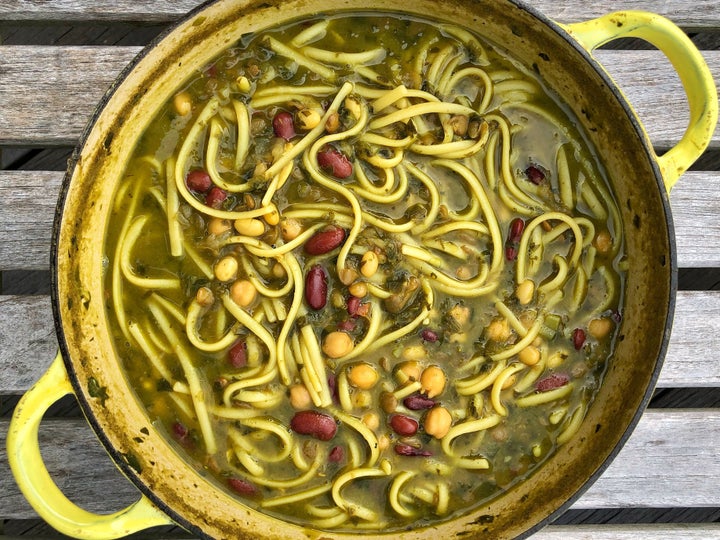 Persian Noodle Soup (Ash-e-reshteh)
Yield: 8 to 10 servings
Prep Time: 30 minutes, plus overnight soaking
Cook Time: 1 hour and 15 minutes
Total Time: 1 hour and 45 minutes
1/4 cup olive oil
2 medium yellow onions, thinly sliced
3 garlic cloves
1 teaspoon turmeric
8 cups water
1/2 cup dried navy beans, soaked overnight
1/2 cup dried kidney beans, soaked overnight
1/2 cup dried chickpeas, soaked overnight
1/2 cup brown lentils
Kosher salt, to taste
5 cups baby spinach, finely chopped
1 cup parsley, minced
1 cup cilantro, minced
6 scallions, minced
8 ounces dried linguine
Yogurt, for garnish
Mint leaves, for garnish
In an 8-quart pot or Dutch oven, heat the olive oil over medium heat. Add the onions and the garlic and cook until softened and golden brown, 20 to 25 minutes. Stir in the turmeric and cook until fragrant, 1 minute. Transfer one-third of the onions to a bowl for garnish, set aside.

To the onion mixture, add the water, navy beans, kidney beans, chickpeas, lentils and salt, then bring to a simmer. Reduce the heat to achieve a low simmer and cook, covered, until the beans are tender, 30 to 35 minutes.

Stir in the spinach, parsley, cilantro and scallions and cook until dark green, 10 minutes. Add the pasta and continue to simmer until the noodles are tender, 10 to 12 minutes. Adjust seasoning with salt. Divide between bowls, garnish with reserved onions, yogurt and mint leaves, then serve.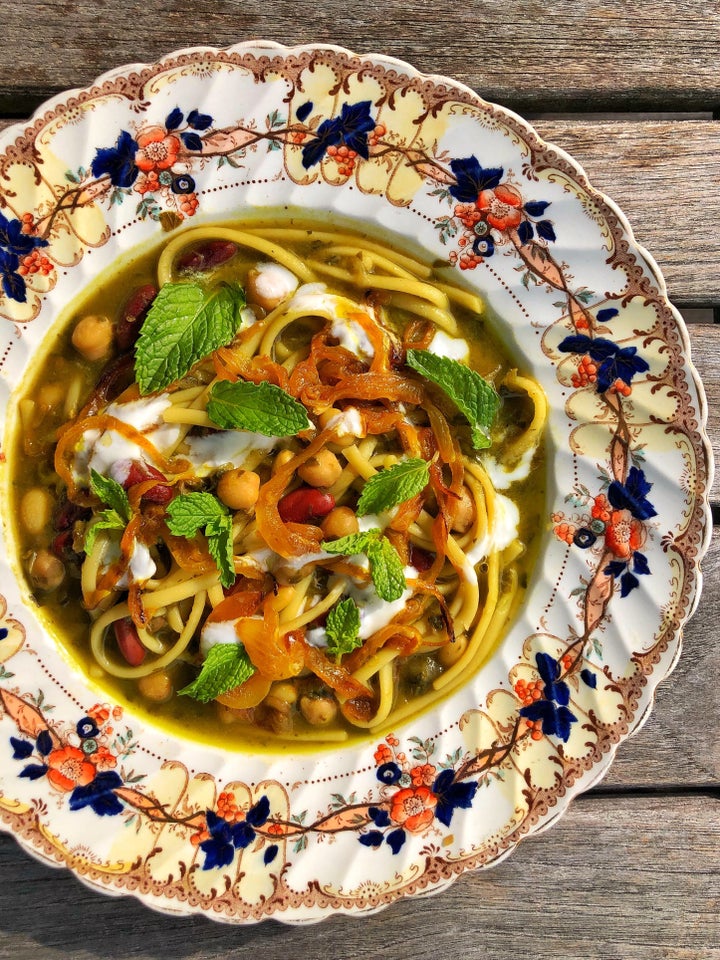 Before You Go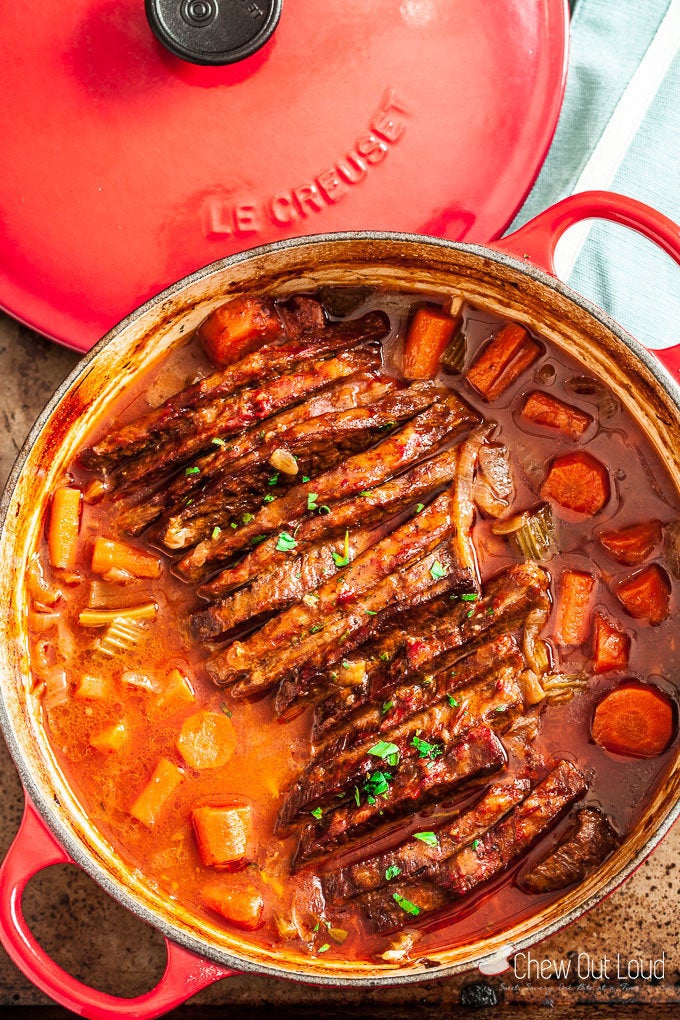 Brisket Recipes
Popular in the Community