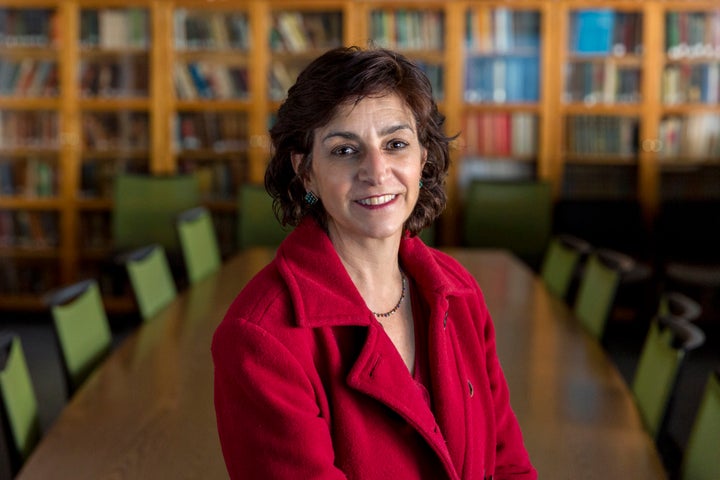 With the goal of harnessing the untapped potential of Iranian-Americans, and to build the capacity of the Iranian diaspora in effecting positive change in the U.S. and around the world, the Iranian Americans' Contributions Project (IACP) has launched a series of interviews that explore the personal and professional backgrounds of prominent Iranian-Americans who have made seminal contributions to their fields of endeavour. We examine lives and journeys that have led to significant achievements in the worlds of science, technology, finance, medicine, law, the arts and numerous other endeavors. Our latest interviewee is Persis Karim.
Dr. Persis Karim is a professor in the Department of English & Comparative Literature and the founding director of Persian Studies at San José State University in California, where she teaches world and comparative literature, US ethnic and diaspora literature, global studies, film, and Middle East studies.
Professor Karim has sought to curate a literature of the Iranian diaspora experience from the time she began studying comparative literature in graduate school nearly two decades ago. She says she was "looking for herself" in literature by other ethnic authors, and that led her to become co-editor of A World Between: Poems, Short Stories, and Essays by Iranian-Americans (George Braziller Inc.: New York, 1999), the first literary volume by Iranian-Americans. She is also the editor of Let Me Tell You Where I've Been: New Writing by Women of the Iranian Diaspora (University of Arkansas Press, 2006). Professor Karim has become an expert on Iranian diasporic literature, and has engaged writers, communities, and citizens with the idea that Iranians around the globe have stories and experiences that are much more nuanced, humane, and colorful than the stereotypes and media headlines convey. She is the recipient of the 2017 Outstanding Professor Award from San Jose State University .You can learn more about her work at: www.persiskarim.com.
Tell our readers where you grew up and walk us through your background. How did your family and surroundings influence you in your formative years?
My parents were both "accidental" immigrants from two different countries. My mother was from France and my father was from Iran and they each came here after the Second World War and both had lived through the occupations of their respective countries. They came to the US at a time when people believed it was here that they could reinvent themselves, find new opportunities, and flee war and injustice. They met each other on the University of Chicago International House dance floor. Eventually they ended up in California where they raised six children together. Growing up with two parents from two countries was both challenging and rewarding. The main challenge was to understand how I was not only the product of their two histories, but also of the American experience of post-World War II immigration. The rewards came later when I understood how rich my history was and how I was "do-rageh" (of two veins) which enabled me to see a wider perspective on culture, the world, and those around me.
What has been your personal key to success? Who and what were the biggest inspirations for your career?
Success is not a destination, but a process. If I've been successful it's because I had the benefit of generous people, generous teachers, and committed mentors. I had some fantastic professors as both an undergraduate student and when I was working on my graduate degree. Probably the most influential professors were those who taught me to question everything, look for the truth, and to find my own voice. I was also very influenced by my parents' lives. My father, Alexander Karim, went back to pursue a graduate degree at age 76. He taught me that learning is a lifelong pursuit and that without curiosity, without integrity, you have little chance for growth in life. My mother, Evelyne Karim, was a Montessori teacher and had a nurturing and generous spirit and was passionate about art.
Your books try to show Iran and Iranian culture beyond the images and narratives that are prevalent in the mainstream media. Coming from a professor of humanities, is this an attempt at "humanizing" them?
In my own work as an editor, curator, and scholar of Iranian diasporic literature and culture, I've tried to expose the stereotypes, misinformation, and media headlines that occlude the stories of real people's lives. News headlines reflect conflicts between governments and between those in power. I want to show the nuances, beauty, and complexity of Iranian culture, to show the human side. Those are the lived stories of people who have experienced dramatic social upheaval in Iran, and people who have had to remake their lives in the West at great personal sacrifice. I want to show the humanity of Iranians and Iranian culture because, especially now, the Trump administration risks setting us back after real progress began to be made after the nuclear agreement under Obama. Stories, literature, culture, all of that is the window of connection between people. That's where we find hope.
Your book, A World Between: Poems, Short Stories, and Essays by Iranian-Americans explores the Iranian-American community's continuing struggle to understand what it means to be Iranian in America. Could you elaborate on this?
This first anthology of Iranian-American writing, published in 1999, reflects the immediate aftermath of the Iranian revolution, the Iran-Iraq War, and the first traumas of those who left Iran after 1979. Many of the poems and stories show the ruptures and individual scars that history can leave on people. It was the first expression, the first public and "living" archive, if you will, of what Iranians saw, felt, struggled to say in the aftermath of 1979.
In your other edited volume, Let Me Tell You Where I've Been: New Writing by Women of the Iranian Diaspora (University of Arkansas Press, 2006) the writers attempt to re-define notions of home and language and their work offers readers an experience of Iranian diasporic culture. Could you describe this book's primary attributes?
This second anthology reflects the shifts in attitudes, new confidence in writing, and also the prominence of female writers in the global Iranian diaspora. It shows the maturation of these writers and the ways in which they are shaping a discourse on Iranian culture and experiences in literature.
You have worked on debunking many misconceptions about Iranian women. Can you share some of them with us?
The most important misconception I want to debunk is that Iranian women (whether in Iran or outside that country) are silent, passive, and without agency. Iranian women in Iran have been an important social force and they continue to be vocal and persistent. The other part of that misconception is to expose the ways in which the West continues to purvey an image of Middle Eastern or Iranian women that projects an "other" that suits the narrative about how oppressed women are elsewhere. Iranian women have a lot to say, and have been silenced both by the Iranian and the US government through the over-emphasis on the veil, the hijab, without recognizing all the other ways in which women participate in society. In the US, Iranian women are often homogenized, so that others think there is only one version of Iranian-American women. The literature I've curated reflects the idea that women are powerful, charismatic, artistic, and certainly not uniform.
What can the larger American culture can learn from Iranian American literature and culture about the reshaping of identity in response to change?
As Americans, we live in a society and culture that has encouraged, enabled, and even required the reshaping of identity. When people now speak of "identity politics" or "making America great again" (a notion that has no real meaning since one can ask, "great" for whom?), we are missing something essential about the United States; it's a nation of immigrant sensibilities, a country that invites change and thrives on the interaction between cultures. Iranian-American literature, like many "ethnic" literatures, shows how a community, culture, ethnic group, evolves and adapts to suit new circumstances. Iranian Americans have lived under the cloud of suspicion since the 1979 hostage crisis, and they're being penalized today under the so-called "Muslim ban." Why? Because they're evolving to become part of the United States; they are Americans too. They too influence and contribute to the larger culture of this nation. I see this as interesting, positive, necessary; but to some, and especially those in power today, it's a threat.
Can you tell us something about the changes you see in this diasporic literature over the past three decades?
I would say diasporic storytelling has become much more sophisticated, and its expression has become more nuanced— evident in the incredibly smart and well-crafted writing that has emerged in over the past decade. Writers are no longer just telling the urgent first-person stories about themselves, but their work conveys a more universal story, one that shows the complexity of the United States as well. This literature is filled with people, characters, landscapes that straddle two histories, two countries, and the varied as well as the complex aspects of coming from multiple backgrounds. Women are still at the forefront of this literature and I find that exciting.
How can Iranian-Americans become more accurately portrayed in the mainstream media in the majority's imagination?
No matter how much politicians vilify Iranians, they need to be reminded that Iranian-Americans are part of the fabric of this nation. They are artists, engineers, lawyers, innovators, judges, mothers and fathers, and while we are affected by stereotypes, Iranian-Americans are much more engaged and able to represent themselves through their enterprises, institutions, and everyday encounters. The arts are essential to this project. I think that more Iranian immigrants and second-generation Iranian-Americans should step up to support the arts and humanities if they want to have an impact and engage the mainstream in a more realistic and humane portrayal. I think the time is right for Iranian-Americans to stop looking back at the past and to focus on where we are now and to focus on the next generation. Many Iranians have accumulated great wealth and I think they need to dedicate more attention and resources to supporting education, to building a foundation for the arts and humanities, so that we can represent ourselves in positive ways. We also need to become much more actively engaged in civic institutions and we need to build solidarity with other groups, races, ethnic groups and see them as our allies.
What does it mean to be an Iranian- American to you?
I came to this notion of being "Iranian-American" when many were still in hiding, calling themselves, "Persian" in order to distance themselves from the Islamic Republic of Iran, and from the dramatic news events of the day. But my use of the term "Iranian-American" is the result of a personal yearning for belonging and to feel connection to others. Because my father was a very early immigrant, I didn't grow up in a community. It began as an intellectual pursuit, by becoming engaged with literature; I wanted to see myself in literature. But over time, I've come to appreciate that my heritage is less about a singular and solid identity, and is more fluid and evolving. The events and histories that have shaped me and continue to challenge me, force me to re-visit what it means. I'm proud of my Iranian heritage, but I see it as a process of becoming connected to millions of others in this country who draw on more than one culture, and one perspective as Americans. I think it's a beautiful thing. The current policies of this administration and the racist, Islamophobic stereotypes they convey cannot diminish my connection to Iran. Those traces of history and culture and migration are part of me. Being Iranian-American for me, now more than ever, means drawing on the best of these cultures—the arts, the democratic practices, the history, so I can embody the best of the US, a country I love—a country that is my only home. I don't want to see it become nationalistic, jingoistic, or more racist. Being Iranian-American is about participating and claiming a voice alongside others who lack a voice.
Support HuffPost
The Stakes Have Never Been Higher
Related
Popular in the Community