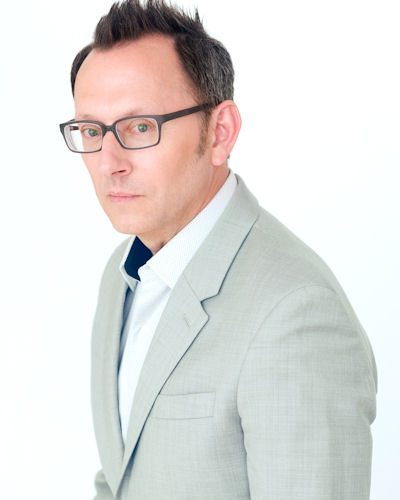 Photo Credit: Jean-Claude Photography
If you've watched the CBS thriller, Person of Interest then you are more than familiar with the character of Harold Finch. The multi-billionaire software engineer who has used his technological know-how to build a machine that not only changes the way in which we fight crime, but it's also a machine that everyone wants to get their hands on.
This machine unlike any other has the ability to predict future crimes.
Harold approaches a former CIA field officer, John Reese (Jim Caviezel) to assist him in conducting surveillance in an attempt to predict future terrorist acts and crime.
It's every bit as exciting as it sounds and is definitely a must-see in my opinion.
You now know enough about Finch to be enticed to watch the show -- now allow me to introduce you to the man behind the masterful portrayal of this character who is every bit as interesting, though in a different way.
Emmy award-winning actor, Michael Emerson and I conversed recently about the series' immense popularity, intelligent writing and drama that moves at breakneck speeds, what it's done for his career, some of his interests as well as his opinion on the state of television and the cinema.
Of course, you all know that Michael will give us a teaser into what will be an epic end to the second season of Person of Interest.
You have had an incredible career, Michael.
I have had some good fortune in the world of television. I have had it late in life after many youthful struggles and a change of careers. I'm grateful, I'm so happy that I've finally got some part of my dream to come true.
To say that Person of Interest is a hit and loved would be the understatement of the year. It has consistently been exciting. It's rare to see a show maintain the same level of momentum and intensity as the pilot, this show just does it and it keeps on keeping on.
They do a really good job. The writers are smart; they have good urgency and a good imagination. They like to come up with new dramatic criminal situations as well as come up with new spins on old dramatic criminal situations.
So, your character, Harold Finch is the big technological know-how behind Jim Caviezel's character. It seems to me that you could actually be Bond and Q rolled into one, but Jim is doing the Bond stuff.
That's right, Jim does all of the Bond work and I do everything else. It's fun though. I'm so grateful that I'm not doing the part that he has to do -- God knows that I've had enough combat and beatings on Lost to last me a lifetime. One of the reasons I took this project was because I saw that the character was going to be disabled; I said to myself 'Aha, you won't have to do combat.' That's the part for me.
You've really had quite the range of characters. I will never ever forget the character you portrayed on The Practice -- that guy was bone chilling!
That was the scariest character I have ever played. He was cold-blooded and yet he had a sense of playfulness about him which made it even creepier.
Your portrayal of that character always reminded me of the fact that less is better in film and television. That can take us back to the style of old German expressionistic films. The original Halloween was an example, it relied on long camera moves, music, and creating a foreboding atmosphere for moods.
I think that all of those things are best served by an unconventional approach. The most chilling things are the most off-hand and I think you get the most bang for your buck with the least gore -- with the least explicit and the most implicit.
I think that's why I'm such a huge fan of Hitchcock's work -- your work as an actor is reminiscent of that time where film relied on performances to bring about that implicit quality.
Hitchcock is a great example of how less is better. Thank you for your kind words.
We've really gotten away from that. It seems like some of the creative minds out there are under the impression that audiences want to think less.
I'm truly glad there are so many options on television that are for grown and thinking people. I can't always say the same about the cinema, but I think television has kind of hit a second golden age.
I think just with the options from CBS on Thursday nights, it's got the evening and the viewers pretty tied up with Person of Interest and Elementary.
Elementary is a strong show, we watch it almost religiously in our house. We typically DVR it and watch it over the weekend. We won't let a week go by without seeing it, it's a great show. I'm just addicted to the whole idea of Sherlock Holmes; I've seen all of the movies and all of the different series. I adore Jeremy Bratt, Benedict Cumberbatch and I love all those guys. I think Jonny Lee Miller is doing an excellent job and finding a fresh and interesting approach to a character that could be tired. Lucy Liu is absolutely inspired casting. I'm starting to sound like press for CBS.
It's okay, maybe we can end the article with the line; "CBS Cares." (Laughs)
(Laughs) I did a couple of those back when we had the hurricane and that was my line -- CBS cares.
If you look at the network's lineage -- it's historically been associated with some of television's greatest and most innovative shows. I Love Lucy is an example, the first show ever to be filmed in front of a live studio audience.
That's very true, that show had like 50 percent of the audience. Today, we're happy with 2 percent. Half of all TV owners in America tuned into I Love Lucy.
Another thing I love about Person of Interest is how it taps into what's going on and what's relevant today and how it affects the characters. It's very in tune with today.
I think so too. I like how the writers are willing to stay on the technological cutting edge and it's an interesting theme -- the impact of super technology on our lives, on our crimes, and on the detection of crimes. I think I have more fun on this show than I feel like I should be having.
I understand that your wife is also in the business as well.
Yes, Carrie Preston, my beautiful redheaded bombshell -- she also has a recurring role on Person of Interest as well as on True Blood.
Yes, Bryan -- I'm truly a fortunate man and very grateful.
That you are, my friend. So, tell us all what we can expect from the season finale of Person of Interest -- we're all dying to know.
In a race to save the machine, our team is forced to partner with surprising new allies to fend off lethal mastermind Root and a familiar, nefarious entity. We also find out more about Finch and Ingram, along with Finch's original motivation for wanting to save the irrelevant numbers. It should be an exciting finish!
Be sure to check out all of the excitement that Person of Interest is known to deliver in the season finale, airing Thursday, May 9th at 9/8c on CBS.
REAL LIFE. REAL NEWS. REAL VOICES.
Help us tell more of the stories that matter from voices that too often remain unheard.