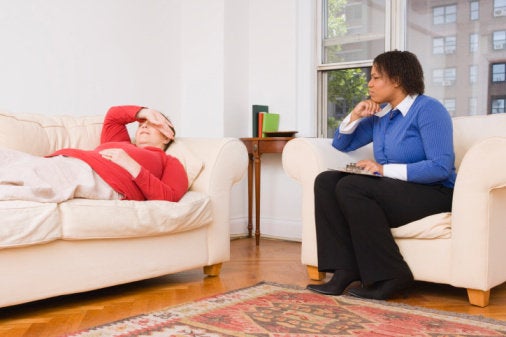 Contrary to how it looks from an insurance company's perspective, even if we do not have serious symptoms, many of us would benefit greatly by someone listening skillfully as we reflect on our lives, where we are and what it all means. A rough childhood can leave you with troublesome feelings and lack of confidence, or recently losing a parent, for example, or being diagnosed with a life-threatening illness, can shake you to the core.
Who you choose can be the most important thing you ever do. Your therapist will influence you--in fact, that is what you want. If your therapist were a pill designed to change your entire outlook of life, you would learn about it thoroughly before you took it. So take the time to decide before you commit to this relationship.
Begin by asking friends and medical or mental health professionals if they can suggest a therapist whom they know very well, and pay close attention to anyone who can tell you what it is actually like to be in therapy with that person. I advise you not to see a therapist whom a close friend is already seeing. Most important, do not have a professional therapy relationship with a friend or relative who is a therapist. If your partner sees a therapist, don't see the same one, and beware of any therapist who suggests that you do so. Don't feel pressured to see a certain therapist because you feel obligated to the person who made the recommendation.
If You Cannot Afford the Therapy You Want
If you cannot afford good therapy, do not see someone unlicensed or poorly trained just to save money. It could cost you dearly in other ways. Aim for the best. Even if the price seems steep, it will be worth it. You might need fewer sessions with a better therapist, or you might make gains that truly change your life, including your earning ability.
Why are fees so high? Along with the costs of training, overhead, malpractice insurance and the stress of life-and-death responsibilities, the reflection and consultation needed for most cases require good therapists to limit their schedule to no more how to find a good therapist than 20 patient hours a week. However, many therapists have a sliding scale, so about a quarter to a half of their patients pay well below their normal fee. Explain your situation and state what you can pay. If the therapist you have approached cannot offer a lower fee, ask if he or she knows someone who could -- perhaps an intern or someone who is starting out in practice. These can be the best referrals of all.
Your Particular Preferences
Should you see a man or a woman? That is up to you, of course. Which would make you more comfortable? Do you need a male or female role model or perspective? For deeper emotional work, sometimes it is good to choose the same gender as the parent with whom you had the best relationship. What type of therapy should you be seeking? Therapists fall on a rough continuum from methods that are conscious and rational to methods focused on the unconscious generally or on how it operates specifically in the therapy relationship. Cognitive behavioral and interpersonal therapies are largely rational. Others are in the middle, such as Eye Movement Desensitization and Reprocessing (EMDR). It is mainly used to treat recent traumas, such as witnessing a sudden death, but some practitioners use it to recover memories of trauma or for other, more general, purposes. Emotion-focused therapy and gestalt therapy are also in the middle of the continuum, as they aim to work with the emotions but do not delve systematically into the unconscious. Psychoanalysis, Jungian analysis and what is called self psychology (introduced by Heinz Kohut) best represent therapies that seek to access the unconscious as it appears in the therapy relationship and in dreams. Their aim is to go as far back into childhood as necessary to find where your development got off track and work from there.
Be sure, however, not to place the particular method above the skill and personality of the therapist. Indeed, most therapists are eclectic and versatile enough to use the approach that will suit you best, and they can change approaches according to what is working. A good therapist will be interested in whatever you think will help you.
Setting Up an Appointment and the First Session
After you have assembled a list of therapists, you may want to visit the websites of those who have one. Decide whether you can reach the office easily and think carefully before committing to driving a long distance. Plan to see at least two or three on your list before deciding on one, so next call to find out if they have openings at the times when you are free. Ask about their fees, including whether they charge for the first session (most do). If you will have trouble paying that fee, tell them so on the phone. They may be willing to discuss a lower fee. You may not have a chance to talk more, but do ask as many questions as you can by phone. Most therapists, however, feel that the two of you need to meet in person for an hour at least once before deciding if it is a good match, so set up an appointment. To work well together, you have to like each other. There has to be some chemistry on both sides. Plan to pay with a check and/or have your insurance card and referral ready.
In this first session, ask where the therapist was trained, how long he or she has been in practice and what his or her specialty is. At some point, bring up enough of your deepest issues to gather whether this therapist will have some useful insights. Be a bit spontaneous for part of that first hour to see what happens between you, but also get your questions answered. You are the customer.
Mulling Over Your Experience
After meeting each therapist, ask yourself, "Did I gain something from the session? Was I engaged enough to want to return?" You should have felt that the therapist was kind and empathic. They are trained to be that way, so that quality does not in itself make the therapist special. But if one is not, don't go back. Also, do not go back to any therapist who pushes you to work with him or her, discourages you from interviewing other therapists, or makes you feel that his or her needs will get in the way of yours. For example, did this therapist answer a phone call during the session, use you as an audience for personal stories, or try too hard to impress you with his or her talents?
After seeing several therapists, pause for a few days to sort out your impressions; otherwise the last person may leave the strongest one. Don't ignore your reactions to details, such as the atmosphere of the waiting room and office, which reflects much about that person. For your next session, decide what else you need to know about the therapist, including office policies such as what happens if you have to cancel suddenly or how often fees are raised. Take time to make your decision.
Once You Decide
Once you have made a choice, give the therapist a chance to work in his or her own way. Trust your choice through the ups and downs, but always discuss the downs. I cannot emphasize enough how essential it is for you to be honest. If you don't like something, talk about it. Therapy often leaps forward after these discussions. Above all, do not quit without discussing the reason unless something very unusual occurs, such as a request for sexual intimacy or friendship (absolutely unethical and wrong), a breach of confidentiality, or any other failure to maintain boundaries. Also, do not try to see two psychotherapists at once except when one has referred you to another, as for marital counseling.
Elaine Aron, PhD, is the author of The Undervalued Self: Restore Your Love/Power Balance, Transform the Inner Voice That Holds You Back, and Find Your True Self-Worth.
Related