"Circulation is down; apathy is up."
That's what John Marr had to say about his hobby in a 1999 essay called "Zines Are Dead," pointing out the contrasting ease of writing on the Internet. "The web has made a reality out of the fantasies of certain dewy-eyed zine theoreticians: everyone these days really can be their own publisher," he wrote. Which is true; they can. Tumblr counts over 220 million users. Last week, one in seven people on Earth logged onto Facebook.
But the Internet hasn't killed zines.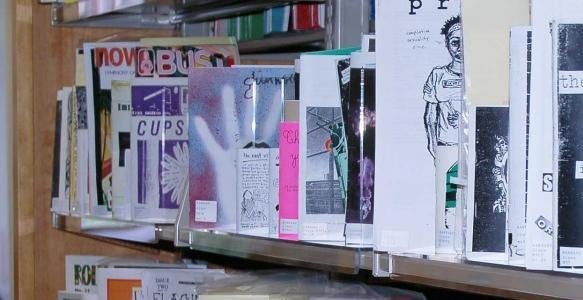 The low-budget cousins of magazines, zines (pronounced but not spelled "zeens") are handmade collections of writings and illustrations reproduced typically by copy machines, stapled together, and sent through the mail. Their main virtue is acting as a non-commercial means of disseminating personal ideas. Some are political, while others are based on an obsessive love for a particular thing: Science-fiction zines were big in the '70s. Punks and riot grrrls made zines in the '90s.
"Newsweek's ink is no blacker than yours," Factsheet Five, a now-defunct zine-review zine, declared in a 1989 guide to self-publishing.
Still others are very, very personal -- nicknamed "perzines." Perzines dig into serious subjects. Many of the perzines I encountered in my research touch on depression, bipolar disorder, anxiety, PTSD or a combination of various conditions. Making and distributing zines provides, for many, a community to connect with and discuss shared experiences, but that seems to ring true for perzine writers more so than any others.
"It creates this feeling that you're not alone," 28-year-old Eddie Jude told The Huffington Post. Jude has been involved with zines since the early 2000s, curious about ones that covered "reproductive justice stuff" when such information was limited online.
Preferring the use of a gender-neutral pronoun, Jude explained that they struggled with an eating disorder in high school. After reading hand-me-down zines from friends, Jude explored a library in Toronto and came across perzines. Eventually, they started making their own.
"Zines were one of the big things that helped me stop having an eating disorder," Jude said.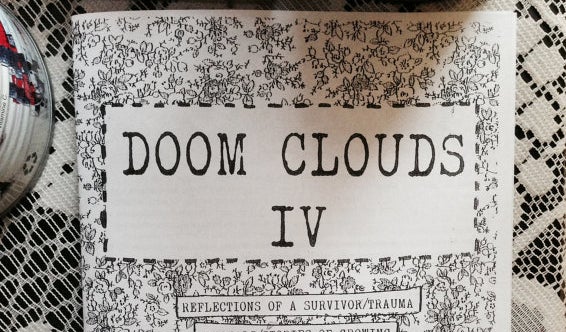 Brianne Burnell, who makes a zine called Anxious, similarly started creating her beautifully illustrated comics as a way to examine what makes her so anxious. Burnell's anxiety disorder impacted her university attendance record, made her walk out of an exam with a panic attack, and cost her friends who didn't get why she couldn't go out to bars like any other girl. "[Zines] made me laugh at myself," she explained in an email. Sharing them with friends and family helped them see the humor in her illness, too.
"My dad suddenly understood me better. My friends felt more comfortable broaching the subject with me. We all laughed together about how incapable I am. It was cathartic, devastating, and inspiring all at once," she said.
Comparing zine-making to clinical therapy, though, is a big leap. As New York-based art therapist Linda Turner reminded us, formal therapy is conducted in a controlled setting with a licensed professional. While "writing and doing" can have a positive effect, Turner pointed out that sharing deeply personal things with a broader audience can have unintended negative consequences -- possibly even causing more anxiety in retrospect. On the other hand, she acknowledged, sharing an experience after coming to terms with it can also be helpful.
"It just really depends on the person," Turner said.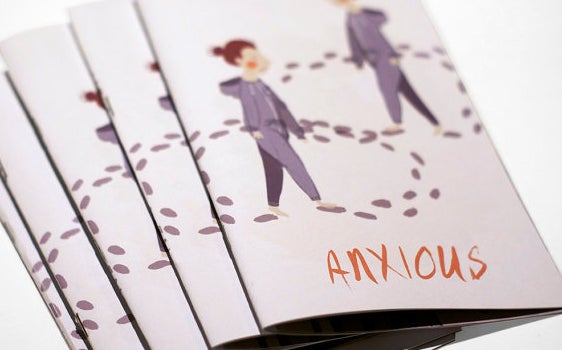 Most of the zine publishers I spoke with, however, mentioned the importance of writing first and foremost for themselves. Finding people to connect with, they explained, was more of an added benefit to zines than their raison d'être.
For example, after Earla Legault's sister died of cancer, the 55-year-old British Columbian turned to her long-term hobby to process her grief. "I know, for me, getting it out of my body really helped," Legault said.
When she took her zine, I Need A Grief Buddy, to a local hospice and read some of her writing aloud, the response was so enthusiastic that she was asked to lead actual zine workshops there. Cultural taboos may stymie discussion of certain emotional subjects, Legault said, but "you can still put it down on paper." She recently put out a call for submissions from others who have lost a sibling, with the idea of crafting a zine from everyone's work.
"It's just really immediate. That's what I liked about it," Legault explained, adding that she doesn't see a similar "authentic-ness" on the Internet, a medium designed to connect people. Can even the most intimate blogs and message boards compare with the closeness of words on paper?
That's a question 27-year-old Jessica Lewis, who runs a blog on books, zines and crafts, contemplated when she and some friends -- "all bloggers and web people" -- decided to start publishing.
"We thought, 'We don't really want to make another blog. We want to make something that people can have and hold and pass around,'" Lewis explained. Her gang created Static, a twice-yearly Toronto-based zine on rotating themes.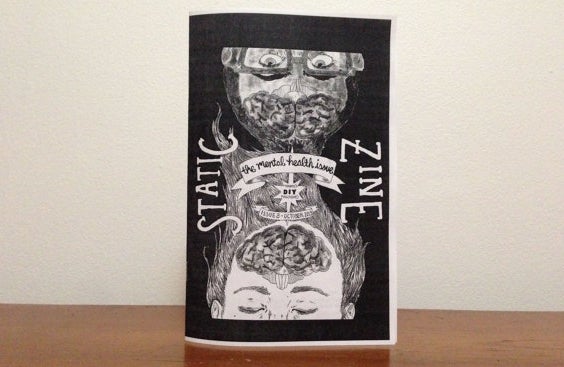 Barnard zine librarian Jenna Freedman pointed out another reason to keep personal stories off the Internet. Print media leaves authors less vulnerable "to the horrible comment wars [and] people threatening to rape you and other things that happen to women when you write about any topic, really," she said.
In exchange for that relatively troll-free life, though, the offline world of zines typically requires more than a few clicks from your computer chair to gain access. You can go to a zine fest -- there are annual events in cities like Toronto, Chicago, Los Angeles, New York City and Portland, among others. Independent bookstores like New York's Bluestockings also sometimes carry locally made zines. Etsy or independent publishers' sites offer online ordering, but you'll have to wait for them to show up in your IRL mailbox.
Like trading cards, they can be swapped with friends, and the act of bartering can bring people together over great distances, mailing new work back and forth as a way to keep tabs on one another. In a way, it's like tearing out pages of a diary, copying them, and mailing them to pen pals disparately familiar with the author -- a bizarre practice by the standards of anyone who's recorded her dearest thoughts on paper with no intention of letting anyone else see them. Perhaps zines do go through a finer editing process than a private lock-and-key notebook, but their content is often just as confidential.
On the value of notebook-keeping, the magazine writer Joan Didion stated, "I think we are well advised to keep on nodding terms with the people we used to be." Zines, like scrapbooks for the psyche, may be similarly instructive for creators' future selves.
"We forget all too soon the things we thought we could never forget," Didion continued, emphasizing the value of writing and creating for yourself. "We forget the loves and the betrayals alike, forget what we whispered and what we screamed, forget who we were."
Now, the Internet serves as a time capsule. It's hard to forget things when they're still online -- buried under a pile of newer images and status updates, but still there. (It's a post-delete world, after all.) We can establish sites to chronicle our thoughts, house our art, and even invite outside comment to foster the same type of long-distance relationships that delight zine-makers. Internet users, then, may take comfort in feeling, as Jude described, "like you're not alone."
Before the Internet democratized media, self-publishing was one of few ways for ordinary people to record and share with a wider audience. Zines on old taboos like sexual orientation could provide a staticky connection to a community of others with nonstandard identities in an age before chat rooms and message boards and -- perhaps most importantly -- simple ways to anonymize yourself.
And yet there's camaraderie in roaming freely among others who have similarly opened themselves for the sake of their zines -- a mutual understanding of process, at least, if not always themes. From sci-fi zines to Dada artists' tiny publications to even the American Revolutionaries' self-produced propaganda, the history of small-scale independent publishing is deep-rooted in nonconformity. At their core, zines are a medium for self-declared Others to assert themselves (within the modest confines of bound pages) for an audience of individuals likeminded and not -- or not yet.
As Burnell explained, zines have brewed "a very DIY community, full of punks and poets and weirdos," still humming along in 2015 as it has for ages.
She added, "I fit in perfectly."