I was at the flagship Nike Store in Soho last week. The holiday shopping season was in full swing, with crowds of enthusiastic consumers jammed into the sporting goods retailer. Everywhere you looked, there were racks of pure white sneakers.
The "Made by Nike" customization studio and in-house production facility is staffed by Nike experts. And you can take your custom kicks home straight from the store. The Nike Air Force 1 is the most popular shoe — and though they start out stark white, that's not how they end up.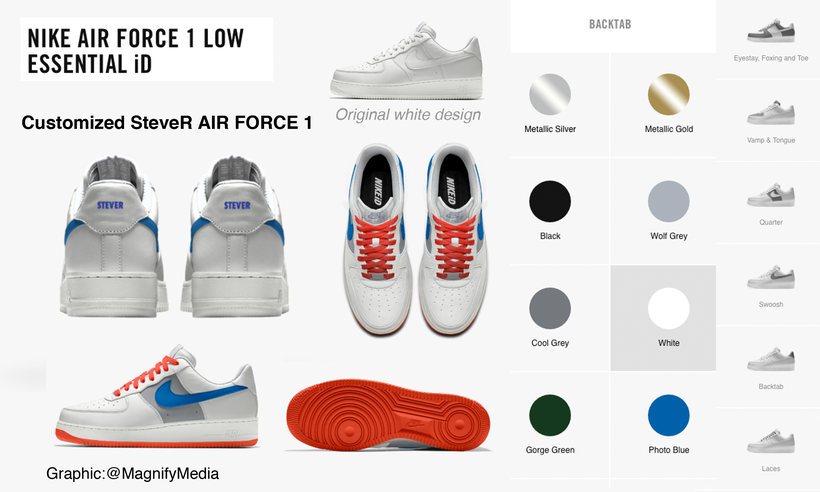 It's all about customization.
With the slogan, "Designed by you. Made by Nike," The Nike ID customization is hardly cookie-cutter. Shoppers can add their own name, a graphic, even a phrase or slogan. Adding different color laces makes your Air Force 1 look like a whole different shoe.
While I saw the store full of customization-crazed consumers, I first thought this was an expensive road-block in the world of mass-market shoe sales.
A visit to Nike's online storefront — store.nike.com — offers buyers the same customization experience, with a deep list of options to turn those stark white kicks into works of shoe art. There are 11 places where the shoes can be customized, including toe, vamp and tongue, midsole, and Lace Dubrae.
If you're not sure what "Lace Dubrae" means, it's that little piece of cloth at the front of the laces that keep them held to the shoe. Customizing it to the color of your choice — there are 19, including Court Purple, Metallic Gold, and Wolf Grey — is a fairly subtle touch.
Why do sneakers matter so much? Because "sneakerheads" are hard-core fans and highly relevant trendsetters.
The NYPD recently shut down Mercer Street in SoHo after crowds gathered around the NikeLab store just before midnight because of rumors that the company was releasing a new shoe. The rumors turned out not to be true.
Consumers increasingly want unique, customized, personalized experiences — at a time when companies are often trending in the opposite direction.
In the never-ending hunt for scale, consolidation is the hot word of the day. CVS is buying Aetna for $69 billion, in the largest health insurance deal in history. Marriott bought Starwood for $13 billion, becoming the world biggest hotel chain. Amazon purchased Whole Foods, looking to find a foothold in this space against Wal-Mart's dominant position as the largest food retailer in the US.
Consumers have tasted unique, customized experiences, and they want more. Airbnb offers one of a kind, often quirky, experiences. Etsy connects handmade and often personalized crafts to consumers. Netflix offers TV viewers access to films, series, originals, and documentaries so subscribers can program their own personalized TV network.
"According to a recent report from Accenture, 75% of consumers are more likely to buy from a retailer that recognizes them by name, recommends options based on past purchases, OR knows their purchase history," writes Katie Sweet on the Evergage blog. And Gartner reports that "by 2020, smart personalization engines used to recognize customer intent will enable digital businesses to increase their profits by up to 15%."
Journalist and CUNY professor Jeff Jarvis writes on Medium: "What has died is the mass-media business model — injuring, perhaps mortally, a host of institutions it symbiotically supported: publishing, broadcasting, mass marketing, mass production, political parties, possibly even our notion of a nation. We are coming at last to the end of the Gutenberg Age."
Personalization is the future. Mass marketing, mass media, and one-size-fits-all offerings are the drivers of a bygone era.
REAL LIFE. REAL NEWS. REAL VOICES.
Help us tell more of the stories that matter from voices that too often remain unheard.
This post was published on the now-closed HuffPost Contributor platform. Contributors control their own work and posted freely to our site. If you need to flag this entry as abusive,
send us an email
.