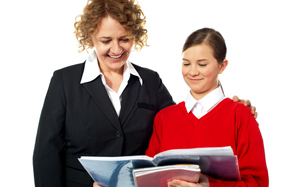 For parents of children with learning challenges, finding the right educational environment for their sons or daughters can itself present a challenge. According to a June, 2011 article in Pediatrics entitled "Trends in the Prevalence of Developmental Disabilities in US Children, 1997-2008," 13.9 percent of children aged 3 through 17 years have one or more developmental disabilities. Moreover, a survey by the National Center for Learning Disabilities (NCLD)—encompassing over 1,800 parents of students with disabilities—found that the majority of parents were not familiar with personalized learning, but nearly all of them wanted to learn more!
In examining the work of Debbie Shaler Williams, founder of Pacific Point Academy, one immediately sees that it was a labor of love, as well as necessity: She herself is the mother of a child with learning challenges. "For years I struggled to find the right place for my son, and for years I felt heartbroken because there were no great options." She discovered that the answer was an inclusive option, featuring personalized learning.
"Students with disabilities can achieve at high levels if they receive specialized instruction tailored to their unique needs, supports that build on their strengths and mitigate their challenges, and an environment that is engaging and sparks their desire to learn. Personalized learning systems can help educators provide these things when implemented appropriately. As personalized learning efforts expand across the nation, now is the time for educators, parents, and others to understand what personalized learning is, how it works, and how it can help students with disabilities succeed."
["S]ome of the long range consequence of learning disorders can be lessened with early intervention. If not detected and treated early, they can have a snowballing effect. For instance, a child who does not learn addition in elementary school cannot understand algebra in high school. The child, trying very hard to learn, becomes more and more frustrated, and develops emotional problems such as low self-esteem in the face of repeated failure. Some children with learning disorders misbehave in school because they would rather be seen as bad than stupid."
No one wants that, of course. But if parents invest the time to find the right school, and if savvy teachers ensure that they can convey their message to parents, we can make significant progress toward promoting the settings we want and the outcomes we desire.
It all starts with personalized learning.
Calling all HuffPost superfans!
Sign up for membership to become a founding member and help shape HuffPost's next chapter