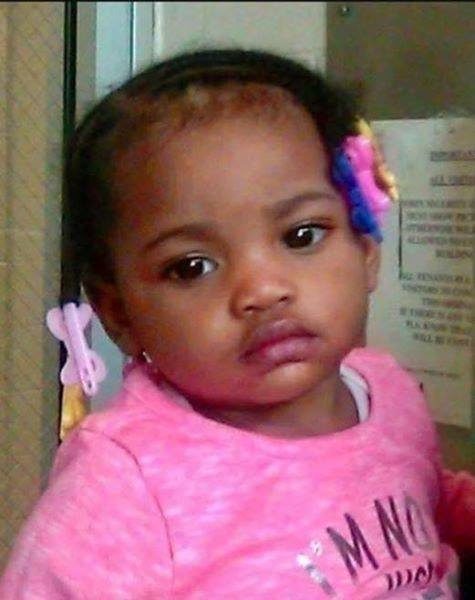 On Tuesday night, two "persons of interest in the homicide investigation of 17 month old Semaj Crosby spoke at a press conference in Chicago organized by Freedom First International. In late April, 17-month-old Semaj Crosby was found under a couch in her home, the Will County coroner on Friday ruled the toddler's death a homicide by asphyxia. Semaj's grandmother Darlene Crosby and a family friend spoke to multiple media outlets. They ladies wanted to share their story and clear their names - hoping it will help to eventually bring an arrest and a conviction. 
Tamika Robinson and Darlene Crosby both stood with the Chicago media briefing for over an hour, stating various facts about their personal observations and circumstances on the day Semaj disappeared. 
Darlene says she saw Semaj on the day she went missing. Semaj was in the front yard, playing and dancing to music. The last time she saw her, her mother, Sheri Gordon, had taken her inside the home to get changed. 
Here's Darlene Crosby and Tameka Robinson's account of the time frame from the day matches almost exactly with reports of that day. 
Semaj went missing: Around 3 p.m., they saw the girl playing outside. 
Around 3:45, they say they saw the mother take Semaj inside to change her diaper. 
At 5:15, the women say Semaj's mother told them she couldn't find Semaj.
Around 6 p.m., Semaj was reported missing. They say thy started to search for her.
Crosby says Semaj's mother comes back outside and an hour later called out, "where's my baby?"
Around 6 p.m., Semaj was reported missing. They say they started to search for her.
Darlene Crosby also requested for another investigative organization possibly to review the case if the Will County authorities could not handle the issue.
Semaj's mother, Sheri Gordon, is another person of interest in the investigation, Gordon was not present. Her lawyer later released a statement saying she maintains her innocence in her daughter's death."continues to strongly deny any statement or inference that suggests she knew of or caused Semaj's death or concealed her death."
Up until this point family friend Tamika Robinson said, "I feel like I walked into a nightmare that day." Robinson has stated that she has not had open communication, with the Crosby family, or Sherri Gordon. Both Darlene Crosby and Robinson's primary focus for going to the press conference is to work to clear their innocence. (glg)
-Gregg L. Greer a Public Speaker, Minister, Social Activist, and the Editor of the One World internet journal. Greer is the Founder of Freedom First International a human rights NGO. He has written extensively about American politics, Civil Rights, and the intersection of economics and politics. His stories have also appeared in The Huffington Post, CNN, and Apolitical America. Greer's first book, Truth, Justice, and the American Way is scheduled for release on 3/26/18-listen to his radio podcast at OneWorld Talks -if you are interested in interviews from him and others of the brightest minds today, you can email him at  oneworldtoday@gmail.com His website is www.gregglgreer.com
REAL LIFE. REAL NEWS. REAL VOICES.
Help us tell more of the stories that matter from voices that too often remain unheard.
This post was published on the now-closed HuffPost Contributor platform. Contributors control their own work and posted freely to our site. If you need to flag this entry as abusive,
send us an email
.