Lately, Peru is having a culinary moment. Chefs are heralding the cuisine with the enthusiasm they once reserved for France. Peruvian restaurants are popping up in major cities everywhere. On his "Parts Unknown" program, Anthony Bourdain dubbed Peru's cuisine one of the most underrated in the world. The United Nations declared 2013 the "International Year of Quinoa," and the Nation's Restaurant News reported that Peruvian cuisine is poised for growth in the United States. Clearly, something is happening in my home country. And while it's partially due to the innovative preparations and exciting cross-cultural dishes being developed, it's also because of the incredible ingredients that hail from Peru.
As a native Peruvian, I've always been driven to share my knowledge about the foods that originate from the region. And as a registered dietitian, I am particularly interested in the health properties of many Peruvian foods. Because of the microclimates and diverse topography, Peru is home to thousands of foods found nowhere else on the planet, many of which are staggering in their content of potent nutrients. These foods fit into the new class of ingredients dubbed superfoods.
There are many definitions of superfoods, but I define superfoods as hardworking functional foods that far surpass basic nutritional content. They are, quite simply, the cleanest, most powerful, antioxidant-rich, phytonutrient-rich and anti-aging foods available anywhere. And most of these nutrient-rich ingredients happen to come from South America, and more specifically Peru.
Long known for healing properties in their native Andes and Amazonian regions, these precious resources are now being imported to the U.S. and other international markets. So this is an exciting time to start learning more about these resources and integrate them into your diet. While superfoods can be fruits, vegetables, nuts, seeds, oils or grains, today I'll share my top four picks for whole food powders. Many superfoods are first freeze dried and then ground into a powder before packaging and shipping. Processing doesn't dilute their health properties as they are kept pure. They are still whole foods and retain the same characteristics seen in their natural state. That said, there's no reason these powders have to be limited to shakes -- there are lots of fun ways to work them into cereals, sauces, desserts, coffee drinks, power bars and more.
Superfoods provide tremendous health benefits, ranging from boosting heart, bone and brain health, to the immune system, energy, strength and sexual drive. The four foods I'll talk about today include Maca, Cacao, Lucuma and Camu-camu.
Maca is a native Peruvian plant that grows in the Andes, dating back to approximately 3800 B.C. It resembles a small rough stone the size of a walnut. While rich in amino acids, phytonutrients and a variety of vitamins and minerals, maca functions as an adaptogen, thus aiding in adrenal function to increase energy and reduce stress, creating an overall revitalizing effect [1, 3, 4]. In addition to its ability to boost energy, it has been used to increase libido, treat erectile dysfunction, increase semen volume and sperm count [2], enhance workout performance and improve concentration [3, 4, 5]. It has been regarded as a potent sexual stimulant for centuries, so it's no surprise that today it's known as nature's Viagra.
Cacao was cultivated over 3,000 years ago by the Incas and has been labeled as "the food of the gods." Cacao is rich in B vitamins as well as vitamins A, C and E. It's also a dense source of micronutrients including iron and zinc. The antioxidants and polyphenols in cacao have anti-inflammatory effects on the body and have the potential to fight cancer and cardiovascular disease [6, 7].
Lucuma is a tropical fruit with flavor notes of caramel, pumpkin and maple, and it was known as "the gold of the Incas." No wonder it's the most popular ice cream flavor in Peru. Despite its natural sweetness, lucuma has a low glycemic index [8]. Besides being a great source of antioxidants, fiber, vitamins and minerals, Lucuma also helps lower blood pressure [8] and offers an abundance of Beta-carotene. Beta-carotene is a flavonoid that has strong anti-oxidant and anti-cancer properties and can help decrease the risk of cardiovascular disease [9, 10].
Camu-camu is a tropical fruit that is one of the world's most potent sources of vitamin C -- packing more than 60 times the vitamin C per serving than the almighty orange [11, 12]. Better yet, the vitamin C in camu is more easily absorbed than from supplements, as your body better utilizes nutrients that come from natural sources [13]. vitamin C is known to boost immunity, facilitate tissue repair, fight cancer and help prevent cataracts. In addition to high contents of vitamin C, Camu-camu contains carotenoids [14] and anthocyanines [15] -- therefore, some studies suggest the Camu-camu may have some anti-oxidative and anti-inflammatory properties [16].
The most exciting thing about these power-packed powders is that they are now widely available in the U.S. Try adding them to your diet to boost health and vitality. But remember, there is no one miracle food. By adding a variety of nutrient-rich superfoods to a smart diet of whole grains, fresh fruits, lean meats and good fats, you can jump start your health and increase your longevity. The recipes below are a great way to explore these incredible ingredients.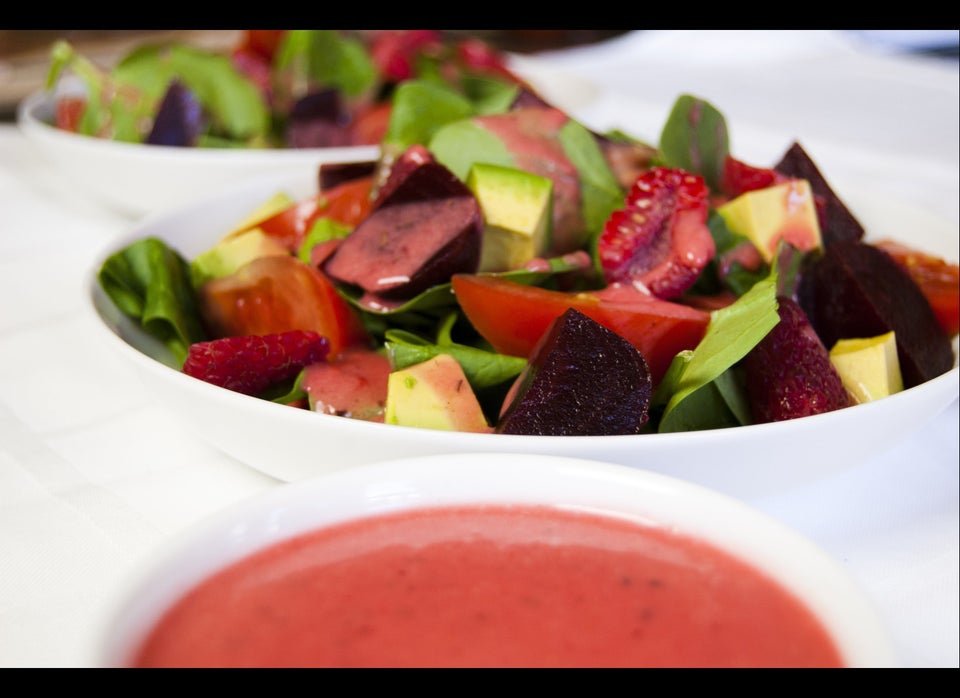 Peruvian Superfoods: The Most Powerful Powders On The Planet
1. Ley, Beth M. Maca: Adaptogen and hormonal regulator. Bl Publications, 2003
2. Cordova, A., Chung, A., Gonzales, C., Gonzales, G., Vega, K., Villena, A. Lepidium meyenii (maca) improved semen parameters in adult men. (2001). Asian Journal of Andrology. Volume 3.
3. Gonzales-Castaneda, C., Gonzales, C., Gonzales, GF. Lepidium meyenii (maca): A plant from the highlands of Peru--from tradition to science. (2009) Research in Complementary Medicine. Volume 16, Issue 6.
4. Gonzales, G. (2011). Ethnobiology and Ethnopharmacology of Lepidium meyenii (Maca), a Plant from the Peruvian Highlands. Evidence-Based Complementary and Alternative Medicine, Vol¬ume 2012.
5. Wang, Y. Et al, Maca: An Andean crop with multi-pharmacological functions. Food Research Inter¬national 40 (2007) 783-92.
6. Andújar, M., Giner, R.M., Recio, M.C., Ríos, J.L. Cocoa polyphenols and their potential benefits for human health. (2012). Oxidative Medicine and Cellular Longevity, Volume 2012.
7. Ismail, A. & Jalil, A. M. M. Polyphenols in cocoa and cocoa products: Is there a link between antioxi¬dant properties and health? (2008). Molecules, Volume 13, Issue 9, 2190-219.
8. Apostolidis, E., Genovese, MI., Lajolo, FM., Pinto, Mda S., Ranilla, LG., Shetty, K. (2009). Evaluation of antihyperglycemia and antihpertension potential of native Peruvian fruits using in vitro models. Journal of Medicinal Food, Volume 12, 278-91.
9. Chen, SS., Datta, N., Jiang, YM., Shi, J., Tomas-Barberan, FA., Singanusong, Y., Yao, LH., R. (2004). Flavonoids in food and their health benefits. Plant Foods for Human Nutrition, Volume 5, 113-22.
10. Dini, I. (2011). Flavodoid glycosides from Pourteria obovata (R. Br.) fruit flour. Food Chemistry, Volume 124, 884-88
11. Bradfield R, Roca, A. (1964). Camu-camu -- a fruit high in ascorbic acid. Journal of the American Dietetic Association, Volume 44, Pages 28-30.
12. Dufour, J. & Zapata, S. (1992). Camu-camu myrciaria dubia (HBK) mcvaugh: chemical composi¬tion of fruit. Journal of the Science of Food and Agriculture. Volume 61, Issue 3.
13. Evelázio de Souza, N., Justi, K. C., Matsushita, M., Visentainer, J.V. (2000). Nutritional composition and vitamin C stability in stored camu-camu (Myrciaria dubia) pulp. Archivos Latinoamericanos de Nutrición, Volume 50, Issue 4, Pages 405-8.
14. Azevedo-Meleiro CH, Rodriguez-Amaya DB. Confirmation of the identity of the carotenoids of tropical fruits by HPLCDAD and HPLC-MC. J Food Compos Anal 2004;17:385--96.
15. Zanatta CF, Cuevas E, Bobbio FO, Winterhalter P,Mercadante AZ. Determination of anthocyanins from camucamu (Myrciaria dubia) by HPLC-PDA, HPLC--MS, and NMR.J Agric Food Chem 2005;30:9531--5.
16. Inoue, T., Komoda, H., Node, K., Uchida, T. (2008). Tropical fruit camu-camu (Myrciaria dubia) has anti-oxidative and anti-inflammatory properties. Journal of Cardiology, Volume 52, Issue 2, Pages 127-32.
Related