Last month I went back to my native Peru to visit the capitol, Lima, and explore the new food developments popping up. Since I wrote my two Peruvian superfoods books, Peruvian cuisine has taken off in the United States as well as around the world. Those popular effects are being felt in Peru as well, as Lima experiences a growing gastronomic explosion. On this recent journey, I wanted to see firsthand how chefs in these fantastic new restaurants of Lima are incorporating the superfoods I wrote about. I left with a clear sense that Peruvian food truly is the next great world cuisine -- especially for people eating particularly healthy, or vegetarian or gluten-free.
In recent years Peru has become an internationally recognized gastronomic epicenter for fusion cuisine, named the world's leading culinary destination by the World of Travel Awards. Lima has emerged as South America's food capital for creative, delicious, fusion-inspired dishes, and currently has more chef schools than any other city in the world. The diversity of stunning restaurants there has attracted top chefs such as Gastón Acurio, a gastronomic powerhouse who also endorsed my book Peruvian Power Foods. On my recent trip to Peru, local vegetarian gourmet Roger Loayza helped me find some of the very best restaurants -- including those using Peruvian superfoods. The traditional Peruvian diet is based on whole foods and mostly gluten-free. Chefs in the best kitchens in Lima today are continuing that tradition, making Lima a center not only for both traditional and adventurous cuisine, but also a paradise for vegetarians and gluten-free eaters.
It's no surprise that contemporary Peruvian cuisine is sweeping up the world, since Peruvian food already embraces so many different cultures. Peruvian food is marked by complexities dating back to the Spanish conquerors in the 16th century. Before the Spaniards came, the Peruvian diet focused primarily on maize, potatoes, and beans. Afterwards, other cultures combined with the native Inca culinary traditions. In her cookbook The Peruvian Kitchen, chef Morena Cuadra explains that, "Peruvian food, as it is known today, is a fusion of its Incan roots, mixed with Spanish, Arab, African, Chinese, Italian, Japanese, and French influences. The ingredients and techniques of each of these culinary traditions have left a clear mark through time on the basic Incan diet, and the result is a vast and colorful range of dishes, each telling a distinct story." Out of a union of many gastronomies rose Peru as one of the world's original fusion cuisines.
Lima represents this fusion as well as the best of the different regions of Peru -- the Andes, the Amazon, and the coast. This fusion of both global and Peruvian cuisine is best represented by ceviche, the great traditional dish of Lima. Ceviche combines fresh, raw fish of coastal Peru with preparation methods used for Japanese sashimi. The fish is marinated in lime juice and ají -- a chili pepper from the Andes that was first discovered by the Incas. Ajì is rich in vitamins A, B and C, and contains high levels of capsaicin. Capsaicin helps with weight management, while exact reasons are unclear, research reveals that capsaicin can increase energy, lipid oxidation, and reduce appetite (1). Ceviche also includes other traditional Peruvian ingredients such as sweet potatoes, toasted maize or corn kennels.
I ate ceviche in Lima at Saqra, which means "mischievous little devil" in quechua, the Andean language. According to owner Joaquin De La Piedra, "we believe that Peruvian cuisine is not a cuisine, it's a kitchen. It was a kitchen of slaves, peasants and servants." Saqra's ceviche was created out of dedicated work, a cultural dish most sublime; bringing together the balance of sweet potatoes and ajì chili's, a true characteristic of this region.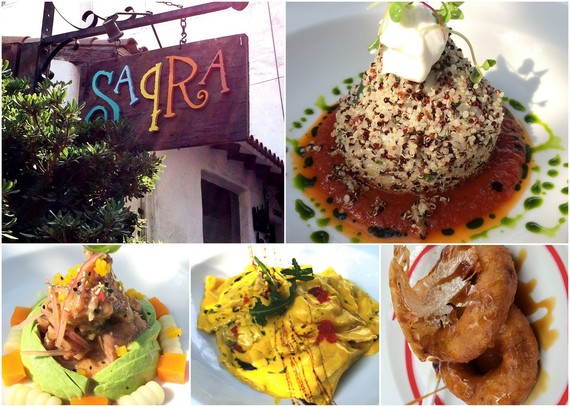 Tabulé de quinua, Bonito ceviche, choclo (big corn) filled ravioli with aji sauce, Picarones (doughnuts made with sweet potatoes and pumpkin)
Ceviche is naturally gluten-free and pescatarian, but also just one option among the many on today's menus in Lima. For example, Balanza demonstrates the very best of fresh, healthy Peruvian cuisine as well as the great Peruvian tradition of fusing the superfoods and techniques of different cultures. Here I ate a delicious lunch with really appealing vegetarian options, most containing health-boosting superfoods such as avocado, beets, and chia. The menu fused Peruvian with other cuisines -- including the famous Italian gnocchi!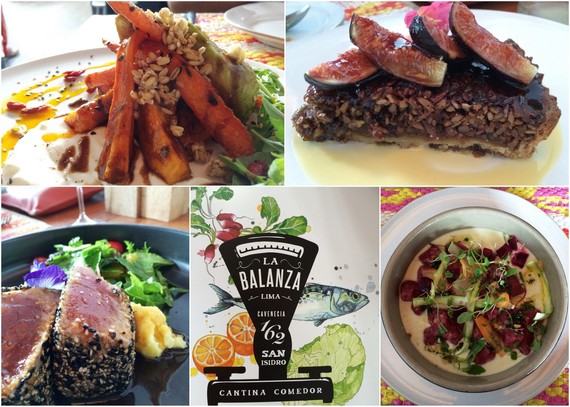 Trigo with sweet potatoes, Sunflower fig pie, chia-seed-crusted tuna, and beet gnocchi
Peru's favorite flavor of ice cream comes from lucuma, a succulent, green-skinned, golden-fleshed fruit. Lucuma has a delicate, caramel, custard-like flavor that is hard to describe or compare to other fruits. Its unique texture melts in one's mouth and is a perfect base for ice cream or superfood smoothies. That's because lucuma is rich in antioxidants, fiber, and vitamins, but also has plenty of beta-carotene and flavonoids -- protective phytonutrients that help prevent aging and disease (2, 3). In Lima, I had lucuma as part of a homemade superfood breakfast smoothie, and tasted lucuma ice cream at several of the ice cream parlors.
This is one of my favorite places for breakfast, El Pan De La Chola. They have fresh homemade bread and fabulous sandwiches with superfoods smoothies. There are plenty of vegetarian options as well.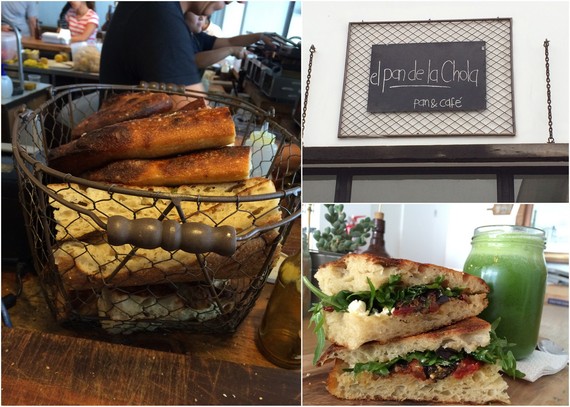 On a nice day there is nothing like an outdoor lunch. At Mercado, I tried a fusion experiment, the kind that Peruvian food is all about: sea food fried rice with fried banana (YUM!!!) alongside parmesan scallops. Again, this is vegetarian (well, pescatarian) food, but gluten-free and loaded with nutrients.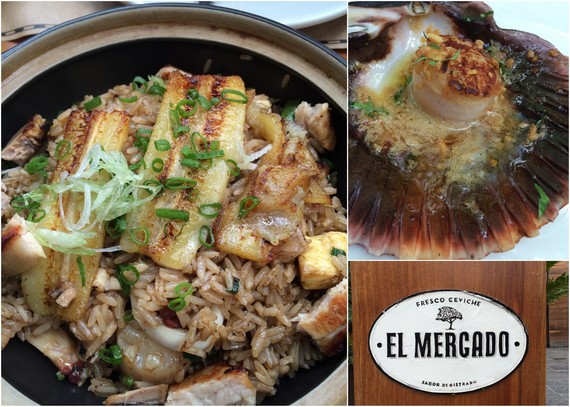 These are just a few of the places serving delicious, healthy food in Lima. Even if you can't make it to Peru, you can experience Peruvian in the United States. In more recent times, Peruvian foods have reach nationwide U.S. supermarkets meaning you can easily get your hands on Peruvian superfoods such as quinoa and purple potatoes. Armed with a cookbook and you can cook Peruvian at home. Meanwhile, more and more Peruvian restaurants are popping up all over the United States and have become mainstream. Keep your eyes peeled!
All photos by Manuel Villacorta
Manuel Villacorta is a nationally recognized, award-winning registered dietitian/nutritionist with more than 18 years of experience. He is a trusted voice in the health and wellness industry. He is the author of Eating Free: The Carb Friendly Way to Lose Inches, Embrace Your Hunger, and Keep Weight Off for Good (HCI, 2012) Peruvian Power Foods: 18 Superfoods, 101 Recipes, and Anti-Aging Secrets from the Amazon to the Andes (HCI, 2013) and his newest book Whole Body Reboot: The Peruvian Superfoods Diet to Detoxify, Energize, and Supercharge Fat Loss (HCI, 2015).
1) Derbyshire, E., Tiwari, B. K., Whiting, S. (2012). Capsaicinoids and capsinoids: A potential role for weight management? A systemic review of the evidence. Appetite 59:341-43.
2) Apostolidis, E., Genovese, M. I., Lajolo, F. M., Pinto, Mda S., Ranilla, L. G., Shetty, K. (2009). Evaluation of antihyper- glycemia and antihypertension potential of native Peruvian fruits using in vitro models. Journal of Medicinal Food 12:278-91.
3) Chen, S. S., Datta, N., Jiang, Y. M., Shi, J., Tomás-Barberán, F. A., Singanusong, R., Yao, L. H. (2004). Flavonoids in food and their health benefits. Plant Foods for Human Nutrition 5:113-22.