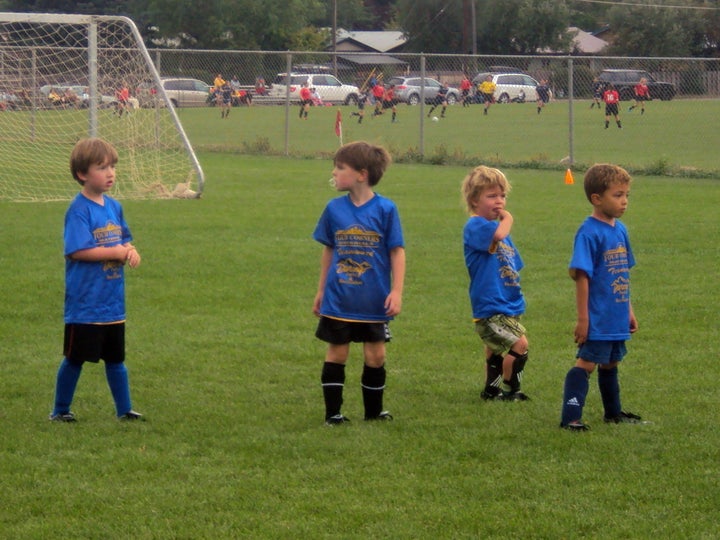 Cedar McGourty-Batchelor won't be playing soccer this Saturday. Neither will his first-grade teammates from Riverview Elementary School -- nor, for that matter, any other kids in Durango, Colo.
Concerns from local soccer moms and dads who learned a synthetic weed killer containing at least two possible carcinogens would be applied to fields one day before their children would be running, kicking and most likely rolling around on the grass, pushed the city to postpone all youth soccer games scheduled for Saturday.
"I believe these chemicals are harmful, and it's best for my son not to be exposed to them," said Sheryl McGourty, Cedar's mom, who wrote to Durango Parks and Recreation with her concerns.
Scott Sallee, owner of Scott's Pro-Lawn, referred to the "fuss" mounting nationwide over lawn pesticides as "much ado about nothing." He is contracted to spray herbicides on Durango's grass fields every spring and fall, and said he scheduled this Friday's treatment of the Riverview Athletic Complex to ensure no kids would be around during or immediately after his work.
"It dries in four hours," Sallee said. "By Saturday morning, it would've been perfectly safe for anyone to play soccer on."
Brian Horgan, a turfgrass specialist at the University of Minnesota, agreed that there should be no concerns about kids playing on the grass the next day, assuming the application was made according to the product's label.
The chemical concoction that Sallee said he applies according to the label -- at just 1.2 ounces per 1000-square-feet -- is Vessel, a mix of the herbicides "2,4-D," dicamba and mecoprop-p, plus some additives. The product's toxicity, Sallee added, is "less than caffeine or aspirin." Meanwhile, the product is extremely toxic to weeds, which he argues helps maintain a playable surface for the kids.
"Almost all of the uproar about spraying is fear-driven and it's not based on facts," he added.
Many parents and environmental health experts, however, beg to differ.
Alex Lu of the Harvard School of Public Health said there are not a lot of facts to go on. "There is essentially no data on the safety of pesticide mixtures. The use of three herbicides mixed in the same formulation is a bold move considering the unknown synergistic effects," said Lu, who likened application of the product to a doctor prescribing three different painkillers to a patient.
Fifty years ago, Rachel Carson wrote of a pesticide combination that resulted in health risks "up to 50 times as severe as would be predicted on the basis of adding together the toxicities of the two."
The safety of each chemical alone also remains up for debate, for much the same reason: a lack of scientific research.
Studies have implicated dicamba with reproductive and developmental problems, while 2,4-D and mecoprop-p are both listed as "possible" carcinogens. However, it's only been in the last few years that researchers have discovered the potency of some of these chemicals at very low doses.
Warren Porter, a toxicologist at the University of Wisconsin, Madison, noted that while the focus has long been on a chemical's acute toxicity or potential to cause cancer, how a chemical can mimic and disrupt hormones -- and therefore damage the brain, reproductive system and just about any other function of the body -- is perhaps more critical. His research has shown effects of Sallee's triple herbicide combination down to the level of parts per billion.
"We know hormones work in parts per trillion," he said.
This emerging understanding was highlighted in a report released this week by the advocacy group Pesticide Action Network North America (PANNA), which evaluated more than 200 recent studies on a range of children's health concerns, including autism, asthma and diabetes.
"A lot of these health harms have gone up, some quite dramatically in the last 10 to 20 years," said Kristin Schafer, a scientist with PANNA and author of the report. "The evidence is getting stronger and stronger that pesticides are a contributing factor."
"The risks posed by pesticides on playing fields come on top of exposures through food, at home and in schools," Schafer added. "It's a mix of pesticides that kids are exposed to every day."
As for the exposures on the field, Porter added that the chemicals may actually be "more dangerous after they've dried." He suggested that herbicides can go right through the skin of young soccer players, thanks to surfactants and solvents included in the product's mixture -- bonus ingredients that don't have to be disclosed by the manufacturer or registered by the EPA. These additives, which also promote the herbicide's lethal infiltration across the surface of a weed, "work better when there's no water in the way," he said.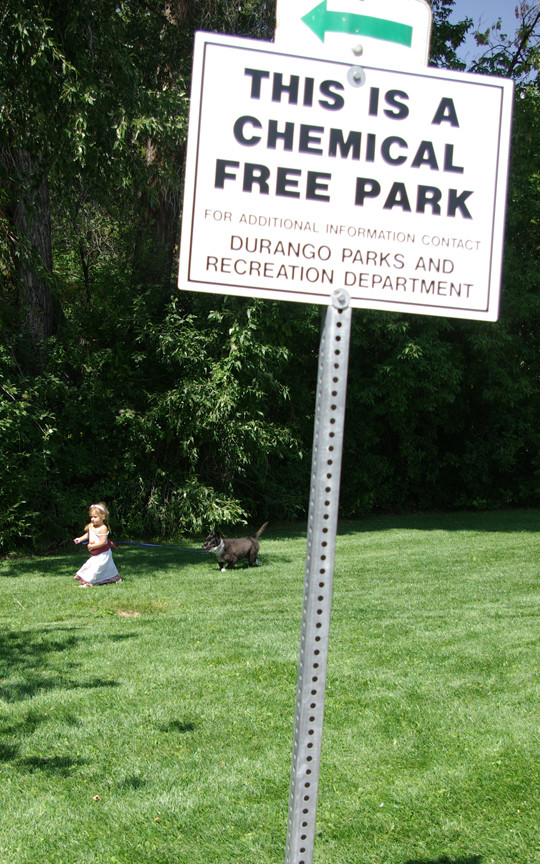 Durango's Brookside Park was recently designated chemical-free and, depending on who you ask, its turf is either "deteriorating quickly" or "looks great."
The concerns aren't confined to the western town of Durango. Most athletic fields across the U.S. are likely treated with at least one of the 20,000-odd pesticides registered with the Environmental Protection Agency.
Some states and cities are imposing their own rules in the meantime. Connecticut has banned pesticides on the grounds of elementary and middle schools, as The Huffington Post has reported, and Durango is in the process of hiring a consultant to facilitate a transition of all their parks to organic lawn care.
"People are becoming more aware of the relationship between their health and environment, particularly regarding children and babies -- all of whom can be on soccer fields," Jennifer Sass, a senior scientist with the non-profit Natural Resources Defense Council, noting how younger siblings often play on the sidelines.
"Good for these parents," she added. "They have a right to be concerned. Kids shouldn't be playing on pesticides."
Popular in the Community