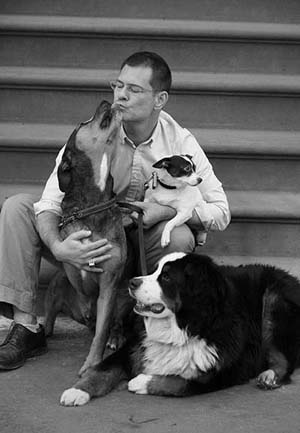 Nine years ago, on my 40th birthday, I rescued a homeless dog named Tiny Tim, who ended up rescuing me right back. Tiny Tim was a voracious and scrappy German Shepherd/Labrador/Pit Bull mix who was struck by a car on Christmas Eve, resulting in the amputation of his front leg. When I met him at the North Shore Animal League four months after his operation, it was love at first hairy sight.
As a gay man with no inclination for children, I had always been drawn to dogs, and as a 40-year-old single man (at the time), I wanted to do something with impact, move out of my comfort zone, and be responsible for another creature besides myself for once. Adopting a homeless pet was the solution for me, and almost instantly upon meeting Tiny Tim, my life began to take shape for the first time. It gave me a sense of being needed, a knowledge that something outside myself depended on me solely for its happiness and basic survival. In many ways it was my first step into adulthood.
My world opened up in ways I could never have imagined once Tiny Tim was at my side. People whom I had never spoken to came up to me to ask about Tim and his missing front leg. In fact, I had passed many of these same people countless times on the street without even a "hello." Living in a "gayborhood" like Chelsea and the West Village, Tiny Tim (and I) met many gay and lesbian dog owners, particularly rescue-dog owners, and I was welcomed to a wonderful network of information and support from other people who shared the honor of raising these deserving creatures. The dog park became my social circle, and nine years later, many of these same dog owners are my closest friends.
I started to think about the relationship between the gay community and rescue animals and what I perceive to be a special bond. For many of us, growing up gay meant growing up with a sense of "otherness," a sense that we didn't fit in. We learned that somehow there was not a place at the table for us. I believe that many people in the LGBT community are drawn to adopt a homeless pet because there is a mutual understanding and respect for displacement and "otherness." Personally, keeping my gay identity secret for 18 years made me more empathic to the "underdogs" of society -- and there is no more heroic underdog than the shelter pet.
I recently overheard two gay men talking about one of their mutual crushes, who happened to have a rescue dog. One man said that to him, the fact that this crush had a rescue dog was one of the sexiest things about him. The other guy jokingly said, "Oh, he just wants people to think he is not superficial." Whatever the reason behind this act of kindness and compassion, I encourage my gay brothers and sisters to consider extending their circle of compassion to include homeless animals through adoption, donation, or volunteering.
By some estimates, there are up to 6 million dogs euthanized every year in America's shelters. While many households are only interested in buying a dog from a breeder or pet store, there are vast numbers of healthy, adoptable dogs languishing in high-risk shelters across the country. Having a three-legged "mutt-i-gree" (a term coined by the North Shore Animal League for its adoptable pets) gave me a great opportunity to speak to people about the urgency and importance of adopting and rescuing a companion animal rather than buying one. Today, as a matter of fact, there are more and more purebred dogs available at shelters as the closing and policing of the puppy mill industry continues to draw more attention.
During my eight amazing years with Tiny Tim, he changed my life, perhaps most famously by serving as the logo for my eponymous fashion label. Sadly, Tiny Tim lost his life to lymphoma last year, but his iconic image continues to proudly serve as my logo -- as well as the logo for the recently created "Tiny Tim Collection." The collection is made up of stylish basics for men, women, kids, and pets and was created as a way to raise funds for the Tiny Tim Rescue Fund, my 501(c)(3) nonprofit that distributes funds to rescue groups who save homeless dogs from euthanasia and provide them with a better life.
There is a saying that rescuing one dog may not change the world, but for that one dog, the world will be changed forever. I have no doubt that by rescuing Tiny Tim, I certainly changed his life forever -- but it doesn't stop there. Saving Tiny Tim also saved me.
Popular in the Community