Horror stories about pets flying in the cargo hold tend to travel quickly. Jack the cat made news last year when he escaped his crate and spent 61 days lost in JFK airport, and model Maggie Rizer's September blog post about her golden retriever's death during a United Airlines flight still has pet owners buzzing.
Jack escaped when an American Airlines clerk stacked his kennel on another kennel and it fell, opening on impact. The cat had to be euthanized because of malnourishment and dehydration, which made him prone to severe infection and organ dysfunction. On her "Bea Makes Three" blog, Rizer says she followed detailed instructions outlined in United's PetSafe program. Her dogs, Bea and Albert, traveled in carefully labeled crates that included water bowls filled with ice for their cross-country flight to San Francisco. But, according to Rizer, a necropsy report revealed that Bea died of heatstroke.
"Please, don't trust that an airline will truly care and provide safety to your beloved pet," Rizer wrote. "At some point in the two hours that Bea was in the care of United Airlines before she died, someone made a mistake and because of that, our loving, happy sweet Bea is no longer in our lives."
Both incidents serve as sobering reminders that flying pets in the cargo hold can be a risky proposition — even when owners take proper precautions. Fortunately, the Department of Transportation is considering a rule change that would give pet owners more detailed information about an airlines' track record.
Currently, about 15 major carriers provide monthly incident reports to the DOT, which posts that information online. Under a proposed rule change, any airline with a plane that holds more than 60 seats would have to report pet-related incidents. While current reporting rules focus on pets traveling with their owners, the new rule would include incidents involving cats and dogs shipped by breeders. The DOT also may require airlines to list the total number of animals that were lost, injured or died during flights as well as the number of pets transported each year.
"The number of pets they handle is surprising," says Susan Smith of PetTravel.com. "One incident makes social media and it's just not a good thing — and it's very sad — but you have to sign liabilities when you put your pet in the cargo hold and it's a chance that you take."
Smith says that airlines have been making changes to meet pet owners' needs — and get a bigger slice of the $50 billion consumers spend on pets each year. But accommodating pets requires a lot more than simply carving out space in the cargo hold for furry travelers. More eyes and employees are involved in the process of transporting four-legged passengers. As part of United's PetSafe program, employees must complete training on handling animals, the airline provides tracking information for customers, and transport vans are climate-controlled. But increasingly, airlines are severely restricting or eliminating the service altogether. PetTravel.com notes that KLM recently banned four breeds of snub-nosed dogs in the cargo hold, and Delta Air Lines is restricting all pets from the cargo hold of its B767s.
"I'm not sure if airlines imagined five years ago that [pet travel] would become the business that it has," says Smith. "We are a mobile world. They are moving and want to bring pets. I hope airlines can continue to carry these pets and continue to focus on these safety standards."
If you are planning a trip that involves your pet traveling in the cargo hold, Smith offers a few insider tips to make the experience a bit less stressful.
Avoid summertime flights: Avoid traveling during summer months when pets run a greater risk of sitting on the hot tarmac as the plane is unloaded. Some airlines even restrict pet travel during summer months. American Airlines' pet rules say the airline does not accept checked pets when the forecasted temperature rises above 85 degrees Fahrenheit or goes below 45 degrees. If you must travel with pets during summer months, Smith recommends flying at night. The opposite rule applies to flying with pets in extremely cold weather.
Opt for direct flights: Traveling by plane can be stressful for pets. In the DOT's July animal incident report, Alaska Airlines employees noticed that a pit bull had injured itself while chewing through the kennel during a flight from Anchorage to Kotzebue, Alaska. Airline employees noticed that the chewing continued on the dog's connecting flight from Kotzebue to Nome, Alaska. Look for the shortest possible flight time and opt for direct routes whenever possible.
"Most airlines don't like holding a pet for more than a couple hours," Smith says. "You don't want to pick up and recheck it, especially if you have a big pet."
Make sure your pet is fit to fly: Some breeds make better travelers than others. Smith notes that Italian greyhounds are great dogs but they tend to be scared or skittish, which can make for difficult flights. Cavalier King Charles spaniels are prone to heart conditions and may not handle the rigors of traveling in cargo. The same applies to snub-nosed or brachycephalic breeds such as bulldogs, shih tzus and pugs, which are prone to breathing difficulties. Major carriers such as Delta Air Lines no longer allows snub-nosed dogs or cats to fly in the cargo hold.
"If you have a pug, put it on a diet," Smith says. "Get it down to thin, thin, thin and then put it in the cabin."
Keep very young puppies and kittens at home: Consider the puppy or kitten's age and whether it can handle a long flight in the cargo hold. Most major carriers require pets to be at least 8 weeks old, making this a popular option for breeders. But PetTravel.com suggests waiting until puppies and kittens have completed their first round of vaccinations at 10 to 12 weeks.
"Nine times out of 10, puppies that are shipped commercially are very young puppies," Smith says. "Their respiratory system is not fully grown."
Traveling too early can lead to health issues that worsen when pets arrive at their destination, which is often a pet store or an unsuspecting consumer. When the Humane Society of the United States (HSUS.org) analyzed 2,479 complaints from people who purchased puppies, about 40 percent involved illnesses such as parasites, respiratory illnesses, and infectious diseases such as parvovirus and canine distemper, which can be prevented through proper vaccination.
Kirsten Theisen, director of pet care issues for HSUS, told ABC News that the organization supports expanding reporting rules for airlines. But HSUS also contends that pets should avoid flying altogether. "Air travel is a risk to your pet's health and well-being," Theisen said in an ABC News article. "Our goal is to promote the health and well-being of animals and these two things are not compatible."
But Theisen notes that some pet owners have few options. "There are situations where families have no choice but to transport their pet by air (for example, when military families are stationed overseas or on remote U.S. posts like Hawaii)," she said via email. "In such cases, we caution that placing brachycephalic (short-nosed) dogs and cats in cargo hold areas should be avoided at all costs; they should instead travel in the passenger cabin or via a special pet transport service. This is one of the reasons we support more thorough reporting rules for the airlines, so that families can make informed decisions when air travel simply cannot be avoided."
Notify airline employees that your pet is on board: While most airlines offer online registration, Smith stresses that pet owners call the airline and notify personnel of a pet's travel plans. To avoid long waits or busy signals, she recommends calling at midnight or 1 a.m.
On the day of your flight, watch airport personnel place your pet on board. Also, don't assume that the captain is aware of a pet in cargo. Instead, notify the captain, steward or flight attendant that there is a live animal in the cargo hold and you want the oxygen levels monitored. "I'm going to let everybody on that plane know," Smith says.
Before You Go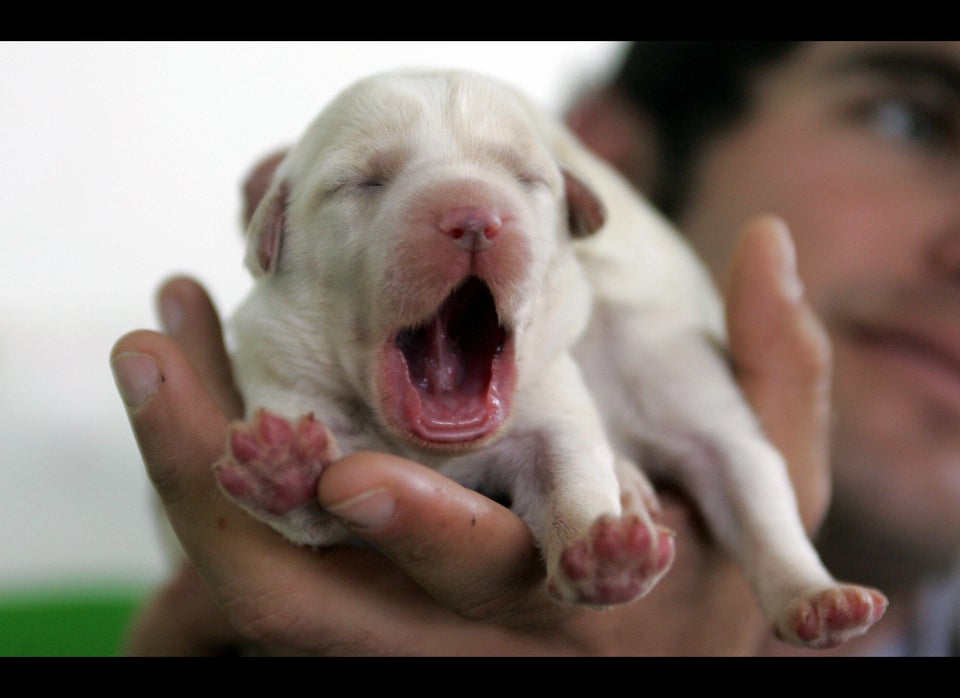 Puppies
Popular in the Community