Eight years ago, thousands of dogs and cats died after being poisoned by tainted food. The world's biggest pet food companies pulled more than 100 different products from store shelves. There's still no official death toll from the Great Pet Food Recall, because the government doesn't track animal deaths. But experts estimate at least 8,000 pets died.
For Blue Buffalo, the carnage was an opportunity. In just five years, the company, which boasted of its "natural, healthy" products, had become one of the pet food industry's most powerful players. Its rise was no small feat in a heavily concentrated industry -- Mars Petcare and Nestle Purina together control about half of global sales, according to data from the trade publication Petfood Industry.
Blue Buffalo deployed a robust advertising budget to portray its products as more nutritious than those of its shoddy "big name" competitors -- a term it has used frequently in commercials. As the recalls dominated headlines, Blue Buffalo ran a new ad campaign online and in newspapers, informing concerned consumers its products were a safe alternative to those that had been taken off the shelves.
For a while, the ads appeared to bolster the company's image. But in late April -- more than a month after its competitors had faced the music -- Blue Buffalo acknowledged similar problems with one production run of its kitten food. A week later, the company expanded its recall to include all of its canned dog food, an entire line of canned cat food and treats it had marketed as "health bars."
Blue Buffalo's story is about more than one company's advertising excess. It represents almost everything wrong with the pet food business, and just how little the industry and the government agencies that oversee it have changed since the most catastrophic pet food safety event in modern history. It's a story with clear implications for human food safety, and serves as a warning for other sectors of the American economy where outgunned regulators are struggling to keep pace with global supply chains that grow more complex by the day.
The vast majority of pet food is safe. But recalls remain routine. As the pet food industry slow-walks reforms, health- and safety-conscious consumers have been turning to pricey alternatives in an often-futile pursuit that at times actually puts their pets and even human family members in jeopardy.
The pet industry is booming. Americans spent over $58 billion on their pets last year, according to the American Pet Products Association, including more than $22 billion on food alone. The market for pet food is up over 75 percent since 2000, with almost all of that growth in the high-end "premium" sector, according to data from Euromonitor International. And it appears to be a very resilient market. Even in the deepest doldrums of the Great Recession, overall pet food spending actually increased.
The Great Pet Food Recall of 2007 didn't cause this shift in pet spending. The trend had already been in place for years. But the growth of the luxury pet food market suggests there's still plenty of room for hucksters to make their fortune in a lightly regulated industry. America now has more families with dogs than families with children. As more couples delay child-rearing, or simply reject it altogether, pets frequently serve as an emotional focus for households, and an opportunity for loving couples to display their commitments to each other. There's a reason Blue Buffalo trademarked the phrase: "Love them like Family. Feed them like Family." Fancy pet food is still a lot cheaper than childcare, and professional couples with money to burn have become easy marks.
The market for premium pet food is dominated by a handful of large companies. Mars Petcare is the world's biggest pet food company with over $17 billion a year in annual sales, according to Petfood Industry data. It's also the parent company for a host of high-end brands most consumers don't associate with its flagship Pedigree label. Hippie-yuppie favorites, including California Naturals, Evo, Nutro, Eukenuba and Innova, are all heads of the Mars hydra.
The premium market is also where Blue Buffalo extracts its $750 million in annual sales from consumer pocketbooks. A 30-pound bag of Blue Buffalo's Lamb and Brown Rice formula ships from Amazon for $43.99, about $1.46 per pound. By contrast, Walmart sells 50-pound bags of Purina Dog Chow for just $22.98, or 46 cents per pound. For the tripled price, the Blue Buffalo bag promises a "holistic" formula complete with "wholesome whole grains," "healthy fruits and veggies," trademarked "LifeSource Bits" and "active nutrients and antioxidants for your dog's health and well-being."
As pet food health benefit claims go, these are relatively modest. Dozens of companies advertise specialty "skin and coat" or "healthy joint" offerings that suggest they will help prevent or treat itchy skin or arthritis -- common, painful issues for many dogs. PetSmart, a major retailer, has an entire sales category for "skin and coat" dog foods.
There is typically very little scientific evidence to back up these alleged health benefits.
"You don't have to have any real evidence for that," said Dr. Kathy Michel, professor of nutrition at the University of Pennsylvania's School of Veterinary Medicine. "A lot of it's marketing."
Only drug marketing can make explicit causal claims about treating diseases or disorders. And the regulatory review process for medicine -- even animal medicine -- is far more extensive and costly than that for food. Pet food companies get away with their health claims by keeping them vague. As long as a company's boasts are limited to "structure-function" assertions, the Food and Drug Administration will leave it alone. In practice, that means marketers might say a product "supports healthy joints" rather than bragging it "prevents arthritis."
There are similarly flimsy claims made about a host of other fad pet food diets, from gluten-free to raw foods. The existing scientific evidence suggests that it is extremely rare for dogs to suffer from gluten allergies. There is no data suggesting that raw food diets -- popular with people who incorrectly imagine dogs to be wild carnivores -- offer any nutritional benefits superior to those of cheap brand names.
Whatever theoretical therapeutic value specialized pet foods offer can be nullified by food safety issues. A two-year FDA study concluded in 2012 found that over 16 percent of commercial raw pet food was contaminated with listeria, a bacteria that can be fatal to humans. More than 7 percent was contaminated with salmonella. Healthy dogs are relatively resilient to both pathogens, but many dogs are not in tip-top shape. And as any pet caretaker knows, somebody has to feed the animal. If pet food is contaminated, it's very easy for human family members to get sick, even if the animal doesn't. Touch the food and forget to wash your hands, or experience a misfire on pet clean-up, and boom! You're laid out in the hospital. Pursuing nontraditional dog food in the name of nutrition, in other words, can be be dangerous.
But sticking to standard-fare dog foods doesn't guarantee you or your pet will stay safe, either.
The top lobbying group representing the biggest pet food companies is the Pet Food Institute. According to a comment letter filed with the FDA, the rate of salmonella contamination for these firms has fallen since the 2007 mess. It was "15+" percent at the time, and is now a mere 2.5 percent. This improvement, PFI says, should discourage the FDA from imposing rigorous new testing standards for pet food safety.
The PFI comment letter doesn't break out the salmonella contamination by price range. But 2.5 percent is one out of every 40 bags of pet food. In a $22 billion market, a 2.5 percent market share is over half a billion dollars. Thus far in 2015 -- eight years after the Great Pet Food Recall -- the FDA has documented 13 distinct recalls of pet foods and treats, 10 due to salmonella or listeria contamination. (This does not count an additional recall for plastic Nylabone chew toys over salmonella.) Pedigree issued a recall in 2014 over the "presence of foreign material" -- metal fragments that could be harmful if swallowed. California Naturals, Evo, Innova and other brands were recalled the year before over salmonella problems. In 2012, Diamond Pet Foods had its own salmonella recall, which included its standard fare brands as well its higher-end Taste of the Wild label.
"In 2014, we initiated limited, voluntary recalls on certain Evo brand dry cat food and ferret food products as well as certain Pedigree dry dog food products," Mars spokeswoman Kaycie Williams told The Huffington Post in a written statement. "In both instances, we quickly identified and corrected the problem. Our quality and food safety program meets and exceeds industry standards; however, we are always learning and identifying ways to better ensure pet food safety."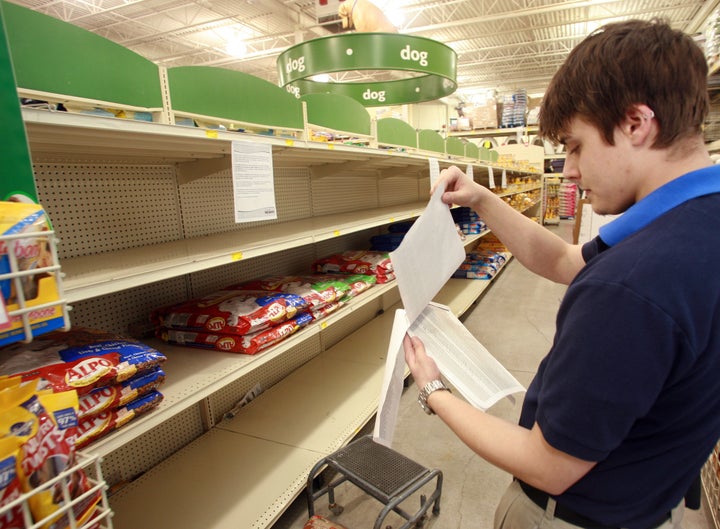 A nasty lawsuit between Blue Buffalo and Purina lays bare a host of problems that experts say are common throughout the pet food industry. Purina is a $12 billion gorilla in the dog and cat food market, second only to Mars. In May 2014, it sued Blue Buffalo, alleging persistent false advertising in which the smaller company claimed to be nutritionally superior to "big name" dog foods and free of gross-sounding ingredients like "animal byproducts" -- animal parts that humans don't generally like to eat, including chicken feet, necks and intestines. Purina claimed an independent analysis showed the presence of high amounts of poultry byproducts in Blue Buffalo food.
Blue Buffalo wouldn't be facing down Purina in court if it had fixed its supply chain management after the 2007 debacle. But Blue Buffalo couldn't change. Like many similar names that consumers trust, the company isn't primarily a pet food manufacturer. It's a marketing firm with limited control over what goes into the food it wraps its packaging around. Its founder, Bill Bishop, is a career advertising guru who cut copy for a tobacco company before eventually founding the SoBe energy drink empire. When Blue Buffalo announced its April 2007 recalls, it blamed its manufacturer, American Nutrition Inc., and a commodities supplier called Wilbur-Ellis.
ANI markets pet food under its own American Pet Nutrition labels -- brands including VitaBone, AttaBoy! and SupremeSource. But its main business is manufacturing pet food for other brands. According to Blue Buffalo, ANI had received a batch of rice protein from Wilbur-Ellis that had been tainted with a chemical known as melamine. When ANI assembled all of its ingredients for Blue Buffalo foods and began stamping out cans of cat and dog food, this melamine ended up in the mixture.
Melamine was the deadly ingredient at the heart of the 2007 recalls. Protein is the most expensive nutrient in any pet food, and melamine is not only cheaper than actual protein -- it can trick laboratory tests by giving off nitrogen the same way that protein does, fooling inspectors into thinking poison is actually health food. That appears to be exactly what two suppliers tried to get away with in the 2007 debacle.
The melamine that Wilbur-Ellis had supplied to ANI was ultimately traced to a Chinese supplier, as was melamine that had been substituted for wheat protein that contaminated other brands. To this day, pet food consumers are extremely wary about any product that includes any ingredient from China.
When Blue Buffalo finally responded to Purina's allegations of relying on poultry byproducts in October 2014, founder Bishop again pinned the blame on a supplier: Wilbur-Ellis. Blue Buffalo, he admitted, was still accepting ingredients from the same supplier that had funneled poison into its products seven years earlier. Blue Buffalo had spent years attacking its competitors for including poultry byproducts in their pet food. But his customers had nothing to fear, Bishop promised: Such byproducts posed no "health, safety or nutrition" consequences in Blue Buffalo's own food.
Wilbur-Ellis spokeswoman Sandra Gharib acknowledged that products it had sold to Blue Buffalo had been "mislabeled," but said they were "all commonly used in pet food and perfectly safe for pets to consume." Gharib said the company had upgraded the processes and standards at the offending facility "to ensure compliance with the company's demanding quality requirements and provided additional senior level oversight to ensure those requirements are being met."
Blue Buffalo, which did not respond to HuffPost's inquiries for this article, is now suing Wilbur-Ellis. It is also countersuing Purina, alleging that the bigger firm engaged in "a carefully orchestrated smear campaign" against Blue Buffalo.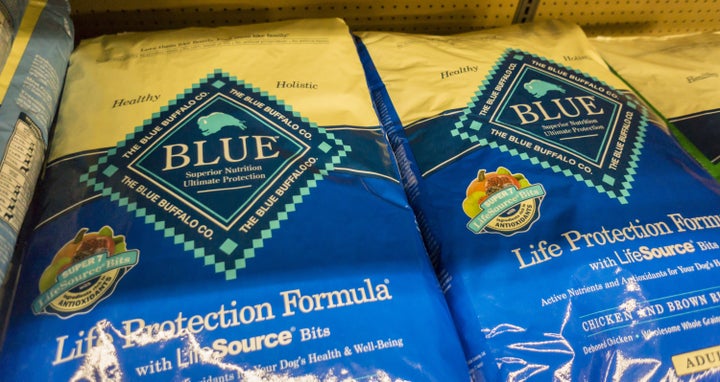 Pet food companies get away with shoddy supply chain management because they are rich and powerful and the FDA is weak and underfunded.
With so many dead pets in so many congressional districts, the federal government couldn't ignore the Great Pet Food Recall. Moving with typical legislative efficiency, Congress passed the Food Safety Modernization Act in 2010, three years after the mass dog and cat die-off.
The bill expanded the FDA's power over pet food, granting the agency the ability to implement mandatory recalls (the 2007 recalls were all technically "voluntary" actions taken by private companies). The legislation also instructed the FDA to craft a rule ensuring the integrity of pet food manufacturing supply chains, with basic standards for sanitation. The idea was to prevent brand name companies from looking the other way while their suppliers flouted basic safety standards.
The new regulation was due in July 2012. It has not yet been finalized, nor have other FSMA rules governing human food safety. The agency is currently operating under a court order that requires the rule to be implemented by the end of 2015.
Consumer advocates expect the final rule to be a strong one, but many doubt that the FDA will be able to solve the problems bedeviling the industry. The agency inspects only a tiny percentage of human food producers in the United States, and even fewer abroad. Pet food inspections are even rarer.
"We're going to have this wonderful law and these nice regulations, but if they're not enforced well, they're not worth the paper they're written on," said Tony Corbo, senior lobbyist for the food campaign at Food and Water Watch, a consumer advocacy nonprofit.
And even with its expanded recall powers, the FDA's enforcement record is patchy at best. There isn't the same acute panic as there was following the 2007 pet food recalls, but ongoing problems with pet treats have killed more than 1,100 dogs since that same year, according to consumer complaints filed with the agency. Although the FDA eventually began issuing warning notices to consumers, it didn't take action against specific brands. After years of FDA inaction, the New York State Department of Agriculture in 2013 found unauthorized antibiotics in a host of pet treats (again connected with poor standards in China), and triggered recalls by Purina and Del Monte.
Purina spokesman Keith Schopp characterized the illegal antibiotic snafu as a case of "regulatory inconsistences between countries" that did not pose "a pet health or safety risk."
The FDA says it's been actively investigating the treats issues since 2011, and that it doesn't think the antibiotics New York regulators found are responsible for the die-off.
"This has been a particularly challenging investigation," an FDA spokeswoman told HuffPost. "We continue to devote substantial resources to the investigation, coupled with regular public updates on the progress of the investigation, advice to pet owners and veterinarians that jerky treats are not essential to a complete diet, and warnings about symptoms to watch for in animals."
But even anti-regulatory Republicans in Congress are calling for the agency to up its game. The House recently passed an appropriations bill requiring the FDA to provide lawmakers with semi-annual reports on its tainted treat investigation.
Food safety advocates are concerned that problems in the pet food market may augur problems for human food, too. Late last year, the U.S. Department of Agriculture agreed to allow chicken processed in China to be imported to the United States, even though, as with pet food, China's human food safety oversight is deeply problematic. (No one has taken the USDA up on the new leniency due to shipping costs, but food safety advocates worry it's just a matter of time before Chinese chicken makes its way into U.S. grocery stores.) Food safety advocates have voiced similar concerns about expanding trade with Vietnam and Malaysia. U.S. regulators simply do not have the resources to oversee both domestic production and imports from poorly regulated international suppliers. If the pet food industry is any indication, adding international complexity to the supply chain -- prepared foods, anyone? -- might not be a great idea.
But as with any other industry, the pet food industry employs lobbyists who push for weaker regulations. When the FDA first proposed a rule on pet food and animal feed in October 2013, it was inundated with complaints from corporations opposing everything from maintaining basic electronic records to testing food processing equipment for pathogens.
The Pet Food Institute led the lobbying charge.
"There's been an enormous effort from the industry to come together on safety," PFI spokesman Kurt Gallagher said. "Safety is not an area for competition."
Gallagher's group lobbies on behalf of the biggest pet food brands -- Purina, Pedigree, Iams and Cargill. Blue Buffalo is a member, too.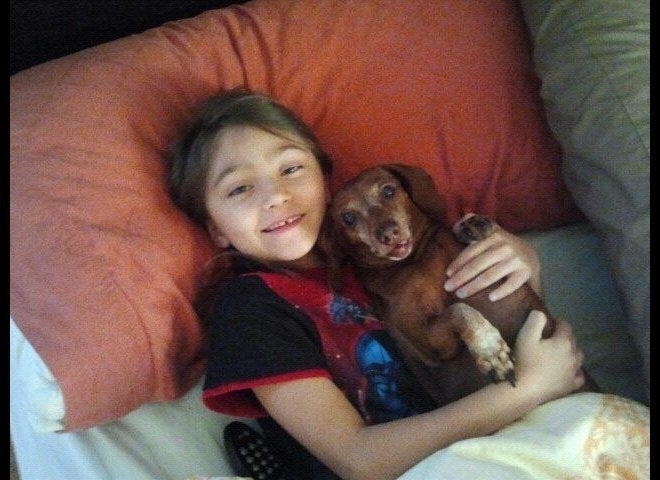 Lessons Kids Learn From Pets
Popular in the Community