The second entrepreneur into the Shark Tank this week was presenting his business Pet Plate. He was looking for $100k in exchange for 10% of the business. He developed a subscription based delivery service for all natural, healthy pet food that actually uses real food. The Sharks themselves even tried a taste of the samples! After spending years working with businesses that were producing unacceptable and damaging food, he decided it was time for a brand that offered truly healthy and proper pet food.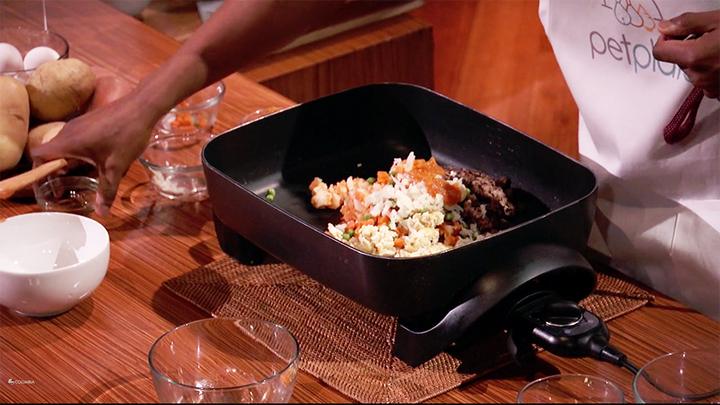 As for the numbers, the subscriptions can vary from 1 to 12 months, with their current average being a 3 month subscription. A full meal plan gives you 14 meals a week on a 2 delivery per week schedule. Pricing varies based on your plan and the size of your dog, with a small dog plan being around $30 per month. As of the filming of the presentation, he had around 105 customers within a 300 mile radius of New York City.
After all was said and done, he did not end up getting a deal from the Sharks and they all had various reasons for dropping out. Lori doesn't think enough people would care enough about their pet food to subscribe to something like this. Robert also couldn't really see a big enough market yet. Chris Sacca was conflicted because of the potential competition they might be in with Uber Rush. Mark just couldn't get excited about it, and Kevin said that his rough experiences with Plated makes him weary of getting into a similar business.
Personally, I am excited at the idea of a business like this. As I have said in the past, I love dogs but I am so very allergic to them. That being the case, I have cats and I would do anything for those little guys. If this business were to expand beyond their 300 mile delivery radius around NYC and come out with plans for cats, I would jump all over this! My wife and I went through countless brands when our cats were kittens trying to find one that we could trust. I'm still not 100% certain that we can trust the brand we currently use, because all I can go by are the claims made on their packaging and other online resources. Picking between pet food these days is kind of like picking the lesser of several dozen evils.
That being said, I genuinely believe there would be a market for this, and I am not just basing that on my desire to use their service. I am basing it on my knowledge of the pet community as I have seen it. It's no secret that people love their pets and want to keep them around as long as possible. The price of their subscription seems fair and comparable to buying the current "healthy" pet foods at the store. Why wouldn't someone use a service like this if they love their animal and want to make sure they are getting the healthiest food possible?
I would be extremely interested to know what the airing of this episode did for his business over the weekend. I'll bet that dog lovers were coming in droves to the website to at least check it out and find out the price for their dog's size.
Now that I think about it, I have a major recommendation for Pet Plate. Something he said during the presentation stuck out to me, and it was that he wants to provide education about healthy, pet-friendly food to people. I believe he should start doing that for free. That's the kind of valuable content that further raises awareness of a brand and can pull in new subscribers. If he can implement some kind of simple contact capture form for people's names and email addresses on the website, and then send out a monthly or bi-monthly article or piece of content to further educate pet owners, that would be a polarizing bit of value provided to the people in his target demographic. Obviously this is not some kind of revolutionary suggesting. Businesses all over the internet are using this as a marketing strategy to keep in constant contact and visibility with their audience. I am simply pushing this as a recommendation for Pet Plate because I believe he has a solid brand and the knowledge necessary to really show people how valuable these subscriptions are through strategic pieces of content.
Anyway, I am definitely rooting for Pet Plate! It seems like a no-brainer to me. I'm not sure why the Sharks were not convinced, but if he keeps hustling and pushing forward, I believe he will prove them all wrong.
Popular in the Community