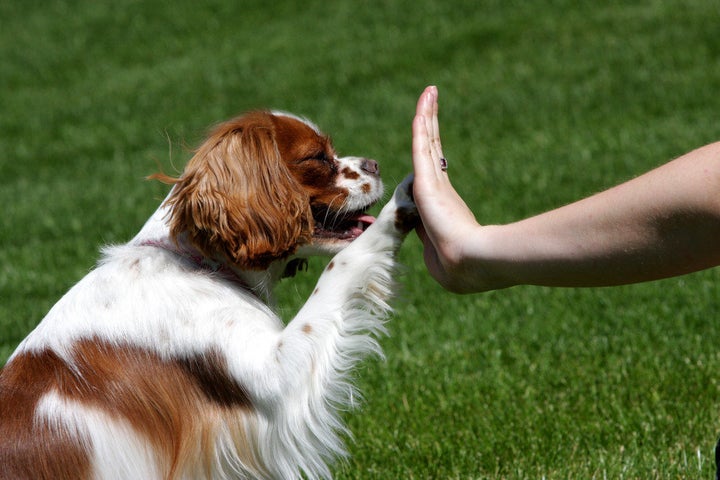 Pets love treats! And pet parents love being able to offer them to four-legged family members. Unfortunately, the majority of commercial pet treats, while yummy tasting to dogs and cats, are neither species-appropriate nor do they contain high quality ingredients.
Wouldn't it be great to be able to offer delicious, delectable treats to your pet that also provide your dog or cat with species-appropriate nutrition? Say no more!
I hope these recipes, tips and ideas will inspire you to make those treat calories count by offering nutritious, biologically-appropriate snacks to your furry loved ones.
Super Easy Nutritious Pet Treat Recipes
• 1 pound lean beef
• Baking sheet covered with baking parchment
• Dice beef into half-inch cubes.
• Place cubes close together on baking sheet.
• Put baking sheet into cold oven and heat oven to 300 degrees Fahrenheit.
• Cook for one hour.
• Reduce oven temperature to 200 degrees Fahrenheit and prop open oven door (to allow moisture to escape).
• Continue cooking for two additional hours
• Remove beef cubes from oven and allow to dry overnight at room temperature.
• Place beef cubes in airtight container and keep refrigerated or frozen until ready to serve.
• Beef livers (butcher shops sometimes throw these away or you can buy them at the supermarket).
• Food dehydrator*
• Cut liver into one-inch slices.
• Apply a non-stick spray on the dehydrator drying racks.
• Place the liver slices into the dehydrator for 24 hours.
• Seal in airtight container and refrigerate or freeze until ready to serve.
*An alternative to using a food dehydrator is to put the liver strips on a greased or non-stick baking sheet and bake them in a 325 degree oven for 45 minutes to an hour.
• 1 pound ground turkey
• 1 egg
• 1 teaspoon chopped parsley
• ¼ cup shredded cheese (optional)
• ½ cup chopped veggies (optional)
• Preheat oven to 350 degrees Fahrenheit.
• Mix all ingredients in bowl.
• Shape mixture into bite-size balls.
• Bake for 10 minutes or until brown.
• Cool and serve or seal in airtight container and store in fridge or freezer until ready to serve.
• 1 egg
• 1 to 2 tablespoons mashed potatoes
• ½ cup diced cooked turkey meat
• ½ cup chopped cooked veggies
• ¼ cup grated cheese
• Warm a small amount of olive oil in a medium-sized skillet.
• Blend the egg and potatoes in a bowl and then spread in the skillet.
• Lay the turkey and veggies on top in even layers.
• Cover and simmer until the egg is cooked and the mixture is warm.
• Sprinkle cheese on top of mixture and cook a few more minutes until cheese is melted and egg is golden brown.
• Cool thoroughly, cut into wedges, seal in airtight container and put in fridge or freezer until ready to serve.
How to Quickly Turn a Can of Pet Food Into Nutritious Treats
If you buy commercial canned food for your dog or cat, you can "repurpose" a can for use as a supply of healthy treats.
Open a can of your pet's favorite brand, preferably something with a strong aroma, and spoon out little treat sized amounts onto a baking sheet covered with parchment paper.
Put the baking sheet into the freezer until the bite sized bits of food are frozen. Then move them to an airtight container and back into the freezer they go until you're ready to treat your pet to a treat! (Most dogs will enjoy the treats frozen, but you'll need to thaw them to a chewy consistency for kitties.)
Additional Ideas for Quick-and-Easy Pet Treats
Don't count out people food when it comes to offering healthy treats to your pet.
Fed in moderation (meaning fed only occasionally, and in very small amounts -- no more than a 1/8-inch square for a cat or small dog and no more than a 1/4-inch square for a bigger dog), any of the following items from your kitchen can provide a nutritious snack for your dog or cat:
• Fruit
• Cheese
• Raw almonds, cashews, Brazil nuts
• Blueberries
• Frozen peas
No matter what treats you feed, they should be counted as part of your dog's or cat's daily caloric intake. Most pet owners would be surprised at just how many extra calories a treat here and there can add to a pet's daily energy intake.
Dr. Karen Becker is a proactive and integrative wellness veterinarian. You can visit her site at: MercolaHealthyPets.com.
Her goal is to help you create wellness in order to prevent illness in the lives of your pets. This proactive approach seeks to save you and your pet from unnecessary stress and suffering by identifying and removing health obstacles even before disease occurs. Unfortunately, most veterinarians in the United States are trained to be reactive. They wait for symptoms to occur, and often treat those symptoms without addressing the root cause.
By reading Dr. Becker's information, you'll learn how to make impactful, consistent lifestyle choices to improve your pet's quality of life.