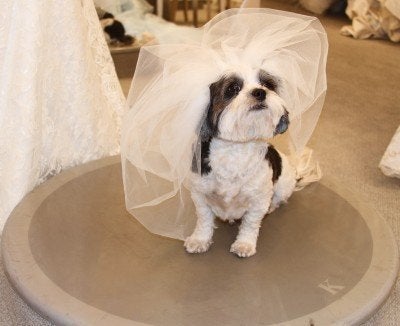 But that's exactly what animal rescue advocate Wendy Diamond is doing for her recently adopted Coton de Tulear, Baby Hope. Diamond is planning the estimated $200,000 nuptials down to the last lavish detail -- including a designer gown from Kleinfeld -- in an attempt to break the Guinness World Record for the Most Expensive Wedding for Animals on July 12 in New York City. (The current record is $32,000, according to the New York Observer.)
While the idea of a pet wedding (not to mention a dog saying "yes" to the dress) might seem a bit absurd, Diamond's event more than a ploy for the Guinness title -- in fact, all of the goods and services for the nuptials have been donated by vendors and others.
Since 1999, Diamond has raised hundreds of thousands of dollars for animal welfare and she expects Baby Hope's wedding to generate $50,000 through donations and the cost of tickets to the event. The proceeds will benefit The Humane Society, as well as canine cancer, a cause that's close to Diamond's heart. Her beloved dog, Lucky, the icon of her philanthropic work and, most notably, the only civilian dog to be admitted into the United Nations, passed away from the disease on June 6.
Click through the slideshow below to see photos of Diamond and her dogs.