"Deport Callous Cheating Opportunists Now," the ad states, with an arrow pointing to a photo of Trump who's holding the bloodied sliced-off tail of an elephant he killed in Africa in 2012. "All nations have their undesirables. Kindness welcome."
The ads will be placed in El Paso and Laredo, Texas, just as Donald Trump is preparing to call out the National Guard to police the border.
"While people are fleeing to the U.S. to escape violence, overprivileged, callous, cheating louts like Donald Trump Jr. are flying overseas to gun down living, feeling beings just for fun," PETA President Ingrid Newkirk said in a statement calling Trump's eldest son a "bad hombre."
Trump and his brother Eric, both avid game hunters, were featured in a series of controversial photos posted online posing with animals they had killed in Africa in 2012, including an elephant, crocodile, kudu, civet cat, leopard and waterbuck.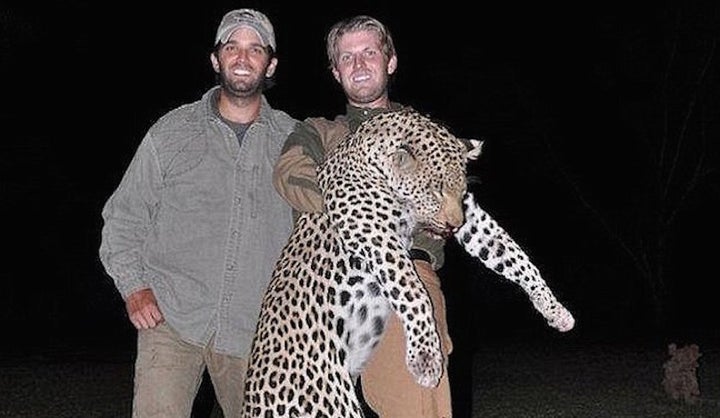 After the photos were posted, Donald Jr. told a critic in a tweet that he was proud to be "a hunter."
Donald Trump last year lifted an Obama administration ban on American hunters importing trophy tusks and other elephant body parts into the U.S., but he then reversed himself after a public outcry. But early last month, Trump again quietly lifted the ban in a memorandum.
The president last year called elephant hunting a "horror show."
African elephants have been listed as threatened under the Endangered Species Act since 1979. 
"Elephants aren't meant to be trophies, they're meant to roam free," Tanya Sanerib, international legal director at the Center for Biological Diversity, told The Associated Press. 
Calling all HuffPost superfans!
Sign up for membership to become a founding member and help shape HuffPost's next chapter
BEFORE YOU GO