PETA says San Diego International Airport's rejection of its anti-SeaWorld poster just won't fly. So the animal rights group, with the help of the American Civil Liberties Union, is suing the airport authority.
The ad at the center of the controversy shows actress Kathy Najimy declaring: "Welcome To San Diego! If you love animals like I do, please avoid SeaWorld."
(Story continues below)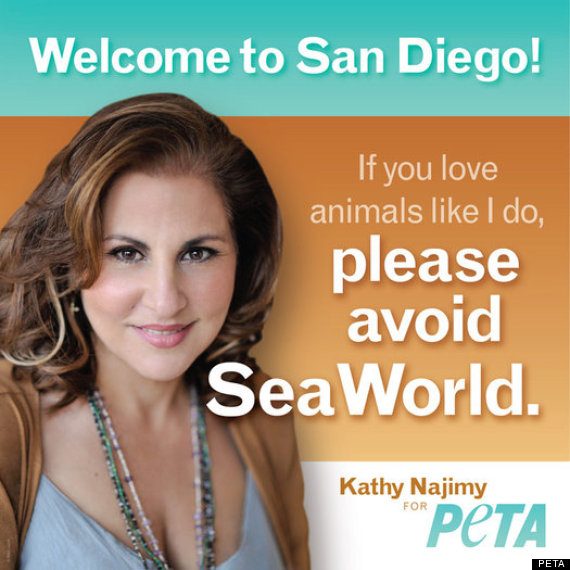 PETA has been calling out the park for its alleged abuse of orcas, an accusation that was recently brought to the public's attention in a documentary called "Blackfish."
In a press release, PETA noted the airport makes hundreds of thousands of dollars from SeaWorld advertising. The group said it offered $17,500 for a display at San Diego International Airport but was turned down because of the oppositional message. In court papers obtained by The Huffington Post, PETA asserts that airport advertising vendor JCDecaux, which is also named in the complaint, told the advocate group that it was acting on internal guidelines.
The suit, filed March 10 in United States District Court, doesn't seek a specific monetary amount.
"While the government has some authority to regulate advertising, this is an example of the government abusing that authority and unfairly discriminating against the message of a specific advertiser," ACLU attorney Sean Riordan said in the PETA news release. "The First Amendment stands to protect against this kind of viewpoint discrimination."
Najimy also explained her involvement in a statement.
"When I was growing up in San Diego, we didn't know better and our folks took us to SeaWorld," she said. "We were blind to the reality that these gorgeous creatures were being abused and belong in their natural habitat."
Popular in the Community