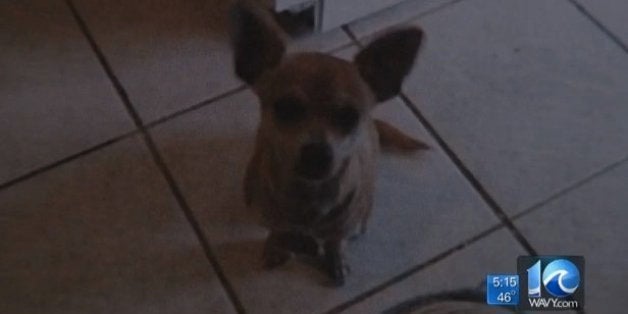 These allegations are so grotesque, they'd make the perfect smear campaign.
As you may have heard, Wilbur Cerate, a Virginia man, claims that last month, two People for the Ethical Treatment of Animals staffers turned up at his home when he wasn't there, loaded his daughter's Chihuahua, Maya, into a van, and then euthanized her.
Three days later -- this is the real kicker -- the PETA workers are said to have then brought the grieving family a fruit basket.
Parts of this were caught on surveillance video.
Accomack County Sheriff Todd Godwin told WAVY -- the first local news outlet to pursue this bizarre, sad story -- he charged the dog-nappers with larceny, only to see the charges dropped by the Commonwealth Attorney because, as the paper put it, "there wasn't enough evidence to prosecute."
Godwin told the paper that "both individuals were working on behalf of the PETA Community Assistance Program when the theft occurred."
Horrific on its face. Too horrific to be true?
Prominent folks working to reduce pet euthanasia, like Nathan Winograd -- a leading advocate in the no-kill movement -- seem to believe that this terrible incident could have happened as it's being reported; that it fits in with the controversial group's regular practices and philosophies.
So what the heck does PETA say about all this?
That this didn't happen the way it's been reported?
Or that the workers were going around taking Chihuahuas on their own initiative and outside of work hours?
Was Maya taken and killed by accident?
Or does PETA believe, as an organization, Maya is better off dead?
Can they at least offer some explanation for the fruit basket?
No. They've been completely, distressingly silent.
Here's a video of WAVY's reporter trying to get a response from someone at PETA's Norfolk, Virginia, headquarters:
DELMARVA Now was similarly unsuccessful. And we at HuffPost have also been trying all week to get anyone from the organization to tell us anything about what actually happened here in Virginia, to the Cerate family and their tiny dog.
I personally have been sent to a lot of voice mail boxes without getting a single return call, and was even hung up on once. Emails go unreturned.
As a near-lifelong vegetarian who is deeply concerned with reducing animal suffering, I don't often agree with the meat industry's shills.
But in this case I do: It's past time for PETA to explain.
Because until we know more, all we can say about this terrible story is that a family is grieving, and some professionally sinister mustache-twirlers have that much more ammunition in their war against animals.
Popular in the Community