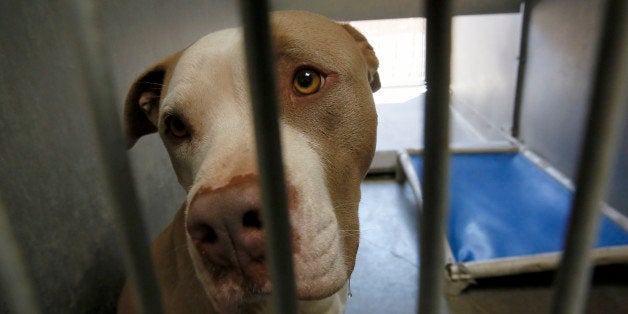 Nothing indicates the horror of Montreal's pit bull ban more than this: PETA's mealy-mouthed congratulation. In 2012, when a shelter announced its regretful decision to start killing pets, People for the Ethical Treatment of Animals sent them a congratulatory basket of vegan cookies. And now that Ingrid Newkirk's outfit is cheering for Mayor Denis Coderre's shiny new law, it can mean one thing only: a whole lot of dogs are about to die in Quebec.
PETA insists, of course -- mid-congratulations -- that they don't wish to see pit bulls killed; they wish to see them "well cared for." (Surely the most gruesome euphemism of the week.) Their concern isn't eradication; it's "breed-specific protection." (Surely the second-most gruesome euphemism of the week.) Unfortunately, back when PETA's founder was a bit more honest about her urges, she wrote -- in a piece that's still online -- that she wanted to see every pit bull in a shelter go out the back door dead.
But this is Ingrid Newkirk: isn't she an international icon of caring and compassion? Come on -- I must be putting words into her mouth. Um, no. Sorry, but these are her words, and they leave no room for interpretation. This ghoul's article is right here, in case you're interested in the skull behind the saccharine smile. And I quote:
Most people have no idea that at many animal shelters across the country, any pit bull that comes through the front door doesn't go out the back door alive.... Here's another shocker: People for the Ethical Treatment of Animals... supports the shelters' pit-bull policy.
My emphasis. Oh, I suppose I should put that in context. They're always howling about being taken out of context. So, that last sentence? About supporting the shelters' policy of making sure that every single pit bull leaves the shelter dead? There's a slight proviso: the sentence ends with: "albeit with reluctance."
Yes, PETA is reluctant about their sincere wish to commit thousands of pets to the crematorium. (That's where dogs end up, in case you didn't know, after PETA -- or whichever shelter PETA supports -- poisons them, by injecting approved blue liquid into their veins.)
PETA has of course killed tens of thousands of animals themselves, as I've documented here -- almost every pet taken into their so-called "shelter" has left the back door dead, whether healthy or sick, whether pit bull, Chihuahua or kitten. A law was finally passed in Virginia aimed at preventing PETA from using their headquarters in Norfolk as a glorified slaughterhouse (complete with expensive walk-in freezer).
Limiting their ability to kill at home, however, cannot prevent them from proselytizing, and Ingrid Newkirk's followers are nothing if not missionaries. Few things make them happier than to see their signature practice spread across the continent, and Montreal's new pit bull ban must be making them cheerful indeed. Lots of (reluctant) high-fives back at headquarters. Vegan cookies all around.
When your proud new breed-specific legislation has been endorsed by PETA, then that law is guaranteed to keep the crematoria busy. Congratulations, Mayor Coderre: your city's shelters are about to become abattoirs.