People for the Ethical Treatment of Animals, or PETA, has reached out to aid needy Detroiters who had their water shut off due to outstanding payments. But one stipulation in the group's proposal to help has added another element of controversy to the already tumultuous situation.
PETA wants beneficiaries to kick their meat-eating habits to the curb.
The advocacy organization has offered to pay one month's water bill and provide a basket of vegan food for 10 Detroit residents who, in return, agree to go vegan for one month, CBS 62 News in Detroit reported. But not everyone is pleased.
The proposition -- which media outlets have called "tone deaf" and "patronizing" -- is receiving criticism for attempting to appear compassionate while putting its own agenda before the dire situation in Detroit.
One Twitter user said PETA's backwards way of helping only hurts the organization's mission:
According to Think Progress, PETA is overlooking a crucial factor that prohibits impoverished Detroiters from keeping up a healthy, meatless diet, and that's the resources to do so:
What PETA seems to miss in their vegan-as-a-bargaining-chip scheme is that it's not easy for everyone to live on a healthy diet of fruits and vegetables like the kind PETA encourages. Some people -- and especially lower-income residents like those in Deroit who are struggling to pay their bills -- reside in food deserts where it's not easy to pick up fresh fruits and vegetables all the time. Or they simply work too many jobs and still don't have enough money to have the time to prepare fresh, unprocessed foods.
Despite criticism, PETA spokeswoman Lindsey Wright said there's no catch in the organization's offer to do good for Detroit.
"At PETA we really see this as a win-win," she told CBS 62 News. "It's something that is going to be helping animals and the environment, and of course there are health benefits for people who participate as well."
PETA, which stated on its website that one generous supporter made the idea possible, claims those health benefits are a vital reason for its outreach of support.
"The last thing that people who are struggling need is increased health care costs," a statement on PETA's blog reads. "By accepting our offer to go vegan, not only will families be getting an immediate financial boost and helping animals, if they stick with it, they'll also lower their risk of obesity, heart disease, cancer, diabetes and strokes."
Detroit residents interested in receiving help from PETA can send a hard copy of their most recent overdue water bill, as well as a pledge to go vegan for one month, to the organization's office in Virginia. All submissions must be received by August 1.
Before You Go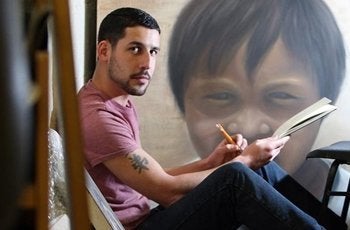 Peta's sexiest vegans 2014