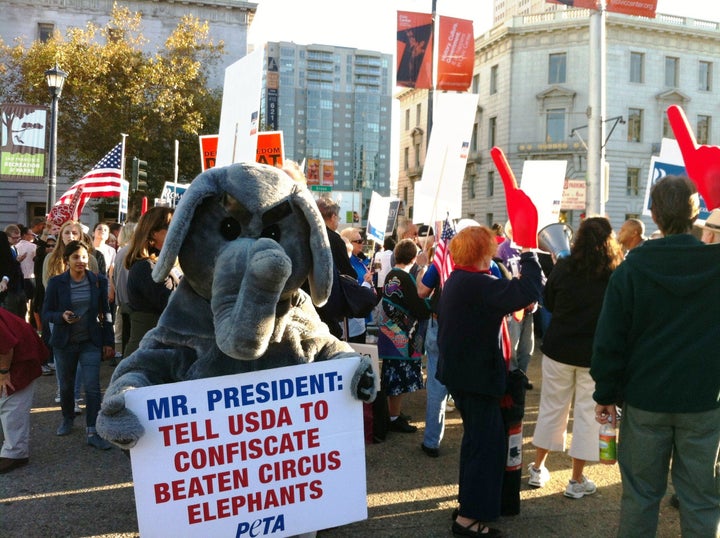 Urging more action to protect circus elephants from abuse, animal rights group People for the Ethical Treatment of Animals (PETA) has sent an "enraged elephant" to trail President Obama at public campaign events, including at a campaign stop in New Hampshire on Thursday.
PETA is pressing Obama to order the U.S. Department of Agriculture to confiscate elephants used in circuses that are "trained, disciplined and punished with bullhooks (heavy weapons resembling fireplace pokers with a sharp steel hook at the end) in violation of the federal Animal Welfare Act (AWA)," the group said in a statement on Thursday.
The PETA activist, dressed in an elephant costume and carrying a sign reading "Mr. President: Tell The USDA to Confiscate Beaten Circus Elephants," has attended Obama events in cities including Miami, Denver, Cleveland, Los Angeles, Madison, Wis. and Hempstead, N.Y, the site of the presidential debate on Tuesday night. A spokesman for the Obama campaign in New Hampshire did not immediately respond to a request for comment.
Complaints on animal cruelty charges that were filed against Ringling Bros. and Barnum & Bailey Circus resulted in $270,000 in fines last year, the biggest fine in circus history, according to PETA.
"The government has taken an important step by fining these cruel circuses, but now it must confiscate the lame, overworked, and beaten elephants," Delcianna Winders, the Director of Captive Animal Law Enforcement at PETA, said in a statement. "PETA is calling on the president to urge the USDA to take action—and on parents to keep their children away from the circus."
In 2009, PETA shot undercover video showing how some elephants were beaten and whipped by circus employees. The video can be seen here. The organization has also enlisted the help of actor Alec Baldwin, who urged viewers to boycott circuses that use animals.
"Circuses deny animals everything that is natural and important to them. Every basic instinct is met with punishment. As long as circuses continue to use elephants, these intelligent beings will continue to experience enormous suffering," Baldwin says in the video.
REAL LIFE. REAL NEWS. REAL VOICES.
Help us tell more of the stories that matter from voices that too often remain unheard.