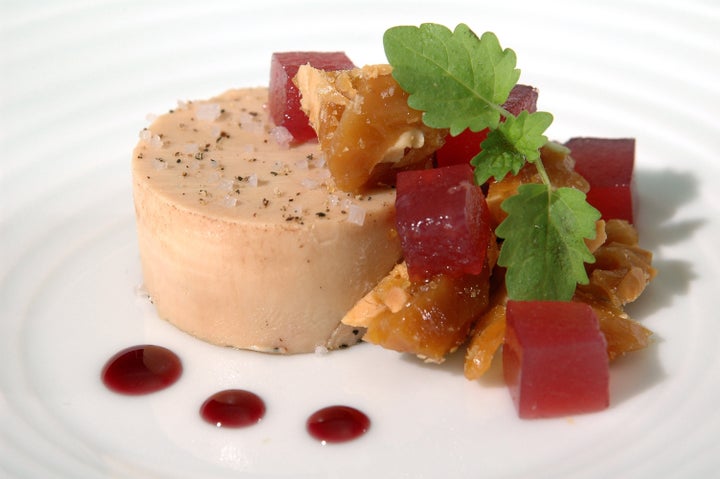 Nearly nine months after the state of California set into law a controversial ban on foie gras, lawsuits abound on both sides of the debate. But only a single restaurant has been legally targeted for allegedly violating the ban -- and not by government authorities. Opponents say the lack of other lawsuits, led by the government or groups other than PETA, mean the ban is not supported by Californians.
The lawsuit led by animal rights group PETA against Hermosa Beach eatery Hot's Kitchen, filed in November, alleges the restaurant has been illegally selling foie gras as part of a dish called "THE Burger." Hot's Kitchen maintains it offers the foie gras as a complimentary side dish, which, if true, takes advantage of a legal loophole. As written, the law only forbids producing or selling foie gras, not giving it away for free.
The trouble with the supposed violation is that no one seems to care about it, except PETA. In its suit (PDF), the group admits that it couldn't "persuade" Hermosa Beach police to intervene and take Hot's Kitchen to task. The HBPD has "a lot on their plates" and was unable to enforce the ban, according to the suit.
Hot's Kitchen co-founder and head chef Sean Chaney believes he's been targeted by PETA because of his vocal opposition to the foie gras ban. He and two other groups -- New York's Hudson Valley Foie Gras and the Association des Éleveurs de Canards et d'Oies du Québec -- filed their own lawsuit against the state of California the day after the ban went into effect, claiming that it is unconstitutional.
In an interview with The Huffington Post, Chaney dismissed the PETA suit as a PR stunt. "I did not know when PETA became the foie gras police," he said, laughing. "Is it self-appointed, that they're in charge of that now?"
He also questioned why it's PETA, and not the government, bringing forth such a suit. "I think their history would show that they are acting as a vigilante group," he said of the animal rights organization. He called PETA's position "fanatical."
Moreover, it's unclear whether PETA has the legal recourse to file the suit. The current ban doesn't include a provision that allows an organization to sue a private company; sources close to the case say Hot's Kitchen's lawyers will file a motion to dismiss the case on April 10, based on this and other facts of the case.
But PETA's senior litigation counsel, Matthew Strugar, countered that take. "California consumer law has protections against unlawful business practices," he told HuffPost. "The people, the consumers, can bring a lawsuit under the consumer law saying [a] restaurant is doing unlawful business practices."
"It's a little bit lawyerly," he admitted. Strugar also shrugged off any suggestion that the lack of similar foie gras lawsuits was an indication of the ban's unpopularity. "There's not a whole lot of people out there violating this law," he offered as explanation.
That runs counter to the experiences of Helen Springut, owner of the "culinary incubator" This Is Not a Pop-Up, which ran afoul of PETA when it tweeted about potentially serving foie gras at a recent event. PETA threatened to file a lawsuit against This Is Not A Pop-Up, though it remains to be seen if the group will follow through.
Springut stressed that public response to This Is Not A Pop-Up's position has been "overwhelmingly positive" since PETA's lawsuit threat.
"I 100 percent believe that PETA is doing it just to create problems," Springut said of PETA's threat against her and its action against's Hot's Kitchen. "You can get foie gras anywhere around town," she continued, stressing that she and Chaney were likely targeted because they have promoted foie gras out in the open.
Most other eateries that serve foie gras do so quietly, according to Springut, which may help keep PETA and other groups at bay. Still, she believes this must change for the ban to be lifted. "If you do it underground, if you do it in a quiet way… it doesn't lead to change."
CORRECTION: A previous version of this article printed Helen Springut's name as Helen Springnut.
Calling all HuffPost superfans!
Sign up for membership to become a founding member and help shape HuffPost's next chapter
BEFORE YOU GO
PHOTO GALLERY
Ban Before Foie Gras