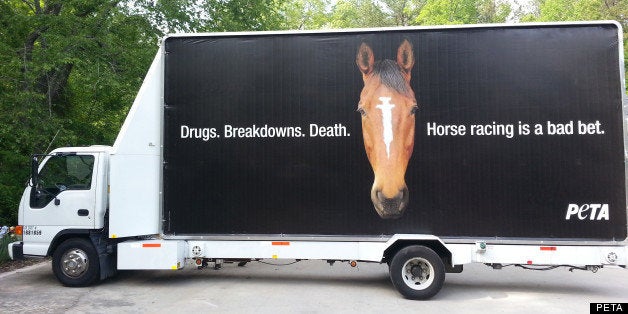 One of the few sure things at the Kentucky Derby? PETA won't be cheering.
The animal-rights group drove a billboard protesting horse abuse in front of Churchill Downs Thursday, drawing stares and picture-takers, PETA Senior Vice President Kathy Guillermo told The Huffington Post. The sign will continue to roll near the track through Saturday, the day of the race.
The mobile PSA calls out the sport's reported drugging of horses -- a practice that has led to equine deaths at tracks nationwide. The billboard features a picture of a horse with a blaze shaped like a syringe. The caption reads, "Drugs. Breakdowns. Death. Horse racing is a bad bet."
Guillermo told HuffPost that the People For Ethical Treatment Of Animals isn't calling for the abolition of horse racing; it wants to make it safer. One way to accomplish this, PETA suggests, is by ending the administration of painkillers and other medication to horses so they can run through injuries.
"We could have taken a hard-line stance but for several years we have worked to make [horse safety] better," Guillermo explained to HuffPost.
HuffPost reached out to a derby rep for comment on Thursday but did not hear back.
Horse racing came under increased public scrutiny after a 2012 New York Times report. According to the paper, an average of 24 horses die weekly at American racetracks, revealing "an industry still mired in a culture of drugs and lax regulation and a fatal breakdown rate that remains far worse than in most of the world."
PETA chose to get the word out at the Kentucky Derby because it's the one event that even non-racing fans watch, Guillermo said. But she pointed out that Churchill Downs, the Derby site, has had its own problems with horses. Last May alone resulted in eight racing deaths, the Courier-Journal reported.
In 2010 PETA created a billboard the group said was turned down by every outdoor advertising company in Louisville, Ky. This time the campaign is on wheels, driving up and down streets in front of the racetrack's entrance.
PETA has more protests planned for the other Triple Crown legs, the Preakness and the Belmont Stakes, Guillermo told HuffPost.
Before You Go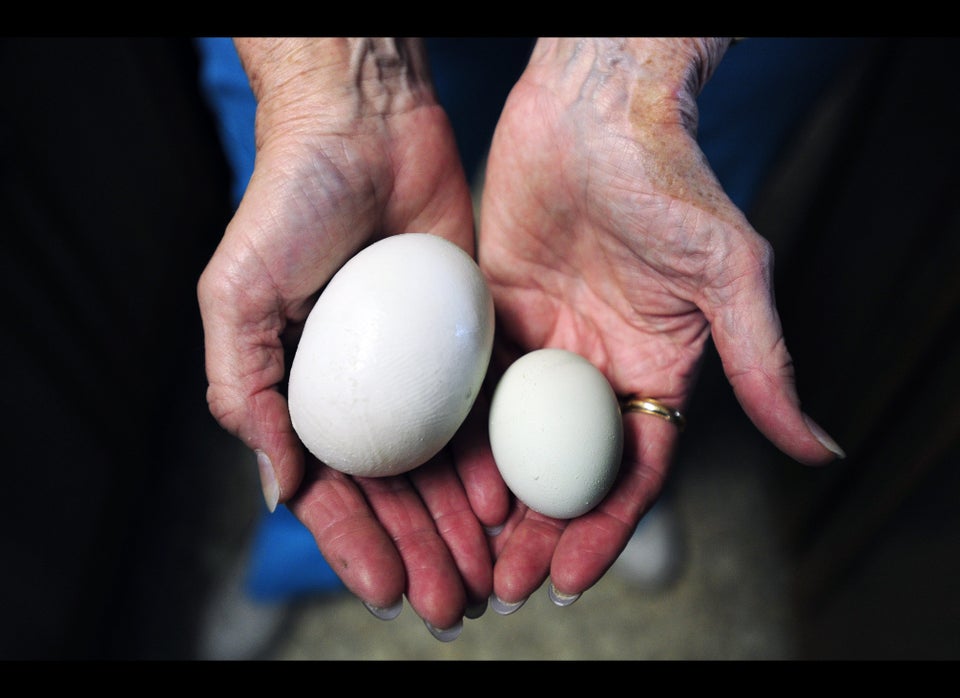 Animals In The News
Popular in the Community