In a new PETA ad, world-renowned astrophysicist Dr. Neil deGrasse Tyson suggests "kindness is a virtue," and more people need to show compassion for the fellow inhabitants of our planet.
Dr. Tyson, who is the director of New York City's Hayden Planetarium, said in an interview with PETA President Ingrid E. Newkirk, "Maybe humans aren't as good as we should be in our capacity to empathize with the … feelings and thoughts of others -- be they humans or other animals on Earth."
Dr. Tyson went on to explain the importance of compassion, and state that "part of our formal education should be training in empathy. Imagine how different the world would be if, in fact, that were 'reading, writing, arithmetic, empathy.'"
A New York Times best-selling author, Dr. Tyson most recently wrote "The Pluto Files: The Rise of Fall of America's Favorite Planet." He is also the host of PBS' Nova ScienceNow and a regular contributor to popular magazines, newspapers, and television programs. Perhaps most importantly, he has received People's "Sexiest Astrophysicist Alive" title. [Text and ad below video.]
The group also recently called for Pope Benedict XVI to "truly go green" by making the next popemobile without leather, since production of leather is "toxic to the environment, it's also hell for cows."
Since its inception, the outspoken animal rights group has been the focus of both praise and controversy for its work.
Check out PETA's newest ad: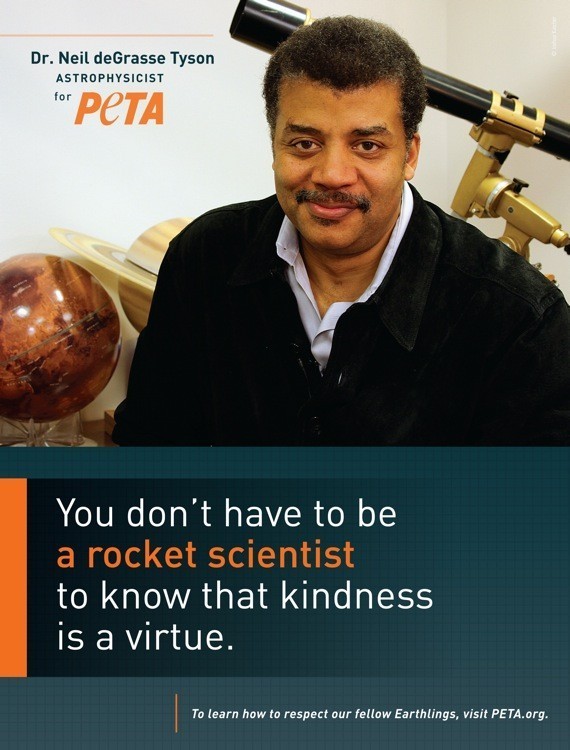 Calling all HuffPost superfans!
Sign up for membership to become a founding member and help shape HuffPost's next chapter