More details about PETA's plans to launch a pornographic website emerged this week.
The organization told the Telegraph that the site would be registered under xxx domain and would launch in December.
The aim of the site is to promote the organization's animal rights and vegan diet message, and reach a broader audience.
*Scroll down to see past PETA photos (WARNING: SOME IMAGES CONTAIN EXPLICIT CONTENT AND MAY NOT BE DEEMED SUITABLE FOR ALL AUDIENCES)*
PETA spokeswoman Lindsay Rajt told the Associated Press on Tuesday that the Norfolk, Virginia-based group has applied with ICM Registry to launch the website peta.xxx.
Rajt said the website will feature graphic videos and photographs. PETA has previously worked with porn stars to get its message across in the past, including adult film stars Sasha Grey, Ron Jeremy and Jenna Jameson.
PETA confirmed the porn website to The Huffington Post in August, saying, "the racy things we do are sometimes the most effective way that we can reach particular individuals."
Animals on factory farms do not see the sun or get a breath of fresh air until they are prodded and crammed onto trucks for a nightmarish ride to the slaughterhouse, often through weather extremes and always without food or water.

Many die during transport, and others are too sick or weak to walk off the truck after they reach the slaughterhouse. The animals who survive this hellish ordeal are hung upside-down and their throats are slit, often while they're completely conscious.

Many are still alive while they are skinned, hacked into pieces, or scalded in the defeathering tanks. Learn more about the factory-farming industry. By switching to a vegetarian diet, you can save more than 100 animals a year from this misery.
In honor of the XXX site, below are some of PETA's racy photos from other notorious campaigns.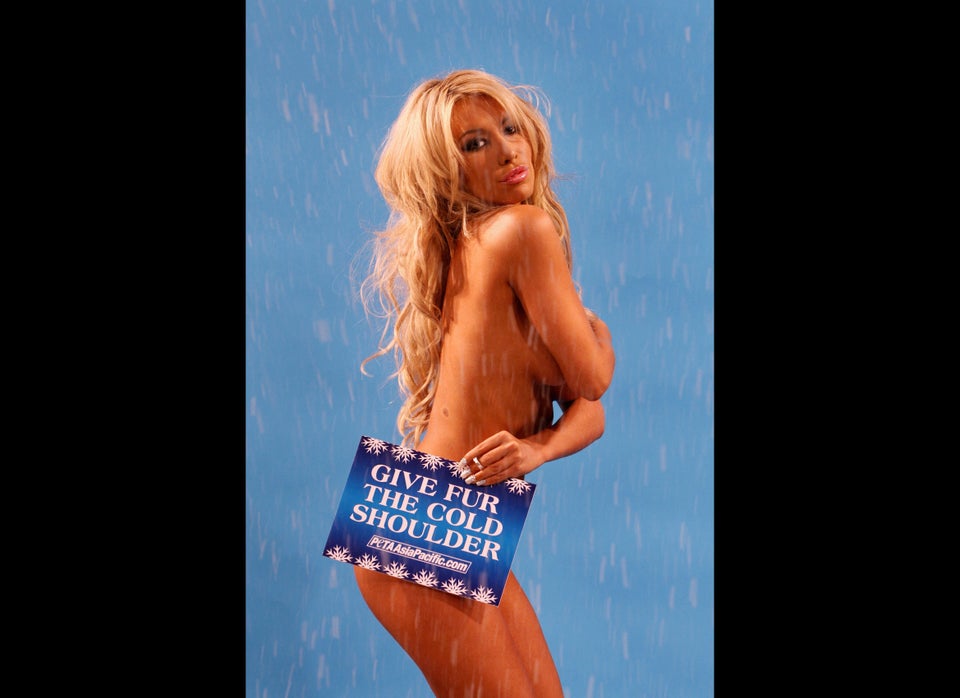 CORRECTION: A previous version of this article erroneously stated that Geneva Cruz was one the models featured in the slideshow posing for PETA. In fact, the correct model is Alicia Meyer. The error has been corrected.