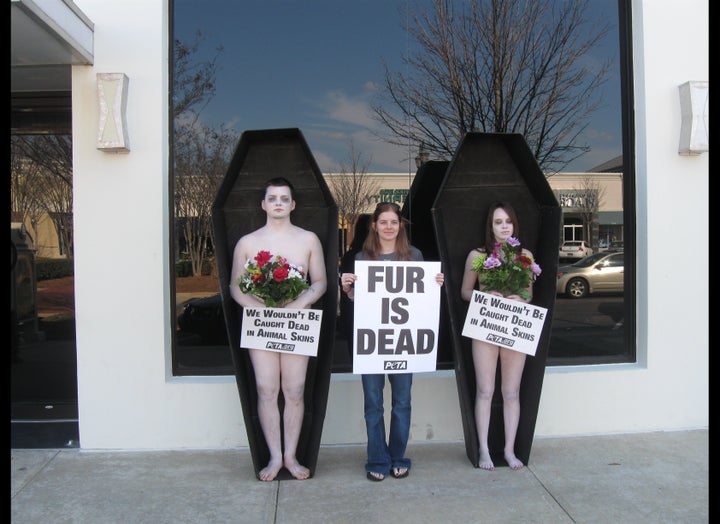 Naked corpses on the streets of Montgomery, Ala., might mean the long-feared zombie uprising has begun and we poor humans might as well just prepare for our brains to ripped from our skulls and eaten.
For better or worse, however, these corpses were actually members of the animals rights group PETA dramatizing their animal rights agenda.
"We had two people painted to look like corpses, wearing underwear [and] holding signs that read, 'We Wouldn't Be Caught Dead in Animal Skins,'" PETA campaigner Katie Arth told The Huffington Post. "They were in stand-up coffins [that] we set up to draw attention to the suffering of animals used for fur, leather wool and exotic skins."
Other activists held signs that read, "Wear Your Own Skin -- Let Animals Keep Theirs" and "Fur Is Dead."
Arth said the goal was to get people's attention and give them the opportunity to question what goes on behind closed doors at fur factory farms.
"Most people love animals -- [they] grew up with dogs and cats, and are just less familiar with animals like foxes and cows," she said. "The things done to them to turn them into a pair of shoes or a coat would be felonies if done to dogs and cats."
The protest took place in front of Henig Furs, Leathers & Outerwear in Montgomery. In addition to holding signs, the activists handed out leaflets to curious onlookers.
"Most people don't want animals to suffer for their clothes but they do," Arth continued. "Animals are often skinned alive. On fur farms a common manner of slaughter is anal and vaginal electrocution. So we were out there to encourage people to make compassionate choices by choosing synthetic options instead of real animal skin."
Tascha Jones, one of the corpse protesters at the event, said she is happy to bare her skin whenever it helps save animals' skins.
"With all the luxurious alternatives available, there's absolutely no excuse to wear animal skins," Jones said.
Visit PETA.org for more information on People for the Ethical Treatment of Animals.
PHOTOS: MORE NAKED PROTESTS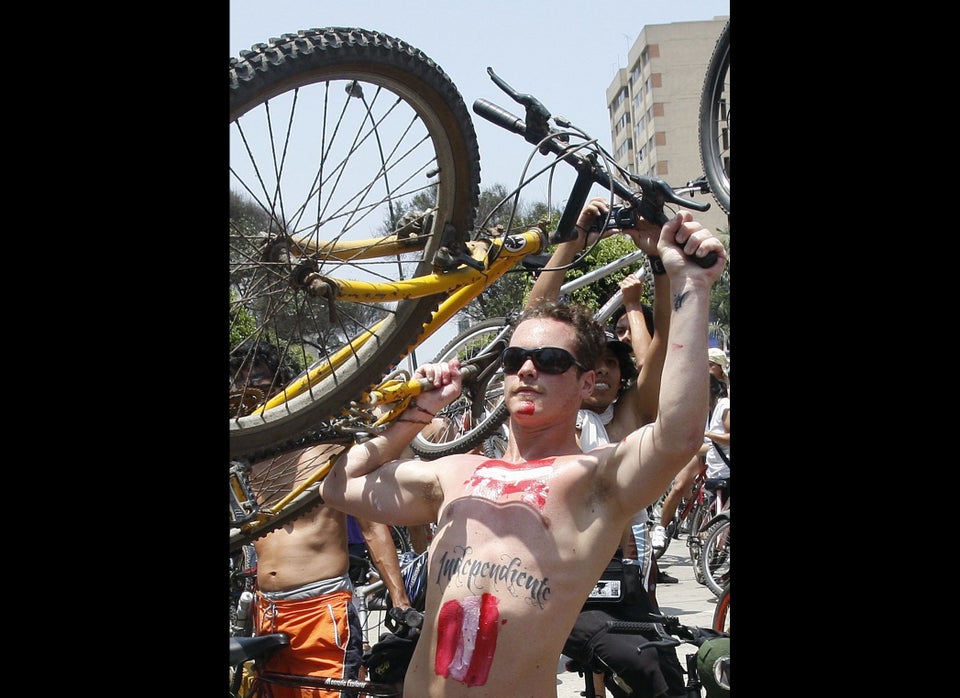 Naked Protests
Popular in the Community