PETA protested this week against the NBC comedy Animal Practice in front of NBC studios in North Hollywood. The protest hoped "to draw attention to the fact that animals generally have no desire to be in front of the camera." According to PETA's website, animal actors are often mistreated on their journey to stardom. They write on their website:
"There is nothing glamorous about showbiz for primates, big cats, bears, and other animals who are used in television, film, or advertising; exploited as sports mascots; or used as props in novelty displays. Torn away from their mothers as infants, these animals are subjected to abusive training methods and forced to spend most of their lives in small, filthy cages, deprived of everything that is natural and important to them. Trainers who supply animals to the entertainment industry are frequently cited by the U.S. Department of Agriculture for violating the federal Animal Welfare Act, which establishes only minimal guidelines for animal care. Social animals such as primates, elephants, and wolves are often forced to live alone, causing them severe psychological stress and anxiety."
The sitcom is set in a veterinary practice and prominently features monkey performer Crystal, who has also featured in 2006 film Night at the Museum and 2011's The Hangover Part II. Crystal the capuchin wears a doctor's lab coat on the show and is the co-star of lead Justin Kirk, but PETA says she's just being used as a tool for cheap laughs." PETA Senior Vice President Lisa Lange the casting "is as cruel as it is creatively bankrupt," and that Crystal's "smile" actually "indicates fear and stress in capuchin monkeys."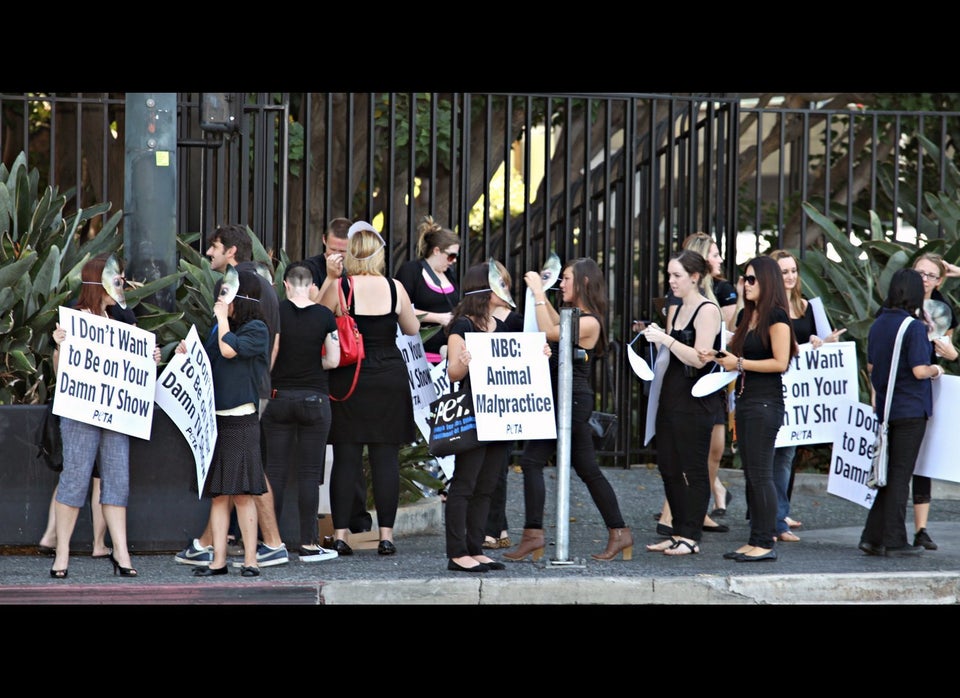 Peta Protests NBC Animal Practice
Support HuffPost
The Stakes Have Never Been Higher
Related
Popular in the Community