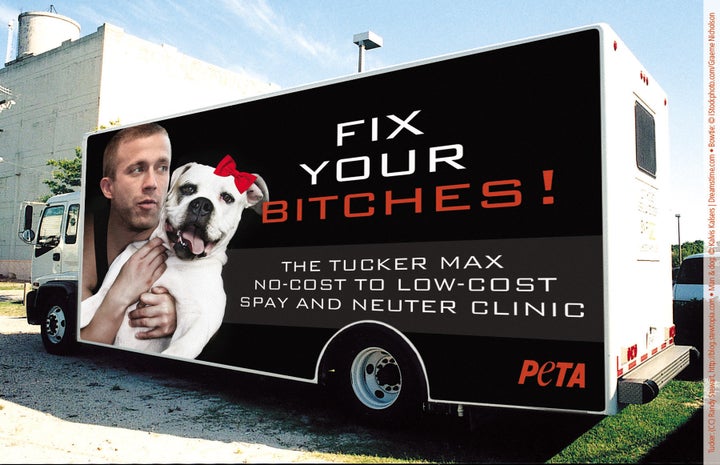 So, while Planned Parenthood didn't want Max's name associated with the organization, PETA is all for it.
"We would like to purchase a brand-new mobile spay-and-neuter truck and name it "Fix Your Bitches! The Tucker Max No-Cost to Low Cost Spay and Neuter Clinic," Newkirk explained, adding that the truck would cost just under $400,000 and Max could donate another $100,000 for veterinary fees if he's willing to donate the same amount he offered Planned Parenthood.
PETA even took the liberty of creating a mock-up of what Max's truck would look like, should he make the donation.
When asked for comment regarding PETA's letter, Max's publicist Ryan Holiday told The Huffington Post, "We think that this is a brilliant idea and even though Tucker hasn't always seen eye to eye with everything PETA has done in the past, we're going to seriously consider their offer. I'm sure PETA thinks the same thing about Tucker, considering he's a strict meat eater (paleo) but it says a lot about their commitment to their ideals that they would come to us with this out of the box offer."
Should Max agree to donate the $500,000, it would prove that his initial offer to Planned Parenthood wasn't the contrived ploy for publicity it appeared to be. Max's proposed donation to the women's health organization seemed to lack sincerity, given the disparaging comments he's made on Twitter.
"Planned Parenthood would be cooler if it was a giant flight of stairs, w/someone pushing girls down, like a water park slide," Max said in July 2011. And on March 14, he wrote, "In South Florida. This place is awful. Shitty design, slutty whores & no culture, like a giant Planned Parenthood waiting room."
On his website, Max denied the offered donation was a publicity stunt by claiming he's been pro-choice his entire life and has actually used Planned Parenthood's services.
"A "stunt" would be doing something designed only to get me attention without actually doing anything, like a prank or, I don't know, something that DIDN'T INVOLVE GIVING HALF A MILLION DOLLARS TO THEM. Its ridiculous how people think what you do doesn't matter, it's only their perception of your action that defines you," Max wrote.
PETA'S ENTIRE LETTER TO TUCKER MAX:
Dear Mr. Max,

I am writing on behalf of People for the Ethical Treatment of Animals (PETA) and our more than 3 million members and supporters with a proposition we hope you'll like. Having heard about Planned Parenthood's rejection of your offer, we'd like to propose an alternative way that you can help prevent unwanted pregnancies, receive a tax break, and put your name proudly on a clinic—perhaps along with a picture of you and your dog! We would like to purchase a brand-new mobile spay-and-neuter truck and name it "Fix Your Bitches! The Tucker Max No-Cost to Low-Cost Spay and Neuter Clinic." The truck would cost just shy of $400,000 (delivered fully equipped) and give us $100,000 in leftover funds to spend on veterinary fees—if you are willing to spend the same amount you were offering Planned Parenthood.

Since 2001, our mobile clinics have helped prevent the births of hundreds of thousands of unwanted cats and dogs. In fact, PETA spays and neuters more than 800 dogs and cats every month in some of the most impoverished areas of North Carolina and lower Virginia. We assist owners who have a hard time paying their utility bills, are without transportation of any kind, and often live in trailer parks. One of our mobile clinics is on its last legs (it's in the repair shop more than it's on the road), so this would be a huge help.

Two of our clinics currently display images of Simon Cowell and Ron Artest. Please see this mock-up of what the Tucker Max clinic could look like, complete with the "Fix Your Bitches!" slogan and an image of you hugging a dog.

Millions of dogs and cats must be euthanized every year because people continue to let them breed when there are not enough homes to go around. Most end up in shelters—others are left to fend for themselves on the streets, where they are often subjected to cruelty, suffer from starvation or diseases, or are hit by cars.

Dogs and cats may "sleep" with more mates "than is safe or reasonable"—but unlike us, they can't unwrap a condom. Will you help us provide this essential form of birth control? Thank you for considering this.

Very truly yours,

Ingrid E. Newkirk
President

REAL LIFE. REAL NEWS. REAL VOICES.
Help us tell more of the stories that matter from voices that too often remain unheard.
BEFORE YOU GO