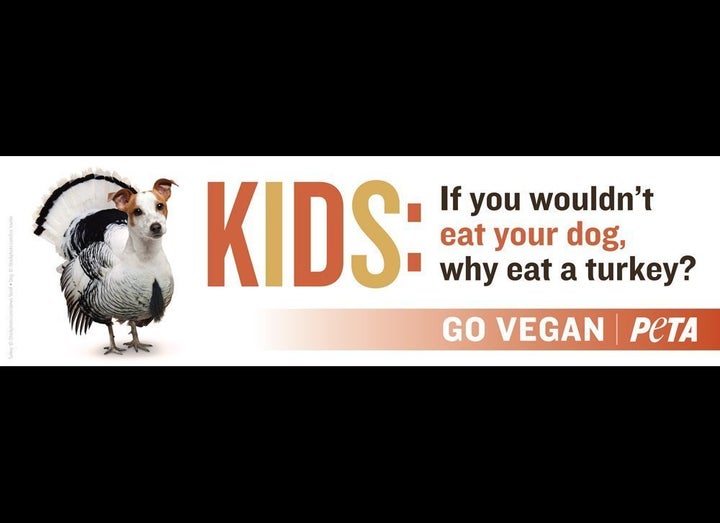 Thanksgiving may make you feel grateful for everything you have or it may be an insufferable meal with relatives you avoid the rest of the year, but chances are you don't think it's a day to fry up the family pet. That, however, is exactly what should be at the forefront of your mind, according to the animals rights group PETA.
Known for shock tactics and in-your-face ads, People for the Ethical Treatment of Animals, or PETA, has launched an advertising campaign aimed at the family feasting holiday. The billboard, which pictures an animal that's a cross between a dog and a turkey, reads: "Kids: If You Wouldn't Eat Your Dog, Why Eat a Turkey?"
"Kids love animals and if they thought about how turkeys feel pain and fear just as dogs and cats do, they'd trade in their drumsticks for Tofurky in a heartbeat," said PETA Executive Vice President Tracy Reiman. "This Thanksgiving, families can give all animals something to be thankful for by sticking to humane, delicious vegan meals."
The group said they plan to run the child-targeted ad in Florida, Nebraska, New Mexico, Oklahoma, Oregon, Tennessee and Utah.
In 2009, PETA produced a commercial it wanted to run on NBC during the Macy's Thanksgiving Day parade, but the peacock network rejected the anti-gobbler spot, saying it wasn't up to standards.
WATCH PETA'S BANNED 2009 THANKSGIVING COMMERCIAL:
Calling all HuffPost superfans!
Sign up for membership to become a founding member and help shape HuffPost's next chapter