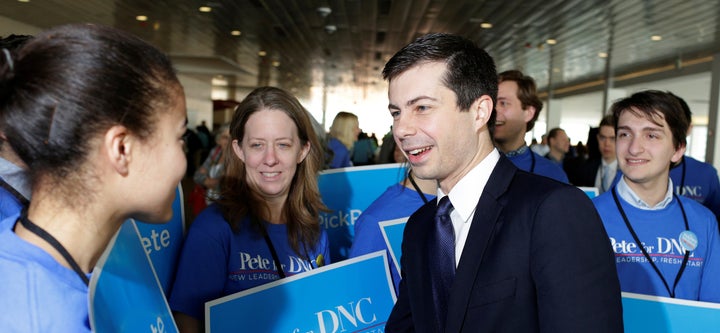 South Bend, Indiana, Mayor Pete Buttigieg dropped out of the race to head the Democratic National Committee on Saturday, just minutes before the vote. He did not endorse another candidate.
Buttigieg made his announcement at the meeting of the 442 eligible voting members of the DNC in Atlanta. He had trailed badly throughout the race, which has been dominated by Rep. Keith Ellison (D-Minn.) and former Labor Secretary Thomas Perez. Buttigieg secured several high-profile endorsements, however, including former DNC Chair Howard Dean.
"After speaking non-stop with voters who have been kind enough to give us the most serious consideration, I now realize that it is time for this process to move on without me," Buttigieg said, eliciting murmurs from the surprised audience. "It is time for this process to move towards a solution that we can all get on board with, and that means it's time, for the party, that I step aside."
Although he lacked the name recognition of the top contenders, Buttigieg impressed party leaders with his compelling and open speaking style. He cast himself as an outsider whose experience as a red-state mayor made him uniquely qualified to lead Democrats in the Trump era.
Buttigieg also presented himself as an alternative to Ellison and Perez, whose contest is widely viewed as a proxy battle between supporters of Sen. Bernie Sanders (I-Vt.) and Hillary Clinton.
"I didn't love living through the 2016 primary the first time," Buttigieg said in a CNN-sponsored debate on Wednesday night. "I don't know why we as a party would want to live through it a second time."
Popular in the Community