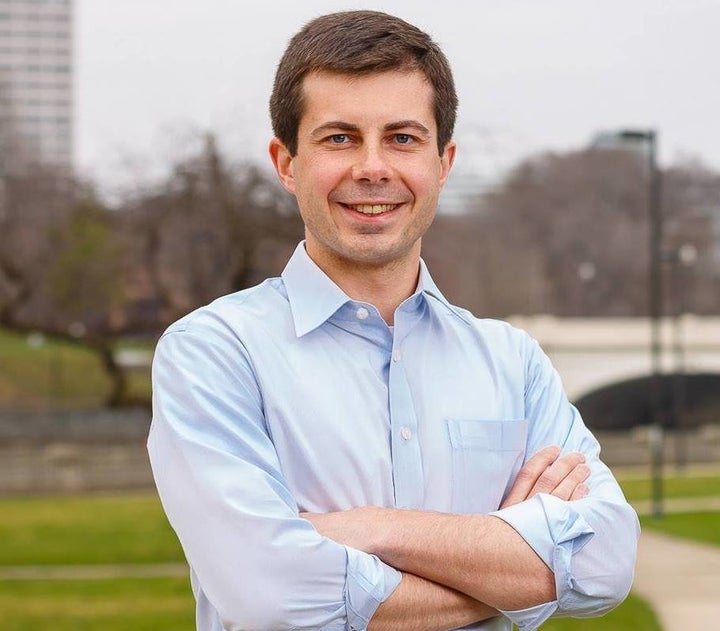 Pete Buttigieg, the Democratic mayor of South Bend, Indiana, who Politico Playbook reported on Tuesday is exploring a run to chair the Democratic National Committee, is largely a political unknown on the national stage.
The openly gay Navy reserve officer and former McKinsey consultant appears to be more of a liberal technocrat than a rust belt populist, according to a June profile in The New York Times and a Medium post published three days ago. He is long on good governance accomplishments like destroying or refurbishing blighted property in his city, and short on rants against job-killing trade deals, which he told the Times are not to blame for the bulk of manufacturing job losses.
But a look further into Buttigieg's past reveals an extraordinarily prescient streak of progressive political insight. In 2000, Buttigieg made Sen. Bernie Sanders, then an independent Vermont congressman, the focus of an essay that won the John F. Kennedy Profile in Courage Essay Contest for High School Students. In the winning essay, Buttigieg celebrated Sanders' unabashed identification as a socialist at a time when "politicians are rushing for the center."
"Fortunately for the political process, there remain a number of committed individuals who are steadfast enough in their beliefs to run for office to benefit their fellow Americans," Buttigieg wrote. "Such people are willing to eschew political and personal comfort and convenience because they believe they can make a difference. One outstanding and inspiring example of such integrity is the country's only Independent Congressman, Vermont's Bernie Sanders."
Buttigieg ticked off several of Sanders' stances that were controversial at the time ― supporting same-sex marriage, backing gun regulations that have drawn the ire of the National Rifle Association and bringing seniors to Canada to buy cheaper pharmaceutical drugs.
But he also commended Sanders for his pragmatism. Sanders' willingness to work within the system is evident, Buttigieg argued, in his decision to endorse Democratic President Bill Clinton and forge bipartisan coalitions to, among other things, hold hearings aimed at making the International Monetary Fund more transparent and accountable.
"Above all, I commend Bernie Sanders for giving me an answer to those who say American young people see politics as a cesspool of corruption, beyond redemption," Buttigieg concluded. "I have heard that no sensible young person today would want to give his or her life to public service. I can personally assure you this is untrue."
Popular in the Community