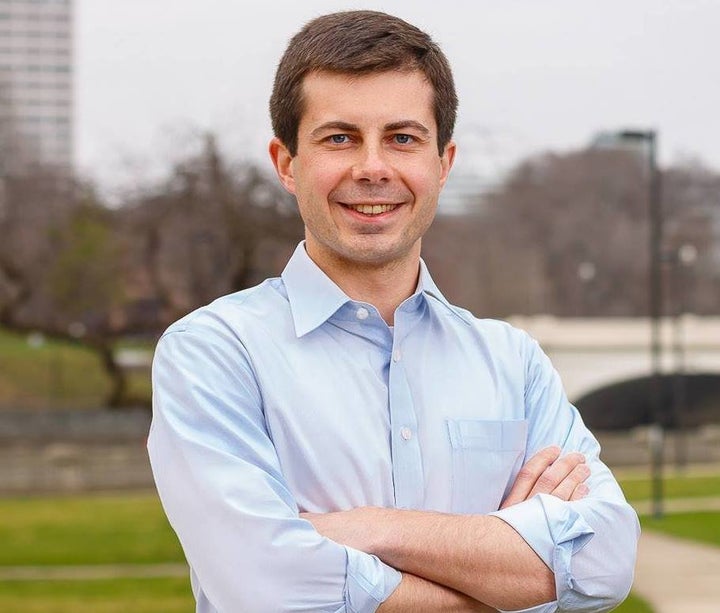 Pete Buttigieg, mayor of South Bend, Indiana, announced his candidacy to chair the Democratic National Committee on Thursday.
"I'm running because it's time for new leadership to deliver a fresh start for our Party," Buttigieg said in a message to DNC members forwarded to reporters. "The solutions we need to rebuild our Party won't originate in Washington ― they will begin in our communities across America's states and territories."
Buttigieg, an openly gay Navy reserve officer and former McKinsey consultant, is the sixth person to announce they're vying for the top spot. His competitors are Rep. Keith Ellison (D-Minn.), Labor Secretary Tom Perez, Idaho Democratic Party executive director Sally Boynton-Brown, South Carolina Democratic Party Chairman Jaime Harrison and New Hampshire Democratic Party Chairman Ray Buckley.
The message announcing Buttigieg's candidacy, which includes a video, heavily emphasized his mayoral experience in South Bend. It is an appeal designed to resonate with the leaders of a party that just got trounced in the once-reliably Democratic industrial midwestern states.
"There is a need for a voice that is rooted in our local communities, a community like mine ... That local perspective could be helpful right now," Buttigieg told The Huffington Post in an interview explaining his reasons for running.
"We have had the experience here in South Bend of how to run and win elections, not by running away from our values, but by running on them," he added.
In a not-so-subtle dig at the personality-heavy presidential race, he argued that Democrats need to make "sure that we're always talking in terms of people's lived experience. And that's one area where we need to be better as a party."
Buttigieg, like Ellison, pledged that he would leave his current job if elected DNC chair.
"But I will always be standing up for my neighbors, friends, and family in South Bend and the thousands of communities like my hometown, all across our country," he said in his statement. "I'm running because what happens in the Democratic Party is going to have profound effects on communities like South Bend."
Buttigieg has won acclaim for his work refurbishing South Bend's blighted properties, and leveraging the city's industrial history to generate new economic activity.
It is not immediately clear if Buttigieg differs from the best-known DNC candidates ― Ellison and Perez ― on major policy issues. He has, at times, expressed views that appear to place him in the more business-friendly wing of the party, rather than its populist left flank. In a June profile in the New York Times, Buttigieg downplayed the impact of trade agreements, as opposed to automation, on job losses.
At the same time, Buttigieg celebrated the career of Sen. Bernie Sanders (I-Vt.) long before the Vermont senator became a national figure. Buttigieg's 2000 essay hailing Sanders as an "outstanding and inspiring example of such integrity," won the John F. Kennedy Profile in Courage Essay Contest for High School Students.
He endorsed Hillary Clinton in the Democratic primary, however.
Buttigieg nonetheless spoke highly of Sanders' presidential run in his conversation with HuffPost.
"It proves that a lot of people would be brought into the process, a lot of people we thought of as independents" could be attracted to an unabashedly progressive message, he said.
"Now what we have got to do is take the lessons of that energy and move it forward," he added. "A lot of the things I admired then, I admire now."
Buttigieg shunned ideological categorizations repeatedly when pressed on the matter. He also specifically declined to endorse reinstating a ban on lobbyist donations to the DNC, claiming he "didn't see anything great come of that."
"I don't see where blanket statements about who does and does not give have changed anything for us as party," he continued.
Ellison released a statement welcoming Buttigieg's entry into the race. The Minnesota congressman singled out the mayor's decision to come out as gay during his successful re-election race in 2015 as a display of "tremendous courage."
Richard Zody, chairman of the Indiana Democratic Party, released a statement endorsing Buttigieg shortly after the mayor's announcement.
"With investments in things like community development, job creation, and infrastructure during his time as Mayor of South Bend, Pete Buttigieg has the capability of bringing a much-needed Midwest voice to the Democratic Party that will resonate across the country," Zody said. "Pete is a young and dynamic talent that we need at the top of our party, and I am happy to support a Hoosier for DNC Chair."
Buttigieg is soliciting donations for his run on ActBlue, a Democratic fundraising website. He has already hired some veteran Democratic operatives, including Lis Smith, the deputy campaign manager for Maryland Gov. Martin O'Malley's 2016 presidential campaign; Dan Parker, a former Indiana Democratic Party chairman; and his own advisers, Martha McKenna and Jenn Pihlaja.
But he faces steep odds if he is to convince the 447 Democratic state party officials and other insiders to choose him between now and late February when they vote.
Although the DNC chair's main jobs are to raise funds and recruit candidates, after presidential election defeats it has often become a proxy battle for warring wings of the party.
This year, Sanders backers ― and many Clinton supporters ― have rallied behind Ellison in an attempt to assuage dissatisfied Sanders primary voters and re-engage the progressive constituencies Democrats need to turn out.
Ellison enjoys the backing of an array of Democratic leaders and organizations, including Senate Minority Leader Chuck Schumer (D-N.Y.), Sanders and the AFL-CIO, the country's largest federation of labor unions.
While Perez is ideologically quite similar to Ellison, he has become the de facto pick for slightly more moderate factions of the party hoping to ward off a Sanders takeover.
He has won the endorsement of four sitting Democratic governors and two large labor unions. Obama has praised him effusively, in remarks widely regarded as an announcement in all but name. Several White House aides have also criticized Ellison anonymously.
Buttigieg hopes to sidestep the Sanders-Clinton-Obama ideological disputes that have marked the race for DNC chair so far.
The South Bend mayor is particularly averse to debates about whether the party needs to do more to cater to white working-class voters, or other more traditional progressive voters and communities of color. He believes that his multi-racial electoral coalition in South Bend shows that the party cannot view appealing to these groups as a zero-sum game.
"We have been able to cobble together both elements of the working class who did not vote the way we hoped to in 2016 and folks who are more traditionally Democratic," Buttigieg told HuffPost.
The Huffington Post will host a debate between the DNC candidates on Jan. 18 in Washington.
This was a breaking story and has been updated throughout. It has also been updated to include comments from Buttigieg.
The Huffington Post is hosting a DNC debate on Jan. 18 at the Jack Morton Auditorium at George Washington University. Follow HuffPost Politics on Facebook to watch it live at 7 p.m. EST. We've created petitions below for each of the declared candidates; sign one if you're a supporter of a particular candidate. We'll announce the total level of support for each candidate at the beginning of the debate, and again at the end. (You can click through to each to see the current level of support.)
Popular in the Community