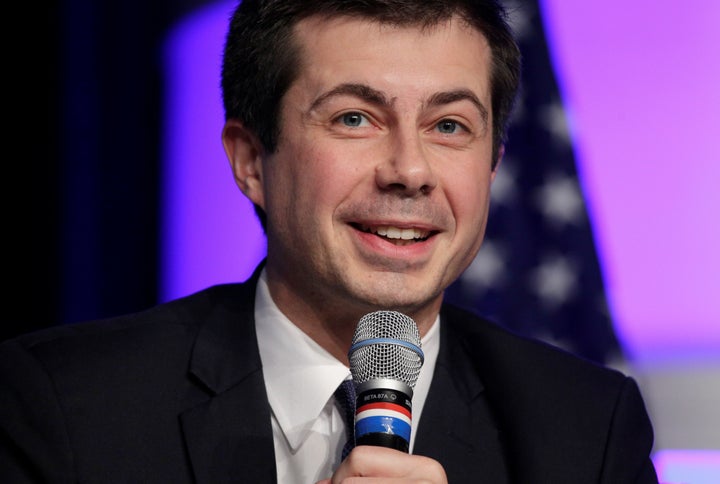 SOUTH BEND, Ind. ― Earlier this month, South Bend Mayor Pete Buttigieg, a dark horse candidate to chair the Democratic National Committee, settled into the cramped studios of Radio Sabor Latino, a local Spanish-language news and music station.
Armed with Google Translate and a cheerful attitude about his español defectuoso, Buttigieg set about describing South Bend's new municipal identification program, created to provide people without official government IDs access to local facilities like schools and libraries.  
The anxiety permeating the interview was palpable.
"La función de la policía es la seguridad de nuestros residentes," Buttigieg said, looking over at the DJ for an assist as he explained that the role of the police is to ensure residents' security. "Vamos a … vamos a ... We're going to care for each other."
The Trump administration's harsh anti-immigrant rhetoric has rattled communities with sizable undocumented populations like South Bend, eroding an already tenuous relationship with members of law enforcement, who are often viewed as a conduit to deportation. This is why the city has a local nonprofit manage the new ID system, one that is not subject to the same transparency obligations as city government.
This may be somewhat surprising since, thanks to cultural touchstones like Notre Dame's Fighting Irish and "Rudy," the South Bend of our imagination is a hardscrabble Irish-Catholic town, disproportionately populated by the type of white, working-class voters who flocked to President Donald Trump's candidacy last November. In reality, one-quarter of the city's population is African-American, one-tenth is Hispanic and a sizable university presence bolsters its white-collar workforce ― so the population bears closer resemblance to the country as a whole than some kind of Caucasian working-class hamlet.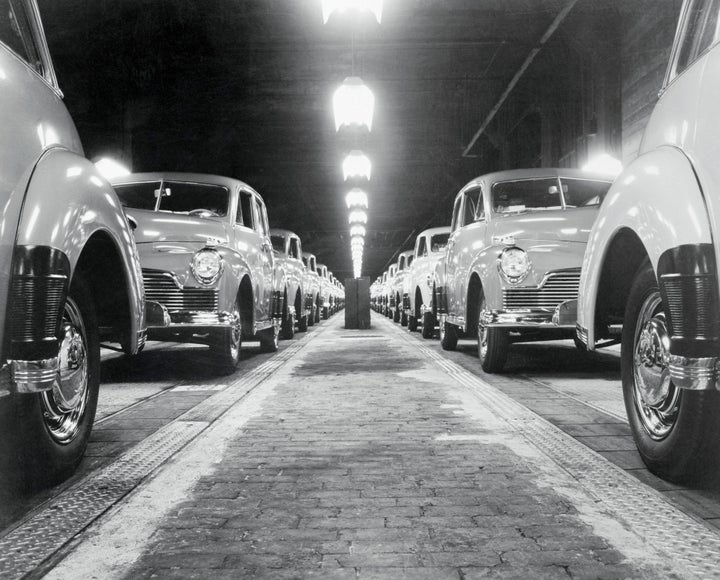 Yesteryear does loom large in South Bend, which endured a decades-long economic decline when the Studebaker automobile company, which was headquartered in the city, shuttered in the mid-1960s. The city lost roughly one- quarter of its population between 1960 and 2010, and the signs of that economic contraction are evident everywhere, whether in in the guise of shuttered storefronts, abandoned lots or dilapidated Victorian mansions that used to house the beneficiaries of a long-gone prosperity. If you've never visited a place like South Bend, you've probably read about one in the thousands of pieces demystifying the so-called "economic anxiety" of Trump voters during the 2016 presidential campaign.
Buttigieg notes that South Bend's population has begun to grow again, and his able stewardship of the city and popularity in this politically purple area ― he was re-elected in 2015 with over 80 percent of the vote ― are the cornerstones of his DNC campaign. "There are still a lot of empty teeth here," he conceded, alluding to the abandoned and bulldozed properties that dot the city, but he nevertheless sees a success story.
Indeed, Buttigieg's career has been one well-manicured success story itself, as if conceived in a round of Democratic Mad Libs.
Peter Paul Montgomery Buttigieg, a mere    35   (young-ish age) is a graduate of    Harvard   (prestigious university) and    Oxford   (prestigious university) where he was a    Rhodes scholar   (academic accolade). Despite hailing from    Indiana   (flyover red state), he came out as                 gay   (orientation) in    a 2015 op-ed   (public action). Mayor Buttigieg has proudly served in the    Navy Reserves   (military branch), earning a    Joint Service Commendation Medal   (military commendation) while serving in      Afghanistan   (theater of war). He is a true millennial, managing his own    Twitter   (social media service) account; he even met his    boyfriend (partner noun) on  Hinge  (dating app)! He has learned the importance of data-driven governance from his time at    McKinsey & Company  (tremendously boring place to work) and has dealt extensively with Silicon Valley. You can hear him wax wistfully about his hometown's   shuttered Studebaker plant   (local totem of past economic glory) and its    burgeoning data industry   (local modernization initiative) by watching his    TED Talk   (TED Talk).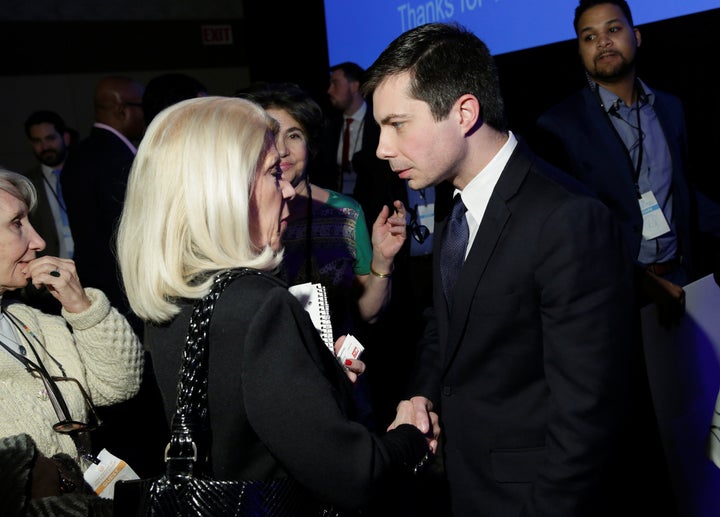 After the Radio Sabor Latino interview, Buttigieg took a turn playing enthusiastic tour guide, navigating an aide's Hyundai through some of South Bend's previously robust industrial areas. He's spent much of his time as mayor engaged in a kind of NIMBY whack-a-mole, tearing down abandoned industrial facilities, repurposing other ones and enticing tech companies to build data centers in his city (South Bend sits near a major fiber optic cable artery).
As such, Buttigieg possess a singular ability to be excited about empty plots of land.
"There were acres and acres of old Studebaker factories," Buttigieg recalled about the city's old skyline. Now, many of the facilities ― the ones that haven't been bulldozed ― serve as data centers, owing in part to South Bend's cold weather and relatively cheap energy prices. "I actually don't remember my first ribbon-cutting, there've been so many," he said, before mentioning with a note of pride the increasing number of Notre Dame students who are staying in the area after graduation.
In many ways, Buttigieg's ascent mirrors that of another rising star in the party, New Jersey's Democratic Sen. Cory Booker, who came to national prominence as the charismatic mayor of another down-on-its luck city, Newark. Like Booker, Buttigieig has forged close ties with Silicon Valley and other nodes of coastal power and has received praise for his job performance. It's not uncommon for Buttigieg to reference former Harvard classmates or interactions with tech moguls in conversation.
To his credit, Buttigieg indulges in neither Booker's inspirational poster rhetoric nor his unbridled adulation for the Charlie Rose set. South Bend's mayor possesses a far more laid back personality than his methodological rise might indicate, maintaining an easy rapport with his staff and an ability to speak policy without devolving into talking points. And like Booker, Buttigieg has an almost cartoonishly friendly appearance: Teeth fixed in a slight grin and framed by a boyish face, he could easily pass as a children's daytime television host. As a literal public face of the party, Democrats could do worse.   
Buttigieg admits that becoming the DNC chair is an uphill climb. Conventional wisdom dictates that when party officials vote at their winter meeting later this month, they are most likely going to choose Minnesota Rep. Keith Ellison or President Barack Obama's labor secretary, Thomas Perez.
But Buttigieg argues that he could play Democratic peacemaker, uniting a party split largely between the Obama-Clinton establishment wing, which has coalesced around Perez, and the insurgent wing, populated by supporters of Sen. Bernie Sanders (I-Vt.) and coalescing around Ellison. If one of those two win, "half the party is going to feel like they lost," said one Buttigieg aide.
Buttigieg's proposed approach to leading the party does not differ terribly from that of his opponents: He believes in cultivating a 50-state strategy at the grassroots level, focusing the party's myriad coalitions and keeping up relentless pressure on the Trump administration. There are specific proposals, too, such as shifting the DNC's regional staff out of D.C. and into the states, but his overarching agenda isn't terribly unique.
On Trump, Buttigieg's approach isn't terribly unorthodox, either. Senate Democrats, he said, need to take a tough line on opposing Trump's nominees. "We've never been a party to obstruct for obstruction sake," Buttigieg said, "but I think we have to be fierce in how we respond to this stuff."
A loss might not necessarily be the worst thing for Buttigieg, however. Party chair jobs are inherently partisan positions that can derail a politician's personal ambitions ― just ask former chairwoman Debbie Wasserman Schultz, who remains persona non grata in many circles for her tenure atop the party apparatus during the DNC hack.
And while Virginia Gov. Terry McAuliffe and Sen. Tim Kaine have found political success despite chairing the DNC, Virginia is far less red than Indiana, home to a Democratic base centered near that most politicized of places, Washington, D.C. If Buttigieg's bid fails, he will still get the benefit of an increased profile without the politically damaging effects.
Indeed, it's hard not to hear Buttigieg's rhetoric about his can-do mayoralty and think this is all a practice for future campaigns. When DNC officials approached Buttigieg during the 2016 cycle to ask if he'd serve as an LGBTQ surrogate, he offered no opposition, but said he would prefer to discuss defense matters, a far more politically safe issue.  
In the meantime, however, he is still running for DNC chair and could actually win. Why risk that?
"This isn't Virginia, obviously," Buttigieg agreed, "but I don't think you should be in elected office just to have it."
Sign up for the HuffPost Must Reads newsletter. Each Sunday, we will bring you the best original reporting, long form writing and breaking news from The Huffington Post and around the web, plus behind-the-scenes looks at how it's all made. Click here to sign up!
Calling all HuffPost superfans!
Sign up for membership to become a founding member and help shape HuffPost's next chapter