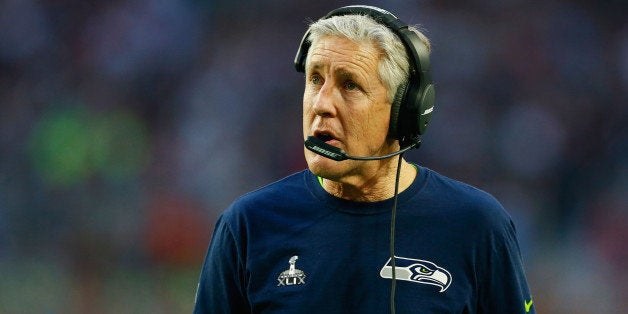 Perhaps only Miami Dolphins fans remember, but they know Pete Carroll, not for his success at USC, not for his Super Bowl victory in 2014, but for a famous "choke sign" more than 22 years ago. In the next to last game of the 1992 season, the Dolphins drove late in the game for a game-tying TD against the Jets. But, Dolphins kicker Pete Stoyanovich, at the time the most accurate kicker in the game, missed the extra point and the Jets led 17-16.
Carroll, at the time the Jets' Defensive Coordinator, held his hand up to his throat and mouthed the word "choke." It was a breach of etiquette, and, of course, completely classless. And, though Carroll later apologized for it (and the Dolphins came back to win the game), he was forever enshrined in the Dolphins' Fans' Eternal Hall of Villains. So with the hated Carroll coaching against the hated Patriots, Dolphins' fans faced an unspeakable dilemma on Super Bowl Sunday 2015.
In the end, it all worked out fine. Though the Patriots won, let's face it, one more victory won't advance them any further in the pantheon of great NFL teams. They've already accomplished all they need to be compared with the all-time greats, the Steelers with their six wins, the 49ers and the Cowboys with their five and, of course, those very Miami Dolphins with their undefeated season and three consecutive Super Bowl appearances in the 1970s.
But, had Carroll's team won, he would have added his name to that rare breed of coach with consecutive Super Bowl victories and become the only coach to ever win two national college championships and two Super Bowl victories. Canton Ohio would be looming. Instead, with three chances to travel one half of a yard to victory, and the game's #1 touchdown running machine in his pocket, he chose to pass. Calling it inexplicable would be kind. Calling it the worst decision in Super Bowl history would about fit. Pass when you have Marshawn Lynch and three chances to go less than a yard? And, even worse, passing into the middle of the field, the best opportunity for the kind of mayhem that did result? It's hard to imagine any run of the mill high school coach making that decision and certainly not one destined for the Hall of Fame.
So, today, Dolphins' fans get a little payback. When they think of Pete Carroll choking, it will no longer be an image of him standing on the Jets' sideline in 1992. It will be of the choke seen around the world (by over 100 million Americans and in more than 200 countries), the biggest choke in Super Bowl history.
REAL LIFE. REAL NEWS. REAL VOICES.
Help us tell more of the stories that matter from voices that too often remain unheard.