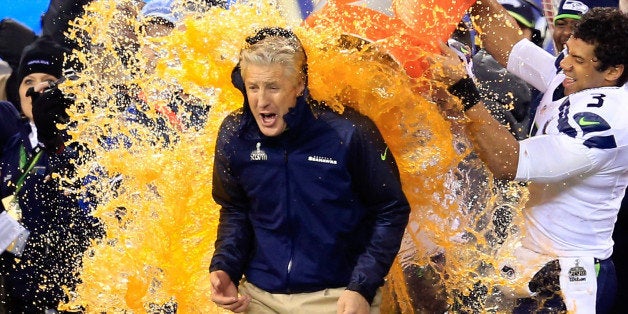 Before leaving a cushy college gig at USC and taking over the Seahawks, Pete Carroll didn't seem a likely candidate for another NFL head coaching job. After winning the Super Bowl, he proved that his college approach works in the pros.
There just may be more to it than you've heard.
Carroll has a reputation for being fun. He is. I covered USC football for two seasons and watched him bounce around with more energy than his soon-to-be-NFL stars who were technically young enough to be his grandkids. He threw passes in practice. He convinced celebrities to pull pranks on his players. He organized and played in pickup basketball games because apparently he might die if he ever stops moving.
At 62 years old, he's now the second oldest coach in the NFL and almost certainly the most exuberant. In a poll released just last week, 72 percent of active NFL players said Carroll was the coach they'd most like to play for. The runner-up got 14 percent. ESPN raised a common backhanded compliment: "Carroll is seen as the ultimate players' coach, but some might say he won the vote because he's viewed as being soft on players."
Critics used to suggest his rah-rah approach was a nice fit with students but somehow inadequate for the NFL, at times derided as the No Fun League. With Carroll fired from two pro teams during the 90's, his subsequent success with the Trojans only seemed to validate that "conventional" wisdom.
But fun was only part of the equation.
Toward the end of his tenure at USC, a few observers (myself included) didn't think it made sense for Carroll to leave because NFL head coaches tend to have less control than their college counterparts. And that's no fun. General managers or owners handle personnel decisions for the vast majority of NFL teams, which can set the stage for disagreements with the coaching staff. Meanwhile, NCAA players are practically on or off a school's team at the will of the coach. University presidents and trustees lack the day-to-day influence -- and often lack the annual salary -- of the football icons a few buildings over. Athletic directors sometimes provide a layer of middle management, but most aren't known for interfering. USC's seemed especially checked out at the time. Carroll was the undisputed big man on campus. His paycheck was larger than almost every NFL coach, to boot.
When he accepted Seattle's offer in 2010, there was a laundry list of plausible explanations. His fiercely competitive nature? More money? Fear of NCAA sanctions looming over USC?
All of these could have been factors, but perhaps the deciding one -- and a huge reason why the Seahawks just won the Super Bowl -- is who the team simultaneously hired as Executive Vice President with control over personnel decisions.
It was some guy named Pete Carroll.
Seattle was tearing everything up and didn't even have a general manager yet. That suited Carroll just fine. Explaining that his decision to take the job was based in part on getting unusual authority, he called the situation "almost dreamlike" and indicated that other NFL head coaching jobs didn't always have the latitude he was expecting. "That is what I had at 'SC," Carroll said. Unlike his stints with the Jets and Patriots, it's also what he got with the Seahawks.
A week later, the team hired John Schneider to fill the vacancy as GM, a title he had never held before. A local paper quipped that he not only lacked the recent Super Bowl ring of other candidates, he also lacked a Wikipedia page.
Schneider has now earned both of those things, so don't assume he was just hired to fill a desk. He undoubtedly deserves credit for building this Seattle juggernaut and it's clear that he and Carroll have synched up very well. But on day one it was also clear whose vision would be at the forefront. Initially, The Seattle Times reported that "Carroll has final say on the 53-man roster and will have input on trades, draft choices and free agency."
When Seahawks CEO Tod Leiweke described Carroll as the team's "centerpiece," an AP story said the comments reinforced "that Schneider will not have the same kind of sweeping powers NFL GMs traditionally have enjoyed."
Last year, NFL.com reported that Schneider has taken on increasing leadership in the offseason with the draft and free agency, while Carroll still controls the 53-man roster. The relationship was described as "collaborative."
According to the team's own website, Carroll and Schneider made a staggering 284 roster moves during their first year in a "constant reconstruction" with an end goal "to play the game the way Carroll insists it be played."
Books will be written about the way Carroll insists the game be played. Some already have been. We know he loves competition. He also loves speed. And he certainly loves to have fun.
Carroll was always able to insist on those things, but he still got a pair of pink slips earlier in his career. Something was missing.
After Carroll was fired from the Patriots, team owner Robert Kraft said, "A lot of things were going on that made it difficult for him to stay, some of which were out of his control."
A decade later, those words seem to have a deeper significance. The Seahawks gave Carroll more control and he gave them a Super Bowl victory.
Kraft's management philosophy may have evolved in the interim. Among a handful of other coaches currently reported to have considerable say in personnel decisions, particularly with their 53-man roster, are Bill Belichick (of Kraft's Patriots), Chip Kelly (Eagles), and (debatably) Sean Payton (Saints). All three of them made the playoffs this season.
If other NFL teams are hoping to replicate Carroll's success it won't be an easy task. They have to find coaches who can take this page out of his college playbook and let them run with it.
Evidently a little fun doesn't hurt, either.
Calling all HuffPost superfans!
Sign up for membership to become a founding member and help shape HuffPost's next chapter