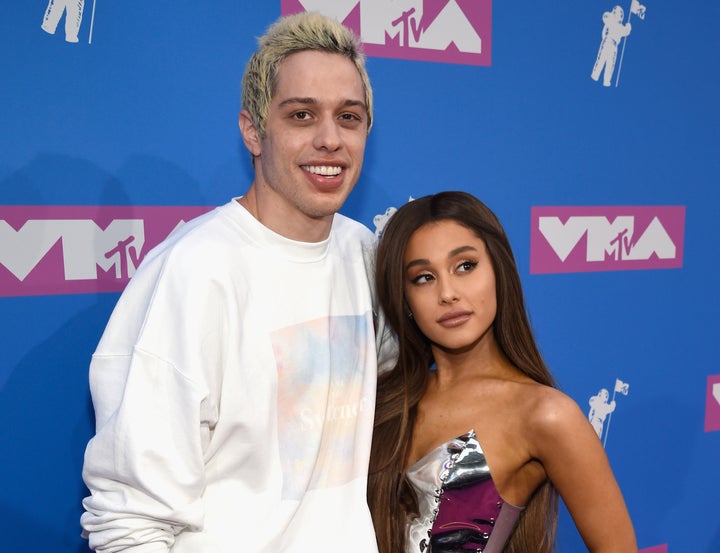 Following the How To Be A Pop Star rulebook to a T, Ariana Grande has adopted a nontraditional pet sidekick, welcoming a pig into her world.
If you've been following the "Sweetener" singer on social media, you've seen her cuddling with the tiny piggy in bed, and likely asked yourself, wait, should I get a pet pig, too? 
While the animal, which goes by the name ― brace for eye roll ― Piggy Smallz, certainly is adorable, Grande's fiancé Pete Davidson has revealed that life with the porcine pet isn't all it's cracked up to be. 
"Can I just say, this girl, she was like, 'I want a pig,' and an hour later, it was just there. You know what I mean?" Davidson said on "Late Night With Seth Meyers." "Like, I'm still trying to get a Propecia refill in the last two weeks. This chick got a pig in a f**king hour."
"Does she say it to the universe and the universe hears?" Meyers asked.
"Yeah, she was like, 'I want a pig,' and then it was there," Davidson explained. "It was f**king dope."
At first, Davidson said he was so enamored with Piggy Smallz that he even inked a portrait of the animal on the side of his body below a tattoo of Pooh Bear. 
"Yeah, I don't think. I just kind of do," the "Saturday Night Live" star explained of his decision to get the new ink.  
But, as the pig has grown, the animal has gotten increasingly difficult to manage, Davidson explained. 
"It's big now! The first two days it was really new and it didn't move much. But now it's starting to bite and head-butt," Davidson said. "So I see why."
"I feel like, when you live in a city with 7 million people and none of them have pigs, most people think, 'Maybe I won't also,'" he added. 
In addition to the pig, Grande shared a video of herself spending some time with ex-boyfriend Mac Miller's dog weeks after he died of an apparent overdose.
While it's not clear if she has since adopted the puppy, she already has her hands full with a reported nine rescue dogs of her own, named Fawkes, Pignoli, Ophelia, Coco, Sirius, Cinnamon, Strauss, Lafayette and Toulouse.
REAL LIFE. REAL NEWS. REAL VOICES.
Help us tell more of the stories that matter from voices that too often remain unheard.
BEFORE YOU GO
PHOTO GALLERY
Ariana Grande's Style Evolution