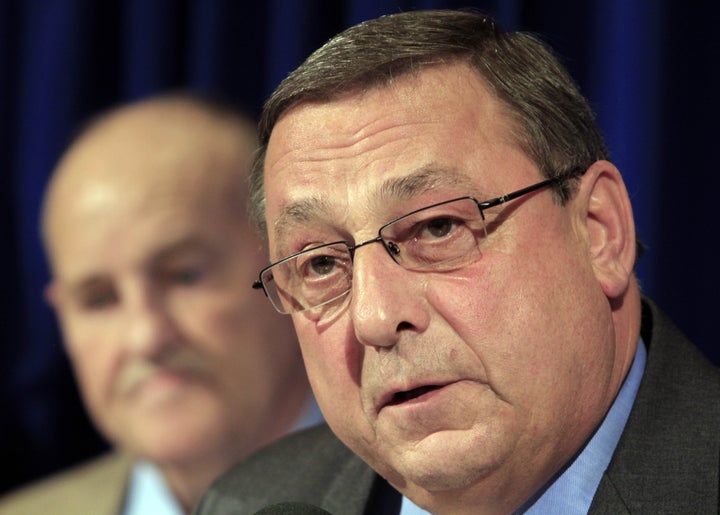 Paul LePage, Maine's incoming governor who won earlier this month with the help of the Tea Party, is fielding harsh criticism for supposedly selecting "extremist" Pete Harring, a prominent conservative activist, as a member of his transition team.
Harring, who goes by "Pete the Carpenter" on the website he founded as a forum for Maine's collective Tea Party movement, has a recent history of inflammatory statements about his liberal opposition, as well as Maine Sen. Olympia Snowe (R), who is frequently targeted for her perceived leftward position on key issues.
Harring's opponents have unearthed some of his more noteworthy posts, including one in which he compares liberals to slinkies because they "bring a smile to your face when you push them down a flight of stairs." In another he blasts Sen. Snowe for pushing the GOP to provide a "big tent" for broader membership.
Snowe "obviously lives in some fantasy world and has no grasp of reality or she is under some drug-induced coma and is suffering from severe hallucinations," Harring wrote.
He also posted a cartoon in March depicting "Hydrogen Barackside," a product by "Messianic Pharmaceuticals," that is designed for "the general destruction of wealth. If you catch a nasty case of free market capitalism, try Hydrogen Barackside -- It will cure you of all your money issues. Our solution is right on the Marx!!!" In the same post Harring writes: "I am completely convinced that the Obama administration is hell-bent on destroying America!
Mike Tipping of the Maine People's Alliance, a group that has been labeled a "far-left organization" by members of Harring's online community, has since called on LePage to rescind Harring's invite, saying that it would be irresponsible to bring "this kind of extremist" into a governor's camp.
"LePage won the election, he's allowed to pick people that agree with him to run his administration," Tipping said in a written statement, according to the Lewiston Sun Journal, "but to pick someone who's only qualification is his anger and his tea party connections is just unacceptable."
The LePage campaign disagrees about Harring's credentials.
"Certainly, some of the things he's said the governor-elect is not going to agree with at all," LePage spokesman Dan DeMerritt told Maine Public Broadcasting News. "But, he's got an important viewpoint and he represents the frustrations of thousands of Mainers and 'people before politics' means everybody, you know, and we'd be happy to listen to the Peoples' Alliance if they want to come in to talk with us about their concerns."
The inclusion of Harring in LePage's ranks is perhaps no huge surprise considering the former Waterville mayor's own history with controversial rhetoric. In September, LePage told a group of supporters that he wouldn't be afraid to tell President Obama to "go to hell."
Popular in the Community