President Donald Trump's new ambassador to the Netherlands, Peter Hoekstra, has finally admitted that his 2015 comments claiming there were "no go" violent zones in the nation because of Muslim immigrants had been baseless.
"Looking back, I am shocked I said that," Hoekstra said in an interview published Friday in the Dutch newspaper De Telegraaf, according to The Washington Post. "It was a wrong statement. It was wrong."
Hoekstra claimed at a 2015 anti-terrorism conference that Muslims were causing "chaos in the Netherlands," burning cars and politicians and creating "no-go zones" in that country.
He told De Telegraaf that he couldn't recall what his comments were based on.
"I mixed up countries. I was wrong. I can't recall how that could happen. I know: I was wrong," he said.
Hoekstra has been scorched by the Dutch over the comments, and his De Telegraaf interview appeared to be an attempt to make amends after a tough week.
During his first news conference on Wednesday, Dutch journalists refused to let Hoekstra off the hook and peppered the former Republican congressman from Michigan with questions asking if he still believed those widely debunked claims.
Hoekstra then doggedly refused to retract his past comments or provide concrete examples to back up his claims, The Washington Post reported. The Dutch journalists responded to his reluctance by piling on their questions.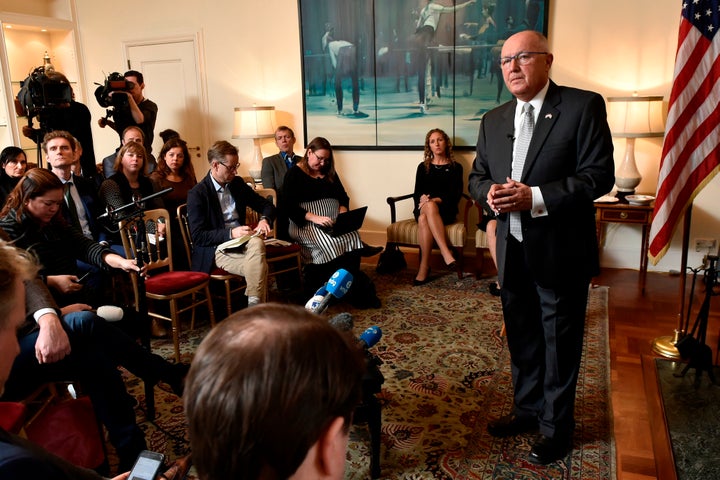 "Are politicians being burned in the Netherlands in the past? Is that something you believe? Yes or no?" one reporter asked.
"Could you please take back the remark about burned politicians or name the politician that was burned in the Netherlands?" another asked.
"Why don't you answer the question?" others chimed in, after Hoekstra attempted to move on.
At one point, a frustrated journalist declared, "This is the Netherlands. You have to answer questions."
Roel Geeraedts, a reporter at the Dutch television station RTL Nieuws, tweeted a video of the tense news conference. "The only one who did get burned today is... Hoekstra himself. By refusing to answer our questions," he wrote.
Hoekstra made those claims about Islam during a recorded panel discussion in November 2015. The panel was sponsored by the David Horowitz Freedom Center, a Los Angeles-based organization known for promoting anti-immigrant and anti-Muslim ideologies.
"The Islamic movement is now gotten to a point where they have put Europe into chaos," Hoekstra said back then, according to Reuters. "Chaos in the Netherlands ― there are cars being burned. There are politicians that are being burned and, yes, there are no-go zones in the Netherlands."
In fact, there have been no instances of modern Dutch politicians being set on fire, Geeraedts noted in his tweet.
The rumor about Muslims in the Netherlands or other parts of Europe creating no-go zones where non-Muslims aren't welcome is also unsubstantiated, although the myth is often promoted by right-wing groups and individuals seeking to spread misinformation about Islam.
Hoekstra has often made erroneous comments about Muslims and their faith. He has speculated that up to 15 percent of all Muslims could be radical extremists, according to CNN. Given that there are roughly 1.8 billion Muslims in the world, that would amount to about 270 million people.
He's also claimed in the past that Hillary Clinton's longtime aide Huma Abedin had ties to the Muslim Brotherhood. That conspiracy theory has been thoroughly debunked.
Last month in Washington, a Dutch reporter from the Nieuwsuur television program questioned Hoekstra about the "no-go zones" comment. Hoekstra asserted he hadn't said that ― again, even though his 2015 remarks were recorded.
When HuffPost asked about the clash at this week's press conference, a U.S. State Department spokesperson pointed to a tweet that Hoekstra sent out in December addressing the interview with Nieuwsuur. In that tweet, the ambassador expressed "regret" about the exchange.
Hoekstra was born in the Netherlands and moved to the United States as a young child. The onetime congressman, who served from 1993 to 2011, sat for a period on the House Permanent Select Committee on Intelligence.
The Investigative Project on Terrorism quotes Hoekstra praising it as a "national treasure whose influence and achievements are unparalleled."
Trump nominated Hoekstra to the position of ambassador this past July. He was confirmed by the Senate in November.
Mary Papenfuss contributed to this report.
This article has been updated with Hoekstra's retraction of his 2015 remarks.
Before You Go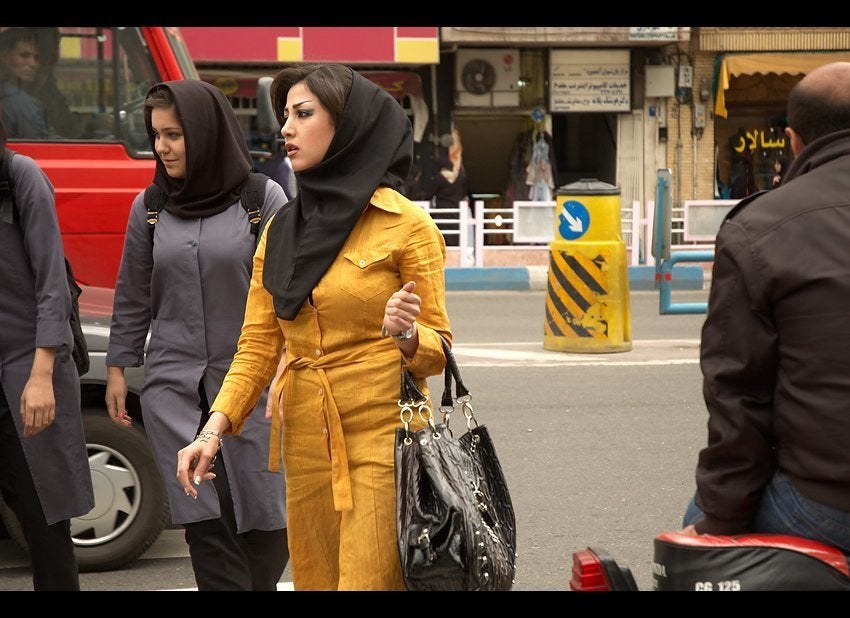 Hijabs, Niqabs, Burqas: Know Your Muslim Veils
Popular in the Community