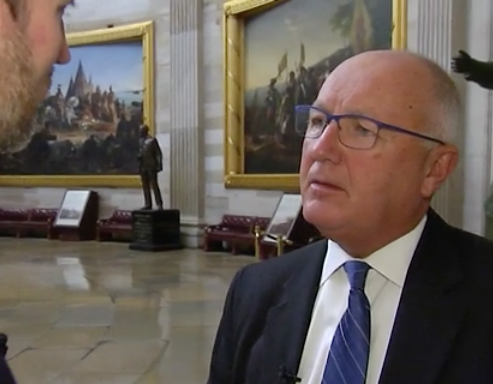 The U.S. ambassador to the Netherlands recently gave a bizarre interview to a Dutch journalist in which he denied making several comments, including one remark that he had made literally moments earlier.
That year Hoekstra spoke on a panel called "Muslim Migration Into Europe: Eurabia Come True?" at the David Horowitz Freedom Center's Restoration Weekend. In his remarks, the onetime lawmaker from Michigan referred to refugees as "invaders," said Muslim migrants are "the next wave of jihadists in Europe," and denounced the Council on American-Islamic Relations, a leading Muslim civil rights organization, as a "front organization for Hamas."
Hoekstra warned of a "stealth jihad" taking place in the United States and Europe, and claimed that the Netherlands, his native country, was in a state of "chaos" due to the migration of Muslims.
"There are cars being burned. There are politicians that are being burned ... and yes, there are no-go zones in the Netherlands," Hoekstra said.
Zwart was questioning the new ambassador about those comments, specifically his claim that there are "no-go zones" in the Netherlands. Hoekstra categorically denied that he ever made those remarks.
"I didn't say that. That is actually an incorrect statement. We would call it fake news," he said. "I never said that."
The video of the interview then cut to a clip of Hoekstra making the exact comments he had just denied. When Zwart again pressed the ambassador, saying, "You call it fake news," Hoekstra jumped in to deny that he had even said that.
"I didn't call that fake news," Hoekstra claimed. "I didn't use the words today. I didn't think I did."
At that point, Zwart looked back at the camera, registering his own confusion. 
Hoekstra was born in Groningen in the Netherlands in 1953 and immigrated to the United States with his family at age 3. He served in the U.S. House of Representatives from 1993 to 2011. 
When President Donald Trump announced Hoekstra's appointment as ambassador to his country of origin, The Washington Post reported, a Dutch newspaper said the president was putting "a Dutchman in the Netherlands — but it is a Dutchman from the Netherlands of the '50s."
REAL LIFE. REAL NEWS. REAL VOICES.
Help us tell more of the stories that matter from voices that too often remain unheard.